Brian Bourke: Apfelbäume
Friday 2 September – Saturday 17 September 2016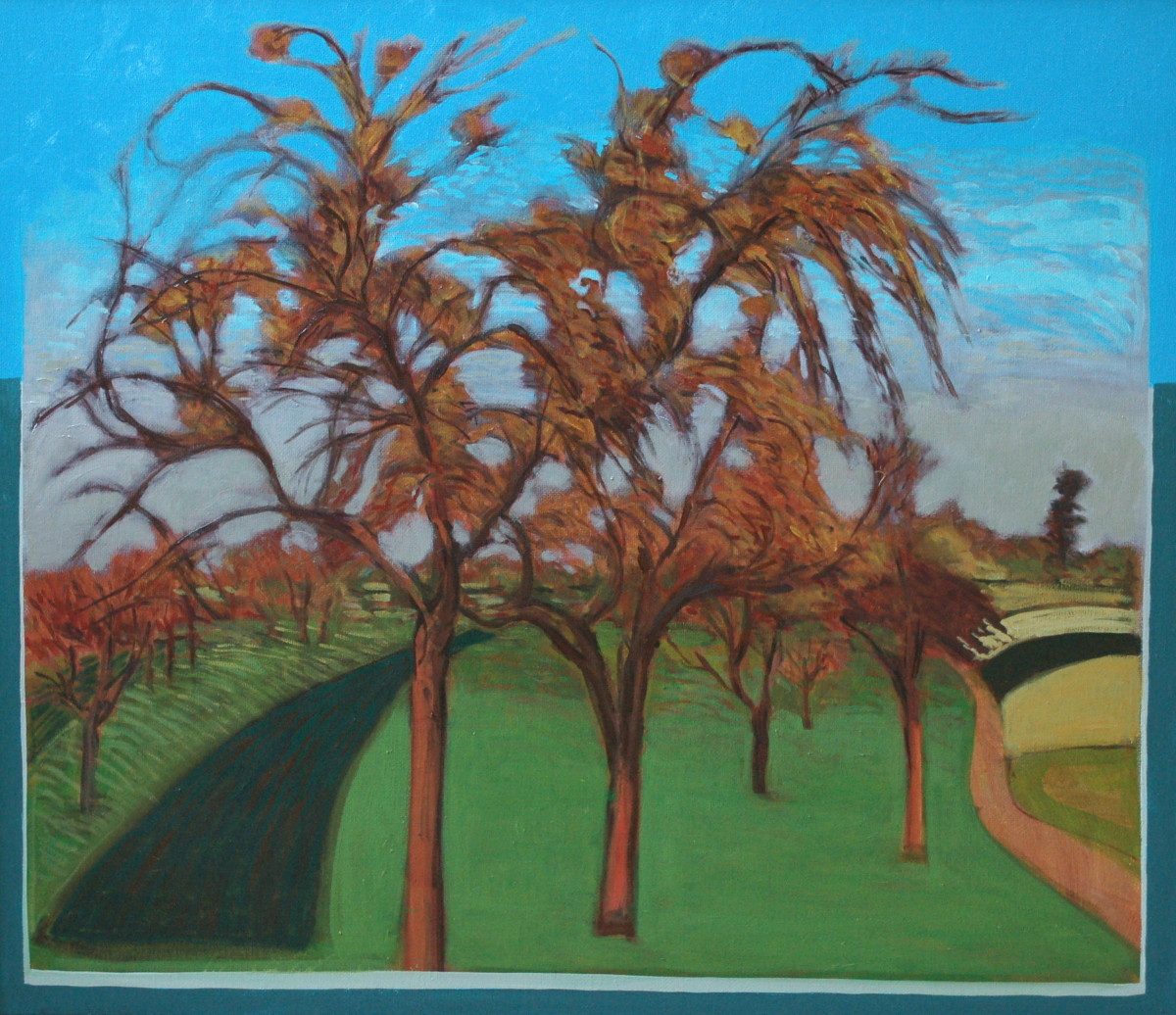 Taylor Galleries is delighted to present Apfelbäume, an exhibition of work by Brian Bourke that will be opened by Frankie Gavin at a private view from 6 to 8pm on Thursday 1 September 2016. The exhibition runs from 1 to 17 September 2016 and is accompanied by an Artist's Talk which takes place at 1pm on Thursday 15 September. No booking necessary, all welcome.
Apfelbäume brings together several different but interrelated series of works:
Local Landscape, Ower – The subjects of the Ower Landscape, Dan Connell's Small Orchard and Landscape with Bonfires series are all situated within a one mile radius of Bourke's studio, while the Fallen Apple Tree lies just a few yards away.
Homage to William Blake– This is a theme the artist has engaged with many times, in one form or another, over the years, and it also relates to Ah Sunflower– The surreal twists in Blake's poem Ah Sunflower prompted Bourke to look again at sunflowers in various stages of their lifecycle, and a multi-panel series of nine works is the result.
Portraits of Father and Self– The portrait of Bourke's father was painted when he was in his eightieth year, in 1966. The accompanying self-portraits were made in Bourke's eightieth year in 2016. They are memento mori.
Apfelbaume – These mixed media drawings were created over a few years during regular visits to a small town in Swabia, Germany, surrounded by open and easily accessible countryside with well-maintained trees. The paintings on canvas were completed in Bourke's home studio in Galway.

Born in Dublin in 1936, Brian Bourke studied painting at the National College of Art & Design, Dublin and St. Martin's School of Art, London. From early landscapes and life-size nude self-portraits his work has evolved to encompass various series that explore his interest in observational work – rooted in the places and things he encounters in his day-to-day life – and fictional narrative. He has represented Ireland at several international exhibitions, received numerous awards and his work is included in public and private collections both in Ireland and abroad. He is an elected a member of Aosdána and an Honorary member of the Royal Hibernian Academy.
Image: Brian Bourke: Apfelbäume I, 2016, oil on canvas, 91.5 x 94 cm
Friday 2 September – Saturday 17 September 2016
16 Kildare Street, Dublin 2
Telephone: +353 1 676 6055
Opening hours / start times:
Monday 10:30 - 17:30
Tuesday 10:30 - 17:30
Wednesday 10:30 - 17:30
Thursday 10:30 - 17:30
Friday 10:30 - 17:30
Saturday 11:00 - 15:00
Admission / price: Free