Breaking The Silence
Thursday 19 June – Sunday 29 June 2014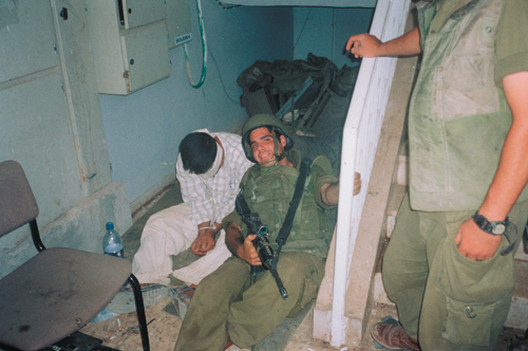 Opening Reception Thursday 19 June at 1pm
Breaking The Silence, an organisation of former Israel Defence Force (IDF) combatants, presents an exhibition of photographs taken by soldiers serving in the West Bank and Gaza. The photographs and the accompanying testimony offer an insight into the tactics used by the IDF to control and disrupt the daily lives of Palestinian civilians, and reveal the psychological and physical damage those tactics have on both the Palestinian people and the soldiers themselves.
The exhibition, supported by Trócaire, marks the tenth anniversary of Breaking The Silence's first ever photographic exhibition, which was held in Tel Aviv in June 2004. It has since toured Europe, North America and Israel and now, for the first time, will be on here in Gallery of Photography from Thursday June 19th to Sunday June 29th. Members of Breaking The Silence, all of whom served in the IDF, will be here during the exhibition run to offer personal tours and recall their experiences. Describing the exhibition,Yehuda Shaul, co-founder of Breaking The Silence and one of the former soldiers who will be in Dublin for the exhibition, says:
"We saw and did a great deal during our time in the occupied territories, but for the duration of our service we said very little about our experience to our friends, to our families, and even to each other. But after we completed our army service, we chose to break the silence."
"This exhibition shows the reality of what we witnessed – innocent civilians being beaten, children kept from school, parents kept from work, people's homes invaded, and much more. The photographs and testimony refute the false claim that the horrors of the occupation are the exception rather than the norm."
Exhibition tours: Former Israeli soldiers will be on hand throughout the exhibition run to engage directly with visitors, and can provide guided tours for groups.
Panel Discussion: Wednesday 25th June 6pm-8pm – please r.s.v.p nguiheen@trocaire.ie
'The role of photography in conflict situations' Speakers: Yehuda Shaul (founder of Breaking The Silence), Anthony Haughey (Artist, lecturer, photographer), Dearbhla Glynn (Documentary Film-maker), Eilish Dillon (Kimmage Development Studies Centre lecturer)
The Breaking The Silence exhibition is being held with the support of Trócaire.
Thursday 19 June – Sunday 29 June 2014
Meeting House Square
Temple Bar, Dublin 2
Telephone: +353 1 6714654
Opening hours / start times:
Tuesday - Saturday 11am - 5pm. Mondays by appointment for education, artists archiving and training. Closed Sundays
Admission / price: Free