Bold
Thursday 19 April – Saturday 12 May 2018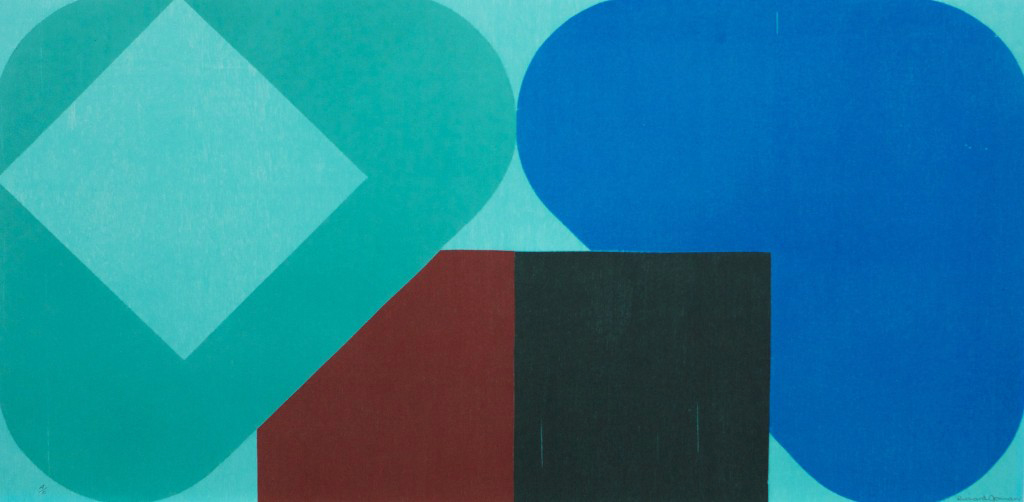 Graphic Studio Gallery is delighted to present BOLD.
AOIFE SCOTT / MASER / SHANE O'DRISCOLL / DES KENNY / FREA BUCKLER / RICHARD GORMAN
The word BOLD conjures up many meanings and associations in the mind.
BOLD is bright, vivid, prominent, striking, immediate
BOLD is brave, daring, heroic, defiant
BOLD is spirited, assured, enterprising
Each of these terms are applicable to works selected for the Graphic Studio Dublin's new exhibition BOLD.
The artists, Frea Buckler (a first time exhibitor with the GSD), Richard Gorman, Des Kenny, Maser, Shane O'Driscoll and Aoife Scott, present work in a variety of media; Buckler, Kenny, O'Driscoll and Scott in screenprint; Gorman in lithography and in woodcut and Maser's work includes photopolymer prints.
Each artist in BOLD has worked in vibrant colour. Colour theory and the psychology of colour have fascinated scientists and artists over centuries. From the earliest days of the modernist movement artists have used colour subjectively, to personalise their work. Some, such as the Expressionists, attributed spiritual values to colour. By the 1960s, artists began to experiment with industrial, commercialised colours, hues that declared their manmade properties; adhering to the Warholian notion "I want to be a machine". Both natural tones and fluorescent shades sit side by side in BOLD.
In abstract art, colour is often an essential component of creative language. Colour distinguishes mark marking – marks range from what appears to be haphazard, gestural, and idiosyncratic to the controlled, ordered and hard edged.
Frea Buckler's work comprises flat, unmodulated, hard-edged expanses of colour. Her prints have a monumental sculptural quality that suggests folded forms. The juxtaposition of each element is dynamic, yet balanced and controlled.
Measured control is a feature of Richard Gorman's work. His compositions comprise repeated pairs of rounded and sharp edged geometric motifs, each distinguished by their backgrounds of varying shades of blue or yellow. Their rhythmic harmony is subtly punctuated by the layering of a 'rogue', tonally different, square.
Des Kenny's lyrical and humorous screenprints have an illustrative quality to them. They are carefully composed to produce imaginative vistas of rich colour and decorative shapes.
Maser synthesises gestural and mechanical elements in industrial colours to create riotous works that seek to challenge or deny the edges of their composition.
The art of balance informs the work of Shane O'Driscoll. Limited elements ranging from the geometric to the textured are carefully positioned against a flat, pale background. Each motif is distinctive in its own right but it is also enhances and resonates with those around, creating an element of tension or frisson across the composition.
A range of individualised colourful gestures distinguish Aoife Scott's screenprints. Each painterly mark is placed judiciously across an expansive flatly coloured background. There is a musical quality present; each colourful element is choreographed to augment the other.
Image: Richard Gorman: Double Shuffle
Thursday 19 April – Saturday 12 May 2018
off Cope Street
Temple Bar, Dublin 2
Telephone: +353 1 679 8021
Opening hours / start times:
Monday 10:00 - 17:30
Tuesday 10:00 - 17:30
Wednesday 10:00 - 17:30
Thursday 10:00 - 17:30
Friday 10:00 - 17:30
Saturday 11:00 - 17:00
Admission / price: Free
Through the Arch off Cope Street (behind the Central Bank)