Bob Dylan, NYC 1961-64 – photographs by Ted Russell
Thursday 21 January – Sunday 21 February 2016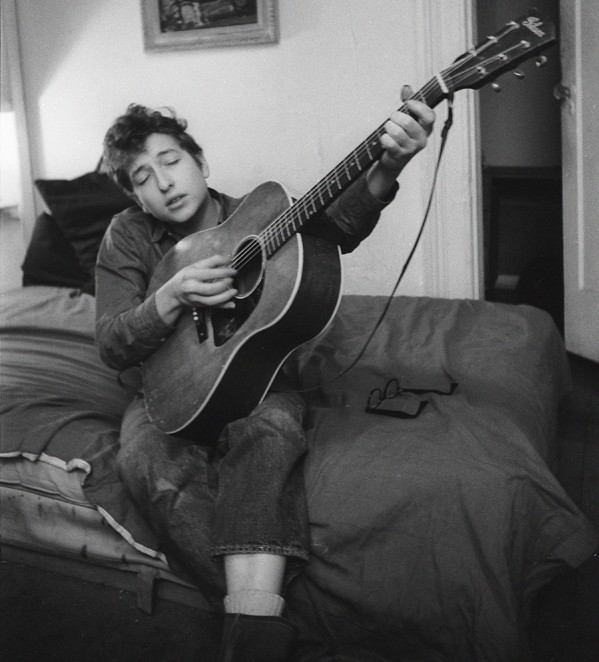 Opening events take place on Tuesday 26 January • 5:30pm Talk by exhibition curator, and music photography expert, CHRIS MURRAY on the relationship  between twentieth century popular music and photography • 6:30pm Launch reception
Irish premiere exhibition of Ted Russell's intimate, previously unseen, photographs of Bob Dylan in New York City. The photographs chronicle days in the life of the then unknown folk artist – backstage and onstage at the folk clubs, hanging out in his apartment with his girlfriend, Suze Rotolo, at his writing desk, and on the street. They give a fresh, candid glimpse of what life in Greenwich Village was like for the 20 year-old folk bard.
Chris Murray, exhibition curator and co-author of the accompanying book, notes: "This collection of photographs by Ted Russell is a unique document of Dylan's first years as a musical artist and his genesis in Greenwich Village. In the photographs, as in Dylan's music, we can see his conviction and compassion, his humour, and his love of song. Whether he was inspired by Little Richard, the Clancy Brothers or Woody Guthrie, Dylan remained rooted in tradition while making something contemporary and of his own time. We are enriched by this portrait of the artist as a young man."
Ted Russell took the photographs in order to pitch a story about the trials and tribulations of an up-and-coming folk singer – a theme that has recently been taken up in the acclaimed filmInside Llewyn Davis. But back then, the subject failed to drum up interest: "Saturday Evening Post editors were enthusiastic about my proof sheets… but when I played a Dylan demo record, they asked me if I was playing it at the correct speed, and they passed", Russell recalls, laughing.
After 50 years lying largely dormant in a file cabinet, the complete collection has been brought to light in Bob Dylan: NYC 1961-1964 (Rizzoli 2015). The book includes texts by Ted Russell and Chris Murray, and a foreword by Donovan. It is available in the Gallery Bookshop at €34.
About Ted Russell, the photographer:
Ted Russell is an American photographer and photojournalist whose work has appeared on the covers of Life, Newsweek, Time, and New York magazines, to name only a few. Born in London, he worked in Fleet St, Brussels and Frankfurt before moving to New York. Drafted into the US Army, he served as unit photographer in the Korean War. After attending the University of California at Berkeley, he returned to New York and became a regular contributing photographer for Life for over 12 years, and he was later Cover Photo Editor of Newsweek for 11 years. Russell has won numerous awards, and his work has been exhibited at the International Center of Photography and the Museum of Modern Art, New York.
About Chris Murray, the curator:
Chris Murray is a writer and founder of Govinda Gallery, Washington DC, which represents some of the best rock music–related fine art photography and photographers in the world. Murray has organized over 200 exhibitions of many of the leading artists of our time, from Andy Warhol in the 1970s to Annie Leibovitz's first exhibition in 1984. He is co-curator of the Smithsonian Institution's exhibition Elvis at 21 and is the author or editor of over a dozen books, including Alfred Wertheimer's Elvis and the birth of rock and roll; Dick Waterman Between Midnight and Day: the last unpublished blues archive, and The Rolling Stones 50×20.
Acknowledgments: This exhibition is presented in partnership with Govinda Gallery, Washington DC. It is kindly supported by Tradfest.
Image: Bob Dylan playing guitar on his bed in his apartment, 161 W 4th St, Greenwich Village, NYC, 1961; © Ted Russell / Govinda Gallery
Thursday 21 January – Sunday 21 February 2016
Meeting House Square
Temple Bar, Dublin 2
Telephone: +353 1 6714654
Opening hours / start times:
Tuesday - Saturday 11am - 5pm. Mondays by appointment for education, artists archiving and training. Closed Sundays
Admission / price: Free