Bernadette Kiely: A SECOND WORLD – any given day
Thursday 3 November 2016 – Saturday 7 January 2017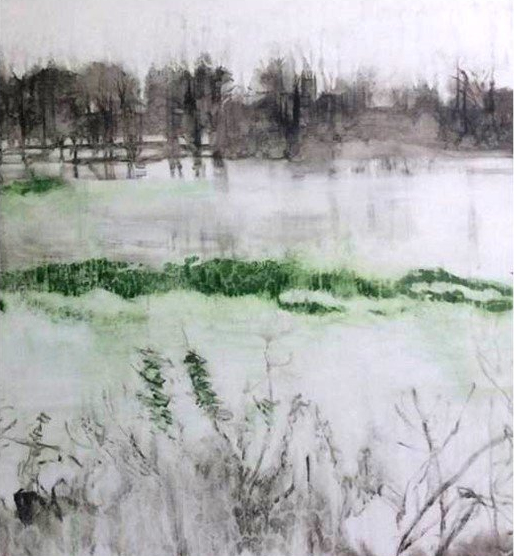 A SECOND WORLD – any given day is a new body of work by Bernadette Kiely featuring large scale charcoal drawing, painting on canvas and moving image.
Co-curated by Belinda Quirke, Director of Solstice Arts Centre, Navan and Sabina MacMahon.
Bernadette's recent work, continuing on her theme of the passage of time and the transient, fragile nature of the physical world, evident in her work to date – shifting landscapes cloaked in fog and mist, the burning of fields, flooding on the river Nore, plant life and the sea – references memories of her parents, the life they lived and the life that has died with them.
The title A SECOND WORLD – any given day suggests other worlds, the unknown world of the dead, the shadow world, where objects are visible, yet don't exist in reality, the memory of things and people which exist in the memory but not in the real world, the psychological impossibility of recapturing people and things that have passed out of our living world.
Also including reference to the world of art making and thinking, she implies the difficulty of seeing reality as it apparently exists in the real world. The imagery she depicts is shrouded in mist and shadow and suggests memory, distance, desire and the melancholy inherent in the longing for people and things that have faded into the realm of the past.
Referencing her own photography and drawings, her work also draws on existing imagery of ancient and historical Irish architecture, archaeological and topographical drawings, plant life, the geography and anatomy of landscape and religious architecture.
Thursday 3 November 2016 – Saturday 7 January 2017
Navan, County Meath
Telephone: +353 46 9092300
Opening hours / start times:
Tuesday 11:00 - 16:00
Wednesday 11:00 - 16:00
Thursday 11:00 - 16:00
Friday 11:00 - 16:00
Saturday 11:00 - 16:00
Admission / price: As per event