Bernadette Kiely: memory needs a landscape
Friday 5 May – Saturday 27 May 2017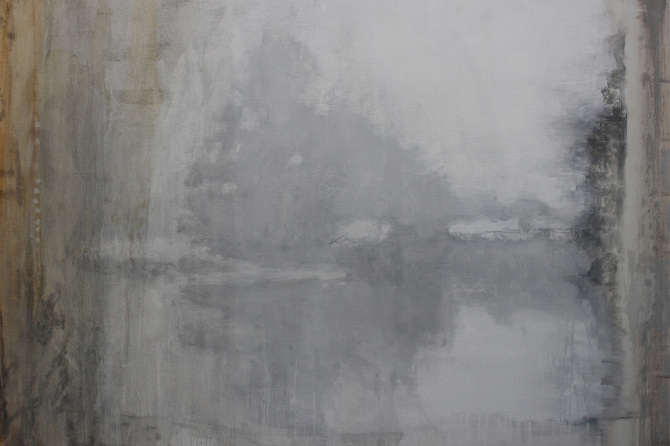 Following on from her recent exhibition at Solstice Arts Centre, Navan, in memory needs a landscape Bernadette Kiely's paintings and works on paper expand on the themes of the passage of time and the transient, fragile nature of the physical world evident in her work to date – shifting landscapes cloaked in fog and mist, the flooding of rivers and land and shadows of trees and plantlife. The exhibition also marks Kiely's 20th year showing with Taylor Galleries.
Featuring works begun while on residency at the RHA Schools in 2015/6, Aidan Dunne notes that, in this exhibition, "the landscape has become more distanced and removed from the assumed familiarity of any general observer, yet also more enveloping, more likely to draw us into solving its recesses. Her work can be read metaphorically – what is unstated and hidden in the landscape, what fades as memory fades, as an articulation of the artist's deep desire to picture what cannot be pictured, what lies behind the visible world. There are clues in her paintings and drawings: a view of a flooded playground, or a church surrounded by floodwater, of what was once a harbour. The bottom line is that there is always more than can immediately be seen."
Bernadette Kiely's work has been exhibited nationally and internationally. Elected as a member of Aosdána in 2007, her work is held in both public and private collections in Ireland, the UK, Europe, Korea and the USA.
Image: Bernadette Kiely, Silence  - River Nore, 2017, oil on canvas, 102 x 153 cm
Friday 5 May – Saturday 27 May 2017
16 Kildare Street, Dublin 2
Telephone: +353 1 676 6055
Opening hours / start times:
Monday 10:30 - 17:30
Tuesday 10:30 - 17:30
Wednesday 10:30 - 17:30
Thursday 10:30 - 17:30
Friday 10:30 - 17:30
Saturday 11:00 - 15:00
Admission / price: Free