Bernadette Kiely: '…Everything Flows' – Heraclitus
Friday 27 June – Monday 21 July 2014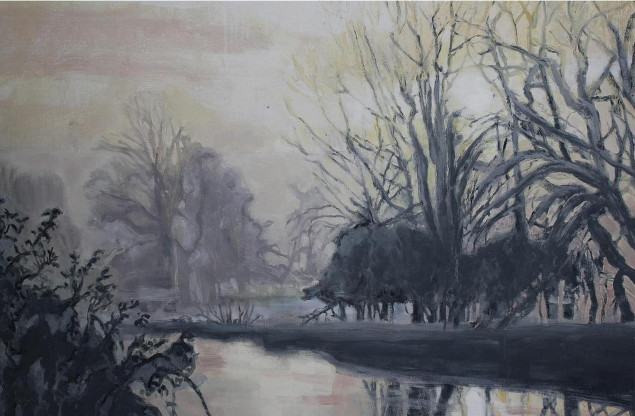 Opening Reception Thursday 26 June, 6 – 8pm
Taylor Galleries is pleased to present '…Everything Flows' – Heraclitus, an exhibition of new drawings and paintings by Bernadette Kiely.
The work in the exhibition is based on Kiely's continuing exploration of the changing dynamic in the landscape and riverine area around her studio and home in Thomastown, Co. Kilkenny which she observes on her daily walks before beginning work in the studio. Her recurring theme of the passage of time is made manifest in paintings and drawings that feature shadow, walls, the river and its banks, reflections, roadway markings, fallen flower petals, seasonal changes, weather and trees.
'…Everything Flows' – Heraclitus is dedicated to the memory of artist Barrie Cooke (1931-2014). The title of the exhibition is taken from words written on the wall of Bernadette Kiely's studio by Cooke, the studio's previous tenant who handed the space over to her when he moved from Kilkenny to Sligo in 1991. In the twenty three years since then the quote has remained a constant in her life, as Cooke himself was until his recent death. Although Kilmactranny, Co. Sligo is a good four hours away from Thomastown he regularly made the trip back to visit and always asked to see Kiely's work in 'his' studio, as he still liked to call it. On these visits he shared his vast knowledge of art with her freely, but his final words on leaving the studio were always, "But don't listen to me".
His work and wise words live on.
Air to water / and soil to stone / as blood to flesh / and flesh to bone
– Barrie Cooke
Born in Tipperary in 1958, Bernadette Kiely studied at the College of Art and Design, Waterford Institute of Technology and the Slade School of Fine Art, London. Her work is included in private collections in Ireland, the UK, Europe and America, and represented in the public collections of AIB, University Hospital Cork, OPW / State Art Collection, National Self-Portrait Collection and the George Moore Society. Recent exhibitions include the 184th RHA Annual Exhibition; Boyle Arts Festival, Roscommon (both 2014); Continuous Line, The Drawing Project, Dún Laoghaire; The Lie of the Land, Abhann Rí Festival Kilkenny; Éigse Carlow Arts Festival (all 2013); and High Now Low Brown, Ballina Arts Centre, Mayo (2012). She lives and works in Thomastown, Co. Kilkenny and is a member of Aosdána.
Friday 27 June – Monday 21 July 2014
16 Kildare Street, Dublin 2
Telephone: +353 1 676 6055
Opening hours / start times:
Monday 10:30 - 17:30
Tuesday 10:30 - 17:30
Wednesday 10:30 - 17:30
Thursday 10:30 - 17:30
Friday 10:30 - 17:30
Saturday 11:00 - 15:00
Admission / price: Free