Bénédicte Coleman: Papyrus Infiltrans (Mutative Species)
Friday 20 June – Thursday 3 July 2014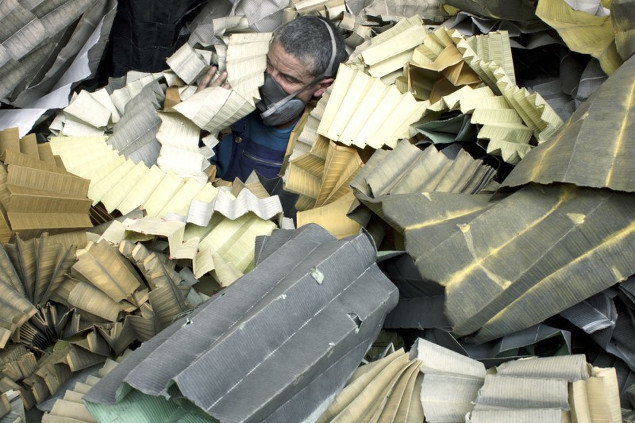 Opening Reception in House Café at the Opera House, Thursday 19 June, 6 – 7pm • National Sculpture Factory in association with Cork Midsummer Festival
Each year the National Sculpture Factory gives out one major Graduate Award Bursary to an outstanding artist from the CIT Crawford College of Art & Design Degree show. The artist chosen in 2013 was Bénédicte Coleman. This exhibition is the culmination of this artist's 6 months residency here at the NSF. We are delighted to invite you to the opening of her site-specific installation.
Papyrus Infiltrans (Mutative Species)
A story, maybe a fiction, nothing definite.
This work alludes to science fiction, fantasy, prehistory, predatory plant species, insect and animal life, or whatever else the imagination might suggest. The material, used air filters, is in its natural state – it has not been dyed or altered in any way. It has acquired a history, which is etched on its surface.These filters, have served their time as the lungs of engines, are transmogrified into this 'other' life form.
Coinciding with Midsummer festival 2014 Bénédicte Coleman presents a new installation work, sited in and responding to the gardens of the Crawford Municipal Art Gallery. Stemming from six months of research conducted in the National Sculpture Factory, Papyrus Infiltrans elaborates on Coleman's distinctive use of industrial air filters, harvested from vehicles, air conditioning units and machinery. These twisting, writhing forms, call to mind both flora and fauna and seem possessed of a sinister senescence.
Friday 20 June – Thursday 3 July 2014
Emmet Place
Cork
Telephone: +353 21 4805042
Opening hours / start times:
Monday 10:00 - 17:00
Tuesday 10:00 - 17:00
Wednesday 10:00 - 17:00
Thursday 10:00 - 20:00
Friday 10:00 - 17:00
Saturday 10:00 - 17:00
Admission / price: Free