Ben Reilly: Spider Tree
Friday 22 September – Saturday 18 November 2023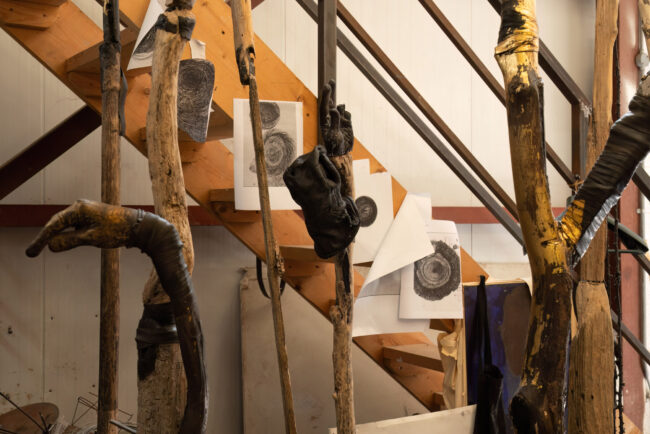 "Spider Tree refers to a particular gnarly old yew tree that to me, particularly in winter, looks like a long legged circular Black spider. In the summer, it fills out into a sort of glowing circle that has the look of a very hairy dogs head. This Tree became my start point for drawings during that period of restricted walking. At first, I used these Drawings and photos in photo etching but for the last year and a half, I have been working on them through Sculpture and they have now developed into this small forest.
Cast wax, and Bronze, carved, wood, welded mild steel, Pasted Gold leaf. Glued screwed and bolted bits and pieces form the basis of most of the Sculpture pieces. The prints are Photo Etching and Spit Bite, on Hahnemuhle Natural White."
Ben Reilly Graduated Crawford College of Art and design 1987; Completed a BA Archaeology University College Cork in 1995; received a MA, in fine Art sculpture, Winchester College of Art and Design, 1999. He has worked consistently as an Artist since 1987 and has had solo exhibitions across Ireland and in Germany (Berlin/Munster). Ben has participated in-group shows in Europe, China and America. He has been in receipt of a Department of Education Scholarship award, Irish Arts Council Bursary, and Materials Grant, Claremorris Open Adjudicators award and a culture Ireland Grant.
In addition, Ben has worked as a film projectionist in the Triskel Art Centre Cork and for Cork Film festival (1988/95).
He worked as an Archaeologist (1991/ 2003). At present, he is a full time Fine Art Lecturer at SETU (South East Technological University, Waterford institute of Technology).
Friday 22 September – Saturday 18 November 2023
O'Connell Street
Waterford
Telephone: +353 51 855038
Opening hours / start times:
Tuesday 11:00 - 17:30
Wednesday 11:00 - 17:30
Thursday 11:00 - 17:30
Friday 11:00 - 17:30
Saturday 11:00 - 17:30
Admission / price: Free