Bealtaine Exhibition 2011
Saturday 7 May – Tuesday 31 May 2011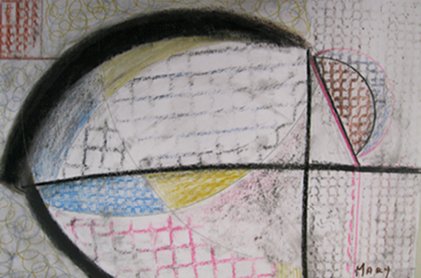 Opening Friday 6 May at 6pm
In early 2010, Crawford Art Gallery approached Ballyphehane / Togher Community Development Project with a view to working collaboratively.
Our aims were to introduce the gallery as a resource, to exchange skills and to find out how groups in Ballyphehane / Togher expressed themselves creatively.
This led to a developing creative dialogue with participants from four local community arts groups, who worked with artists in a year-long exploratory project.
This dialogue allowed local community development and gallery education to connect, enabling us to better understand how creativity can actively empower within community contexts.
We are delighted to present the creative voices of these community artists.
Ballyphehane / Togher Community Arts & Craft Initiative worked with textile artist Mary Timmons in developing large, celebratory pieces invoking cycles of nature. This proactive group are interested in exploring ways of bringing craft skills, art processes and vibrant community spirit together.
Members of Ballyphehane Mens Art Group, Ballyphehane Women's Art group and St. Finbarr's Retired, Social & Recreational Art Group took a leap of faith with artist Julie Kelleher; in a journey that explored the variety of ways that marks can be put down on the empty page to create bold, brave and vibrant drawings. They were challenged to look to modes other than representation, using line, shape, rubbings and colour studies.
Members of all three art groups worked with stained glass artist Debbie Dawson and responded to art works in the Crawford Gallery space, creating images using a sgraffito technique where paint is applied to the surface of the glass and then scratched away to reveal colour. As well as, working with the theme 'Home' to create personal images on glass that were then leaded together to form individual stained glass panels.
This exhibition forms part of our 2011 Bealtaine Programme and opens on Friday 6 May at 6pm. Bealtaine is a nation-wide festival that celebrates creativity in older age.
_________________________________________
For further info contact: Crawford Art Gallery – Anne Boddaert / Emma Klemencic: 021 4907862 / 021 4907857; anneboddaert@crawfordartgallery.ie
Ballyphehane Community Development Project – Siobhan O Dowd / Teresa McCarthy: 021 4319085; teresa@btcdp.ie
Saturday 7 May – Tuesday 31 May 2011
Emmet Place, Cork
Telephone: +353 21 4805042
Opening hours / start times:
Monday 10:00 - 17:00
Tuesday 10:00 - 17:00
Wednesday 10:00 - 17:00
Thursday 10:00 - 20:00
Friday 10:00 - 17:00
Saturday 10:00 - 17:00
Admission / price: Free