Barbara Rae: New Works
Thursday 10 March – Saturday 9 April 2011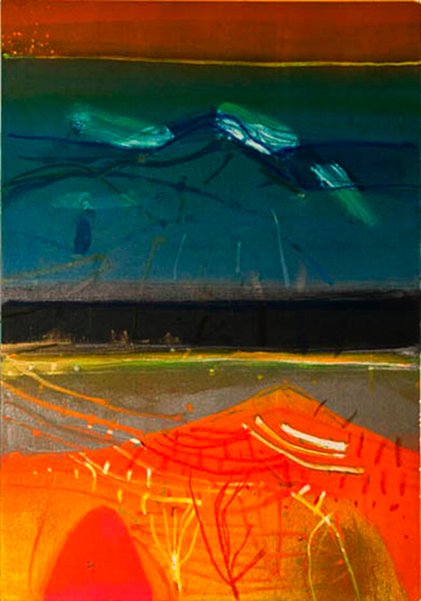 Opening reception 6-8pm, Thursday 10 March
Barbara Rae CBE RA, renowned Scottish painter is equally at home with creating prints as she is painting. Printmaking has always been an integral part of her artistic life. For Rae, how she conceives and works on her monoprints, screenprints, carborundums and etchings enhances and informs her paintings and vice-versa.
As the master printmaker Ron Pokrasso quotes: 'Barbara is not a painter who makes prints but a painter and a printermaker'.
Rae has made prints in a number of different studios, responding to the ambience of each environment and the interaction with printmakers. She is returning to Graphic Studio Dublin following this exhibition to create a suite of new prints with our master printer Robert Russell, which will exhibit in October 2011 as part of our Visiting Artists show.
The works in this exhibition evolve from her relationship with the landscape especially that of the west coast of Ireland and Scotland. They reveal her skill at manipulating form and colour and portray specific features in the landscape, which she uses as departure points for a flight of colour and sweeping primordial shapes.
These rich, vibrant images reflect the unparalleled technique of one of Scotland's most gifted painters and finest printmakers, a recognised master of colour.
Thursday 10 March – Saturday 9 April 2011
off Cope Street
Temple Bar, Dublin 2
Telephone: +353 1 679 8021
Opening hours / start times:
Monday 10:00 - 17:30
Tuesday 10:00 - 17:30
Wednesday 10:00 - 17:30
Thursday 10:00 - 17:30
Friday 10:00 - 17:30
Saturday 11:00 - 17:00
Admission / price: Free
Through the Arch off Cope Street (behind the Central Bank)