Austin Hearne: Slabs II
Saturday 25 March – Saturday 6 May 2023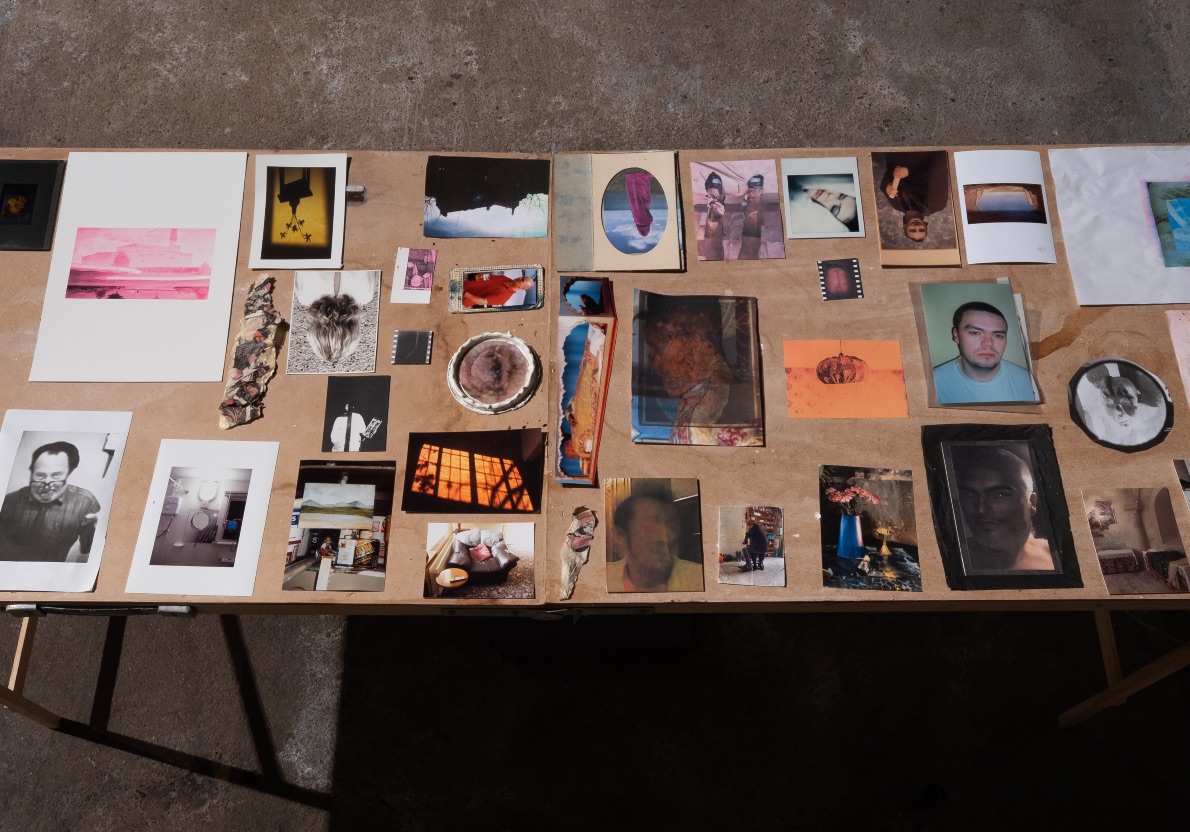 Featuring an opening performance by Stéphane Béna Hanly, the exhibition is accompanied by a limited-edition DIY cut'n'paste zine hand made by Hearne, which features a newly commissioned text by writer Lily Cahill, a frequent observer of his work.
Drawing on the Hearne's extensive personal archive collated over 20 years and including family photographs, newspaper clippings and advertisements, Slabs II is the second iteration of Hearne's curated array of images, variously collaged, scratched, manipulated, cut-out or simply presented as acquired on a series of flimsy fold-up painter and decorator tables.
These reference previous work using decorative paint techniques, often to create ersatz marbled decorative objects reminiscent of church interiors. While the Catholic Church weaves a thread through Slabs II, the visual detritus of contemporary life and the avalanche of images we consume daily are brought to mind, for once stilled in a manner inviting close looking and consideration.
A moving image accompaniment to Slabs II's static visual riot, Whispers is Hearne's award wining short film interlacing snippets of video, mobile phone footage and television, filmed in and around ecclesiastical sites over ten years. Describing himself as a 'flâneur' of these locations, as the Queer protagonist of the film, Hearne reveres, provokes and chastises their meaning and power. Read what he has to say.
Austin Hearne is an artist from Dublin, living in Co. Wexford. He holds a MFA from NCAD (2016). His recent solo show at the Royal Hibernian Academy, Requiem For Raymo, presented a fictional scenario of obsession transmuting from hate to love/lust, expressed through performance, painting and sculpture. In 2021 he collaborated on a music project Satin Shadow with film maker and music producer Glenn McQuaid with a live stream performance in The Complex, Dublin, as part of Tanad Aaron and Mark Swords' exhibition Portico. They have subsequently released 3 albums.
His film work Whispers recently won Best Irish Short at the Gaze film festival. Austin has recently had solo shows in Gorey School of Art (2021) and group shows with WEARTFETISHISTS, PhotoIreland Festival (2022) and Speech Sounds at Visual Carlow (2022). Austin's work is held in private collections in the USA, Europe and the OPW collection.
Saturday 25 March – Saturday 6 May 2023
Main Street, Bray
Co. Wicklow
Telephone: +353 1 2724030
Opening hours / start times:
Monday – Saturday, 11am – 5pm
Admission / price: Free