Atherton After Ireland
Saturday 8 September – Sunday 28 October 2018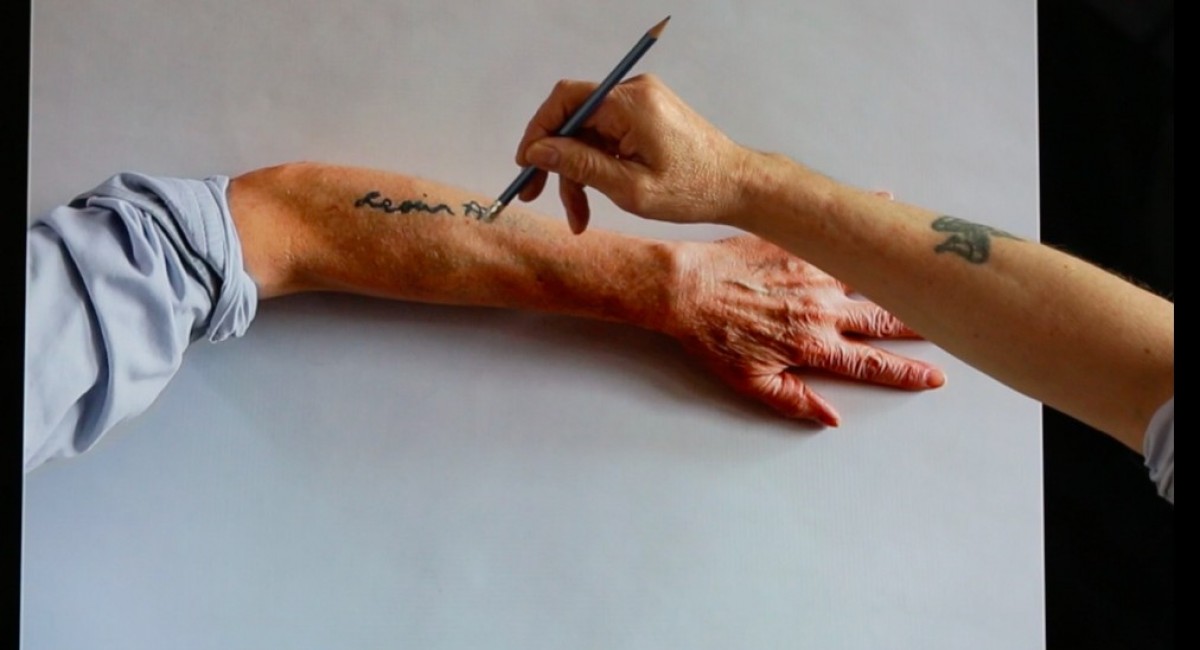 A Kevin Atherton Retrospective with Sarah Hayden • As part of One Here Now: the Brian O'Doherty / Patrick Ireland Project
Kevin Atherton has always been light on his feet. He ducks, he dives, he doubles back on himself. Or, more accurately, his selves—for, though Atherton can be seen and heard everywhere (and everywhen) in this exhibition, he consistently resists capture. In spite of his apparent availability to scrutiny, there is no authentic selfhood to be found in this retrospective. Only, instead: proliferating Athertons. In the works collected here, identity is not just problematized; sent fractal across time and multiplied across media, it is made to look distinctly dubious. What is being exhibited (and simultaneously interrogated) here is a mode of art-making that prods insistently at 'the boundary where a person "ends" and something else begins'. Not life, but true-life fictions. The 'artist himself' as Fata Morgana. Intensely self-reflexive, his is a practice framed in the interrogative, and with its tongue firmly in its cheek; however the questions it asks—of itself, of art, of the artist, of the audience—are posed in earnest, and with intent.
Brian O'Doherty haunts this exhibition as he does all at Sirius this year but when Atherton shares a space with O'Doherty; formerly known as Patrick Ireland and all of O'Doherty's other avatars, another heart beats spectrally between them. Shades of that grave trickster, Marcel Duchamp, are audible under Atherton's patter; they are discernible in the pugilistic attitudes he strikes, too.
For years, Atherton was best known for interviewing himself. The artist has made a habit, and an art-form, of self-critique. In this exhibition, for the first time, another commentator, Sarah Hayden, is permitted to intervene. The critic's voice invades the gallery but it cannot presume to overwhelm or speak over the work which like their irrascible maker—resolutely undead author—refuse to lie quiet. True to the Manx artist's lifelong commitment to crossing between media, Atherton After Ireland comprises work in film, video, performance, virtual reality and still image from across his long and influential career. These works take us from 1972 to 2018 and back again and, (loopingly) again. With this exhibition, Sirius Arts Centre invites you to join in Kevin Atherton's wry, witty auto-exposition of Atherton After Ireland.
Kevin Atherton was part of the pioneering generation of artists in the UK who developed performance and video art in the seventies. In the nineteen eighties, his public art commissions helped to introduce the notion of site-specific practice. Well known as an art educator, he was Principal Lecturer in Fine Art at Chelsea College of Art (University of the Arts) before moving to Ireland in 2000 to become the first Head of Fine Art Media at the National College of Art and Design (NCAD). His work has been shown internationally, at venues including the ICA and Tate Britain (London), Van Abbe Museum (Eindhoven), Museum of Modern Art (Vienna), and San Francisco Museum of Modern Art (USA). In 2014, Atherton's video installation 'In Two Minds' (1978-2014) was purchased, courtesy of Hennessy, for the Irish Museum of Modern Art's permanent collection. Manx National Heritage recently purchased 'Log' and 'Log II' (1981-2017) for the National Collection at the Manx Museum and Art Gallery, Douglas, Isle of Man. Atherton is currently working on a video and performance project with The Puppet Museum in Sicily.
Sarah Hayden is a writer and academic who works at the intersection of experimental writing and visual art. She is the author of the books, Curious Disciplines: Mina Loy and Avant-Garde Artisthood and Peter Roehr—Field Pulsations (with Paul Hegarty), and the poetry, chapbooks sitevisit (Materials) Exteroceptive (Wild Honey), System Without Issue (Oystercatcher) and Turnpikes (Sad Press). She is a Lecturer in the Department of English at the University of Southampton.
Atherton and Hayden launched their collaboration with 'In Two Minds: Interrogated' at Sirius Arts Centre in January 2018. Clips of their performative interview are available here and here.
Supported by the Arts Council and Cork County Council
Saturday 8 September – Sunday 28 October 2018
The Old Yacht Club
Cobh, Co. Cork
Telephone: +353 21 481 3790
Opening hours / start times:
Wednesday – Saturday, 11:00 – 16:00
Admission / price: Free