Assumptions: Robert Armstrong
Friday 17 January – Saturday 15 February 2014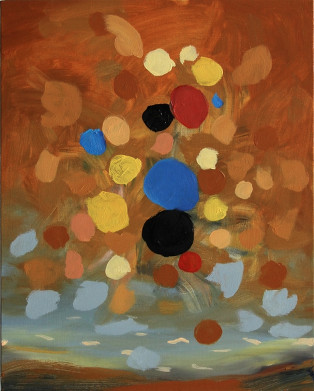 Opening reception Thursday 16 January at 6pm
The title of Robert Armstrong's exhibition of new paintings refers to his version of The Assumption of the Virgin, a Nicolas Poussin painting from 1650. Nonetheless, it cannot be assumed thatthe ascension into heaven of the Virgin Mary after her death is in any significant way the subject of Armstrong's painting or the theme of the exhibition.
The paintings in the show originate in different ways, sometimes in direct response to the history of painting – perhaps to a specific painting – and at other times as a retort to contemporary circumstances. In some cases, the original narrative, often one with an edifying moral purpose, has been extracted, in the search to find language that is both of the tradition and moving it forward.
The tension between figuration and abstraction is a constant. The viewer might choose to hunt for clouds, whether floating or grounded, for trees and mountains, or for saints and saviours translated into slashes of colour; or opt purely to regard the act of painting. Armstrong's paintings are not presented for exhibition as a premise in an argument or thesis. Attempting to keep several balls simultaneously in the air, they are evidence of his reliance on and response to spontaneous impulse, representing a position of experimentation, ambiguity and adventurousness.
Image: Robert Armstrong: Assumption, oil on linen, 50 x 40cm, 2013
Friday 17 January – Saturday 15 February 2014
Chancery Lane
Dublin 8
Telephone: +353 1 475 9514
Opening hours / start times:
Tuesday to Saturday 11am – 5pm
Admission / price: Free