Assemblies
panel discussion Wednesday 16 December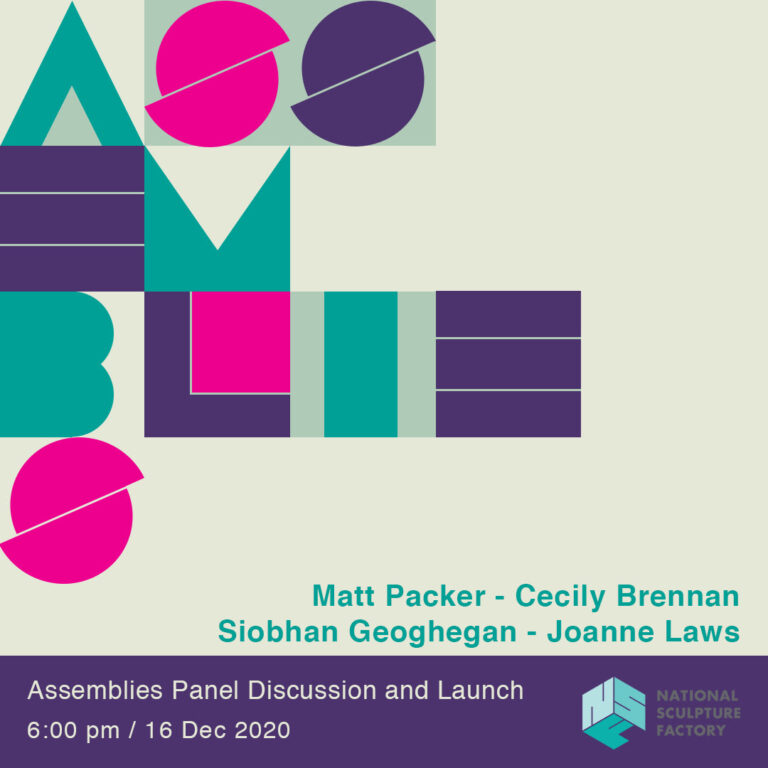 ――― Online only ―――
Assemblies first and foremost is a gathering or series of gatherings; a number of productive, exploratory, participatory and public intercessions, shaped to reflect upon the disparate elements that make up the cultural community we live in.
They are designed and programmed to unfold later in 2021 when once again will have the opportunity to congregate and converse. These Assemblies may take a variety of forms but can be thought of as intensive, active, participatory, public and inter-institutional 'town hall' meetings, led by individuals from the Irish and international artworld, each exploring the fundamental conditions of art making from their own historical perspectives.
The flourishing of art practice in a particular locale – city or region is dependent upon the existence of certain conditions. Some of these conditions are elemental, matters of economics or infrastructure; some relate to education, or even simple geography, but in almost all cases there is the unquantifiable human element.
We wish to bring people together as a way of investigating these territories for art production both publicly and inclusively. We want to create opportunities for discourse and conversation after a year of isolation and remove, and at its heart ask questions about what our futures might be.
Assemblies Live Panel Discussion – Weds 16th Dec 6:00pm
Panelists:
Cecily Brennan – Artist & Activist
Matt Packer – Director of EVA International
Joanne Laws – Writer and Features Editor of The Visual Artists' News Sheet
Siobhán Geoghegan – Director of Common Ground
Four esteemed Irish art practitioners, experts in their relative fields of practice will take part in this panel discussion to help us unpack what constituents might be necessary for an active, critical and creative community under four fundamental conditions or rubrics –
Artists & Making
Galleries & Institutions
Judgment & Criticism
Art & the Social
After the four presentations there will be an open discussion and in our desire to include your voices, to gather digitally, we hope to re-imagine the 'town hall' by allowing the attendees to be active in the conversation. In the need to revitalise some social solidarity across our artistic communities after a period of isolation and social distancing we want to invite you to attend and also if you wish contribute to the discourses.
The full Assemblies Programme will be announced later in 2021.
We are pleased to announce registration for our evening launch with four guest panelists at  6:00pm on Wednesday 16th December is now open through Eventbrite.
Cecily Brennan's career has spanned three decades. She has made work in a wide range of media painting, sculpture, printmaking, sound and film. In step with her art practice and often overlapping it she has agitated for fair treatment and payment of artists and the vindication of women's reproductive rights.
Brennan was Director of the Project Arts Centre between 1983 – 86, She was one of the founding members of The Artists' Campaign to Repeal the Eighth Amendment with Alice Maher, Eithne Jordan and poet Paula Meehan. She has been a member of Aosdána since 1991.
Matt Packer is the Director / CEO of EVA International – Ireland's Biennial of Contemporary Art. Previous roles include Director, CCA Centre For Contemporary Art Derry-Londonderry; Associate Director, Treignac Projet; Curator of Exhibitions & Projects, Lewis Glucksman Gallery.
He was part of the selection committee for the British representation at the Venice Biennale 2017 and is an advisor on the What Could / Should Curating Do? educational programme in Belgrade. He is co-founder of Occasional Groundworks – a network of biennials that are rethinking the biennial model – and contributes a regular column on themes of internationalism for the Visual Artists' News Sheet.
Joanne Laws is an arts writer, researcher and editor based in County Roscommon. She is Features Editor of The Visual Artists' News Sheet – Ireland's main printed publication for the visual arts – where she oversees the commissioning of new writing for an Irish arts readership. Joanne is a regular contributor to a range of Irish and international publications, including Art Monthly, ArtReview and Frieze. She was Assistant Editor of the Derek Jarman monograph, Protest! published in 2020 by the Irish Museum of Modern Art in partnership with Manchester Art Gallery and Thames & Hudson. Joanne is a member of the International Association of Art Critics (AICA) and has previously developed extended essays, research reports and policy documents for numerous galleries and arts organisations.
Siobhán Geoghegan is the Director of Common Ground an arts development organisation based in Inchicore, Dublin. Siobhán was employed in 1999 to set it up with other local activists.
Common Ground advocates for new cultural models of equality. It's artistic practice and programming range from music to the visual arts in studio 468 and across Dublin 8 in local community settings in collaboration and partnership with community development projects, artists, youth projects, after schools and other cultural partners. In 2019 Common Ground moved into a new organisational base with a live/work residency programme in the Lodge House at Goldenbridge Cemetery, Inchicore.
Audience Participation
All audience members will have the opportunity to engage in the open discussion once the initial presentations have been held. To ask questions and engage directly in the conversation you can do this by using the chat function on Zoom to ask a question and then the moderator may then invite you on screen to pose your question to the panel. If you wish to participate in the post presentation debate please make sure that you have a good internet link; a functioning camera and microphone and you are suitably lit in order for the moderator to connect you directly into the conversation.
Due to time constraints not all questions can be answered but we will do our best to include as many voices to the conversation as possible. This online event will be recorded for the National Sculpture Factory's digital library and may be hosted on their site for a short period after the date of the live panel discussion.
Register for the Assemblies Panel Discussion here
This series is free for all. These talks will take place on Zoom, so we recommend downloading/updating your app ahead of time to prevent delays in joining the webinar. There with be time allocated at the end of each presentation for Q+A with our online audience.
panel discussion Wednesday 16 December
Albert Road, Cork City
Telephone: +353 21 4314353
Admission / price: Free