Asbestos: Pass Freely
Tuesday 22 June – Friday 31 December 2021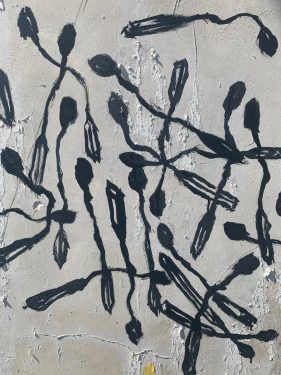 ――― Viewable outdoors ―――
In a new initiative, Hugh Lane Gallery is moving its summer programme onto the street. Joining up with artist Asbestos we are presenting a contemporary response to 'From Secret Block to ROSC' our centenary celebration display of Joseph Beuys work in the gallery from 14 July to 31 October 2021. 'Pass Freely' will take place on 40/41 O'Connell Street with a large mural on the side wall of the AIB building and hoarding.
The mural will take the form of a figure made of painted burnt matches. Each one represents a person who has sadly died from Covid-19. During its lifetime the mural will be updated with more matches until such time as when the pandemic has passed. The hoarding will feature a quote from Joseph Beuys book 'The Secret Block for a Secret Person in Ireland' (1974): "pass freely from one level of existence to another…"
An associated public series of talks and events will take place throughout 2021 exploring street art and Joseph Beuys, please see our website for further details.
Follow the journey on social media @thehughlane @artofasbestos #PassFreely
•
As part of the process of creating this mural, the artist would like to hear from anyone who has lost someone due to Covid.
If you'd like to share a thought about them, WhatsApp a voice message to 087 383 4088
Each drawing of a match painted represents a life lived by someone who has left us.
Please note, some messages may be shared on a video around the installation, but only with your consent. And your information will be protected in line with GDPR guidelines. For more information, click here.
•
Asbestos is an Irish artist creating work on the street in a variety of media since 2003. His portrait murals explore the concept of identity, a dialogue with two versions of his persona. The ongoing Lost series sets out to find all manner of lost things using stickers and posters located around cities in Ireland and internationally. Anyone who locates them can get in touch becoming part of the process and opening a conversation with the public. After 15 years of the Lost poster series the public continue to respond.
The 'Pass Freely' mural is a 5 minute walk from the Gallery.
Tuesday 22 June – Friday 31 December 2021
Parnell Square North
Dublin 1
Telephone: + 353 1 222 5550
Opening hours / start times:
Tuesday 10.00 - 18:00
Wednesday 10.00 - 18:00
Thursday 10.00 - 18:00
Friday 10.00 - 17:00
Saturday 10.00 - 17:00
Sunday 11.00 - 17:00
Admission / price: Free