As They Must Have Been: Men of the South, 1922 – 2022
Saturday 30 July – Sunday 25 September 2022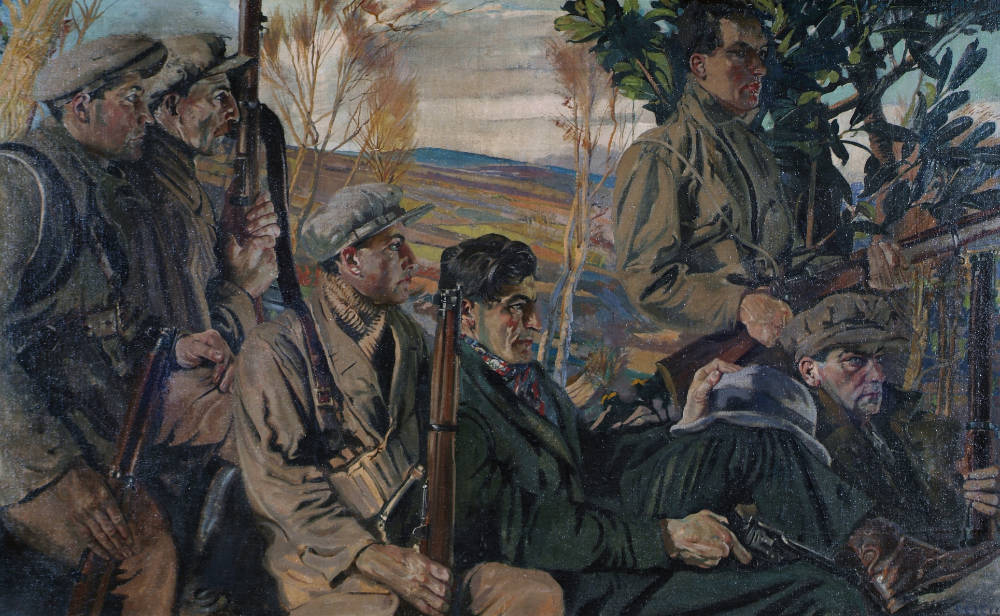 Seán Keating's group portrait, Men of the South, was completed a century ago this year. It was created in the long shadow of the Irish War of Independence (1919-21) when, during the truce of 11 July 1921, members of the No. 2 (North) Cork Brigade visited the artist's Dublin studio. Keating would later remark: 'They trooped in, dressed and armed very much as they must have been on many an ambush.'
Exhibited at the Munster Fine Arts Club in 1922, Men of the South excited discussion in the Cork press and was ultimately purchased for the collection, in 1924, through the Gibson Bequest Fund.
This exhibition will place Men of the South in context and seek to draw out stories of the individuals depicted, the wider theatre of war, and the circumstances surrounding the making of a masterpiece. It will also provide a rare opportunity to encounter Men of the South with its companion painting, 1921 – An IRA Column, which will be on kind loan from the Office of Uachtarán na hÉireann.
Accompanying this focused consideration of Men of the South will be a broader exploration of 1920s Ireland, and the emergence of the Irish Free State, as represented through selected artworks by, among others, George Atkinson, Hugh C. Charde, Margaret Clarke, May Guinness, Paul Henry, John Lavery, Louis le Brocquy, and Jack B. Yeats.
This centenary exhibition invites visitors to reflect upon the power of art to shape or reshape our histories, with an eye to posterity and bearing witness to lives and events 'as they must have been'.
Curated by Michael Waldron
Image: Seán Keating, Men of the South, 1921-22. © Estate of Seán Keating, IVARO Dublin, 2022
Saturday 30 July – Sunday 25 September 2022
Emmet Place, Cork
Telephone: +353 21 4805042
Opening hours / start times:
Monday 10:00 - 17:00
Tuesday 10:00 - 17:00
Wednesday 10:00 - 17:00
Thursday 10:00 - 20:00
Friday 10:00 - 17:00
Saturday 10:00 - 17:00
Admission / price: Free