Artists' Film International screening programme
Friday 10 November – Sunday 19 November 2023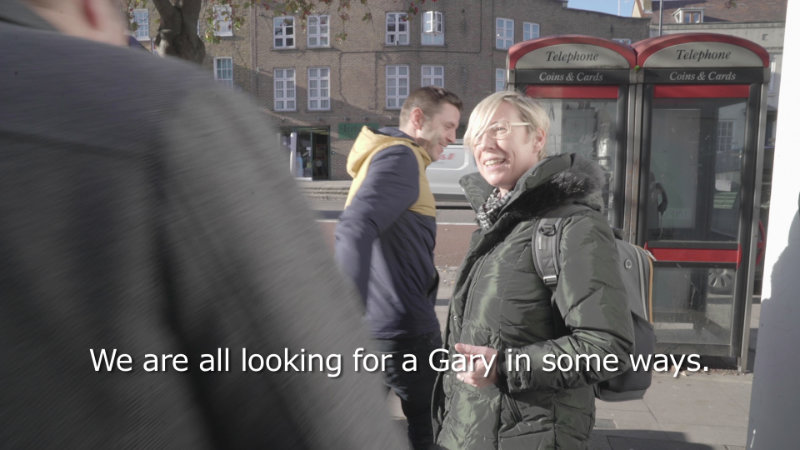 Screening programme at Crawford Art Gallery in partnership with Cork International Film Festival
Artists' Film International (AFI) is a collaborative project featuring film, video and animation from around the world. Established by Whitechapel Gallery (London) in 2008, AFI includes 18 global partner organisations. Each organisation selects an exciting recent work by an artist from their region which is shared amongst the network. Throughout 2023 the AFI partners have selected moving-image works by artists on the theme of Diaspora with this year Michelle Deignan's short film Looking for Gary (2018) has been selected by Crawford Art Gallery.
Michelle Deignan (first heard of Islington in London, when sitting her living room one night in 1980 in Ireland, as British New Romantics 'Spandau Ballet' were introduced on BBC's 'Top of the Pops', as 'five young guys from Islington who are causing a real buzz in the music industry'.
Ever since, she meshed Islington New Romanticism and Spandau Ballet into one memory. Thirty-eight years later and living nearby, Deignan takes a film crew to Essex Road in Islington, the busy throughfare that Gary Kemp Spandau Ballet's songwriter grew up on. Together they search for a post New Romantic Gary to replace the old one.
Michelle Deignan is an artist and filmmaker based in London. She makes moving image, photographic and print works, for exhibition and screening contexts. These works critically examine the production and dissemination of culture now and historically.  Recent exhibitions include: True North, Galería Fermay, Palma de Mallorca, ES (2023); BIENALSUR, Montevideo, UY and Córdoba, AR (2022); Halvad Ideed (Bad Ideas) Tallinna Kunstihoone, Tallinn, EE (2022);  Rencontres Internationale Paris/Berlin, Louvre Museum FR (2021). Michelle is a contributor to The Crown Letter, a self-organised international women's art project, publishing weekly responses by artists to the here, then and now. www.crownproject.art
Jasmina Cibic works in film, sculpture, performance and installation to explore 'soft power'. Questioning how political rhetoric is deployed through art and architecture, Cibic particularly probes how cultural production is used by the state to communicate certain principles and aspirations. Through unfolding the complex entanglements of art, gender and state power, she encourages viewers to consider the strategies employed in the construction of national culture.
Jasmina Cibic represented Slovenia at the 55th Venice Biennial with her project "For Our Economy and Culture"and the winne of the Jarman Award (2021). Cibic's films have been screened at The High Line, Whitechapel Gallery, MOMA New York, London Film Festival, HKW Berlin, the Louvre, Dokfest Kassel and Copenhagen International Documentary Festival. Her recent exhibitions include solo shows at: Museum der Moderne Salzburg, macLyon, Museum Sztuki Łódź, CCA Glasgow, Phi Foundation Montreal, BALTIC Centre for Contemporary Art Gateshead.
Screening Times: Friday 10 November – Sunday 19 November in the Lecture Theatre
Monday – Saturday 10:00 – 17:00, Thursday until 20:00, Sundays and Bank Holidays 11:00 – 16:00
Image: Michelle Deignan, Looking for Gary (2018) 07:20 minutes; selected by Crawford Art Gallery, Cork
Friday 10 November – Sunday 19 November 2023
Emmet Place, Cork
Telephone: +353 21 4805042
Opening hours / start times:
Monday 10:00 - 17:00
Tuesday 10:00 - 17:00
Wednesday 10:00 - 17:00
Thursday 10:00 - 20:00
Friday 10:00 - 17:00
Saturday 10:00 - 17:00
Admission / price: Free