Man on the Bridge
Saturday 29 November 2014 – Thursday 8 January 2015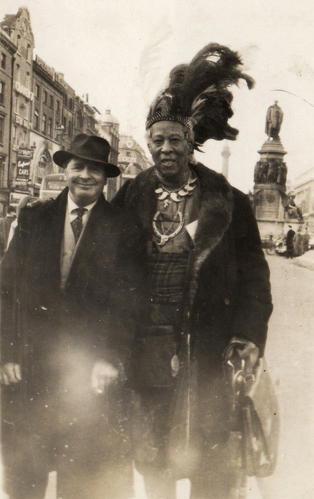 One city, one street, fifty years – 3,428 photographs – the biggest installation ever mounted at the Gallery of Photography. This must-see show lets you experience 50 years of history in one sweep – and who knows, if you walked across O'Connell Bridge anytime between 1930 and 1988, you might even find yourself in one of the photos!
– Public Talk: 'Man on the Bridge' project directors Ciarán Deeney and Dave Clarke will talk about the project this Wednesday December 3rd at 1.15pm in the Gallery. All welcome, admission is free.
– Get Involved If you have a 'Man on the Bridge' Dublin street photograph, you can share it on www.manonbridge.ie and take your place in this fascinating alternative archive of the city.
– Show off your photos! The Gallery of Photography can scan, re-touch and print high-quality enlargements of your 'Man on the Bridge' photos for you to display and share at home. Telephone 01-6714654 or email info@galleryofphotography.ie for details.
– TV Documentary: screening on RTE over the Christmas period, dates tbc, watch the trailer here.
– The Book A selection of images and stories from the archive has been compiled into a handsome book. Published by Collins Press, Man on the Bridge is available in the Gallery Bookshop at €25.00.
– Free guided tours of the exhibition take place every Friday at 1.15pm. If you would like to arrange a guided tour at any other time, telephone 01-6714654 or email info@galleryofphotography.ie to book.
Opening hours: Tues-Sat 11am-6pm, Sunday 1-6pm and Mondays by appointment*.
*The exhibition may on occasion be closed to the public to facilitate other events in the space, eg Wednesday 10th Dec closing at 5pm. Please check the website www.galleryofphotography.ie for updates.
Image: Arthur Fields and Prince Monolulu
Saturday 29 November 2014 – Thursday 8 January 2015
Meeting House Square
Temple Bar, Dublin 2
Telephone: +353 1 6714654
Opening hours / start times:
Tuesday - Saturday 11am - 5pm. Mondays by appointment for education, artists archiving and training. Closed Sundays
Admission / price: Free