Art & Science Education and Community Programmes
Friday 6 July – Friday 20 July 2012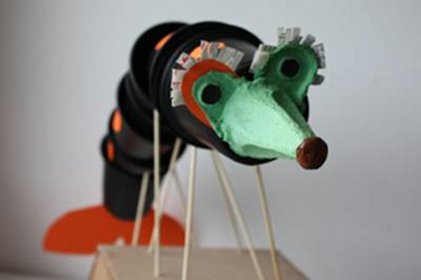 IMMA presents Art & Science Education and Community Programmes as part of Dublin City of Science Festival
The Irish Museum of Modern Art presents an exciting programme of activities to coincide with Dublin's hosting of the 2012 Euroscience Open Forum (ESOF). IMMA's Art & Science programme for adults, teenagers and families, running throughout the months of July and August, are based on an exhibition of works from the Museum's Collection which explores the connections between art and science, Time out of Mind, currently on show in IMMA's off-site location at the National Concert Hall in Earlsfort Terrace.
Events include family workshops in association with The Ark; a family-led gallery event in association with Theatre Lovett; a seminar exploring the relationship between the visual arts and science; two summer courses for teenagers and a full programme of talks and lectures. Throughout the months of May and June IMMA also designed a special Art & Scienceprogramme for 14 primary schools and a gallery/studio session for young teenagers.
Full details of upcoming activities are as follows:
Family Events
IMMA and The Ark collaborate on Be an artist workshop on 6 and 7 July
Friday 6 July – Part 1: The Ark, Temple Bar, 11.00am to 12.30pm
Saturday 7 July – Part 2: IMMA @ NCH at Earlsfort Terrace, 11.00am to 2.00pm
Children and accompanying adults are invited to create an artwork inspired by the Awakening Curiosity exhibition at The Ark and the Time out of Mind exhibition at IMMA. Ages 8 to 12 plus adult. Tickets €15/€12 concessions for adult and child pair. Advance booking essential through The Ark's box office on tel: 01-670 7788.
Science, Art and Submarines: A collaboration between Theatre Lovett and IMMA on Sunday 8 July at 12.30pm and 3.00pm
What happens when an artist plays with science? And hangs it in a museum? And an art expert walks into it? And falls over? Who picks it all up and how exactly does a hoover work? Actors Louis Lovett and Jaimie Carswell will lead an audience of armchair experts, artefacts, scientists and fans of complete nonsense through the hallowed halls of Earlsfort Terrace taking in the work of internationally renowned visual artists, the opinions of security guards and whatever you're having yourself. This event is free, but booking is strongly recommended, please email christine.oneill@imma.ie to book.
Talks & Lectures
Seminar: Art + Science
Tuesday 10 July, 5.30pm – 7.30pm, Lecture Room, IMMA @ NCH at Earlsfort Terrace
IMMA is hosting a seminar which explores the relationship between the visual arts and science titled Art + Science. The seminar considers collaborations between art and science in their historical contexts as well as current critical issues. Keynote participants include Dorothy Cross (artist), Tom Cross (zoologist), Siân Ede (writer, scholar and Deputy Director, Gulbenkian Foundation), Michael John Gorman (Director, Science Gallery, Dublin), Marie Redmond (Lecturer, TCD) and Mick Wilson (GRADCAM). For further information on the seminar contact Sophie Byrne, Assistant Curator, Talks and Lectures, IMMA, tel +353-1-6129913, email sophie.byrne@imma.ie.
Lecture: Critique / Respond/ Reflect: Art upsets Science reassures – Georges Braque
Friday 6 July 4.00pm, Lecture Room, IMMA @ NCH at Earlsfort Terrace
Brian Hand, artist, lecturer and writer, looks back at some of the historical contexts of the early 19th-century when the terms art, science and technology interchanged and the perceptions of the distinctions between the disciplines seemed less clear than today.
Other upcoming talks in the Art & Science Season include a talk with artist Grace Weir and philosopher Sean Enda Power, and a critical responses by Brenda Moore McCann (writer, critic and Lecturer, TCD) who will discuss art's relationship to medicine. For details please visit the IMMA website at www.imma.ie/talksandlectures
Booking is essential for all talks, free tickets are available online at www.imma.ie/talksandlectures
Summer Courses for Teenagers
From 17 July to 20 July IMMA offers two summer courses for teenagers, Teencreate for young teenagers (12-15 year olds), and Studio8 for older teenagers (15-18 year olds). These courses are a collaboration between IMMA's Education programmes, Fighting Words and visual artist Beth O'Halloran, and will explore the characteristics of and connections between the visual arts and science and writing in its various forms. Both these courses are now booked out.
IMMA gratefully acknowledges the support received from Dublin City of Science.
Friday 6 July – Friday 20 July 2012
IMMA @ NCH
and The Ark