Art Group 7: Traces
Wednesday 15 January – Saturday 8 February 2014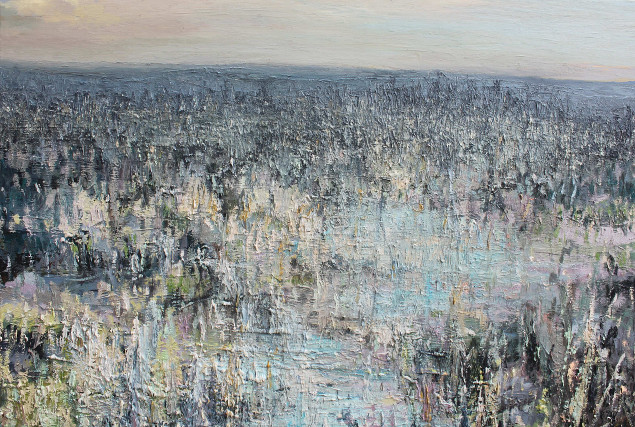 Opening Reception Friday 17 January at 7pm
The exhibiting artists are Daniel Sexton, Mark Ewart, Declan O'Meara, Zara McDaid, Tracy Cronin, Sandra Norris, and Evelyn Egan Rainy.
The artists became a group through their work as art educators. They each teach art related disciplines at second level, third level and in community based settings.
The group's artworks are an investigation into personal representation. The revival of past traditions or events is important. The work deals with the documentation of events in life and the question of how they can be presented, thematically through various materials like paint, sculpture, but also through the use of memory and the projection of these traces into our past. Traces is an attempt to seek out and participate in the narratives of the artists. Thus investigating the traces left and the marks made.
Evelyn Egan Rainy is a lecturer in Art for Early Years Education and Social Care at Cork institute of Technology (CIT) and on the MA for Visual Arts in Primary and Early Years Education at the Crawford College of Art and Design (CCAD)She graduated with a BA(Hons) in Fine Art Printmaking from Falmouth College Art and Design (University of Plymouth) UK and has a Higher Diploma and MA from CCAD. Born in Germany, of Irish parents, Evelyn was raised in Kilimanjaro and educated at International School Moshi Tanzania. She has worked as an Assistante at the Scuola di Grafica Venice and was later employed as Head of Art at the International School of Padua Italy, before returning to Cork.
Sandra Norris
Sandra Norris is a Cork based artist and teaches in Co.Waterford. Norris studeied Fine Art at Crawford College of Art & Design, followed by H-Dip in Arts for Art and Design teaching. Her work draws from the influences of having lived by the lavish seascapes in Dungarvan and Ballinacourty.
Zara Mc Daid is a Co. Donegal native who grew up in the small picturesque village of Ramelton. She studied a BA (Hons) in fine Art painting at University of Ulster, Belfast. Shortly after she completed a Higher Diploma in Art Education at the CIT Crawford college of Art and Design Cork. She works as an Art teacher in Magh Ene College, Bundoran Co. Donegal. Zara currently lives in Co.Sligo where her artist studio is based.
Zara's work was selected for an exhibition having come through a panel of judges who selected her work to be put on display on the billboards of Times Square, New York. Her work has also recently been featured in nationwide magazines including 'Ooh La La' and 'Image magazine'.
Daniel Sexton currently teaches in the Art Education unit in Cork City Prison. Educated in the Crawford College of Art Cork and design where he achieved a BA Hons Fine Art, H-Dip and Masters in Art and Design Education. Daniel was a second round finalist in the British Portrait awards in 2012. He has exhibited his art work throughout Ireland. Daniel as one of the founding members of Art Group 7 finds the group a great outlet for his own art practice.
Tracy Cronin
Growing up in Killarney Co. Kerry, Tracy has always been inspired by the natural world and this has been an important subject in her work. Educated in the CIT Crawford College of Art and Design she achieved an Honours Degree in Fine Art painting, Higher Diploma and Masters in Art and Design Education. In 2008 she was awarded the "Marshall Hudson Award" for excellence in education. She has been working as an art teacher in Cork City for the last five years and enjoys being part of a continuum of creativity. Tracy is currently working in Youthreach Knocknaheeny, Foroige Corcaí and the College of Commerce. As a member of Art group 7 Tracy enjoys continuing her practice and exploring new ways to create artwork.
Mark Ewart is a lecturer in the Department of Art & Design Education at CIT Crawford College of Art & Design. He also teaches art at Ashton School, Cork. He has written reviews and articles for several publications including The Irish Times, Circa Art Magazine and Irish Arts Review; as well writing catalogue essays and exhibition texts for a number of well known local and national artists.
Declan O' Meara is an art teacher and artist based in Cork city. Recent teaching posts have included Kettering Buccleuch Academy U.K and Bantry Youth Reach County Cork. He graduated from Limerick School of Art & Design in 2004 with an Honours Degree, and in 2008 he received a Higher Diploma in Art Education from Crawford College of Art.
Declan's practice is diverse, ranging from Illustration, Painting, Sculpture and Photography. He has exhibited throughout Ireland and been involved in shows with Cork Artists Collective and ENSO Galway Artists Collective.
Image: Mark Ewart: Arcane, oil on canvas, 60cmx90cm
Wednesday 15 January – Saturday 8 February 2014
Cork
Telephone: +353 21 4335210
Opening hours / start times:
Wednesday 10:00 - 18:00
Thursday 10:00 - 18:00
Friday 10:00 - 18:00
Saturday 10:00 - 18:00
Admission / price: Free