Art Basel's Online Viewing Room
Wednesday 17 June – Friday 26 June 2020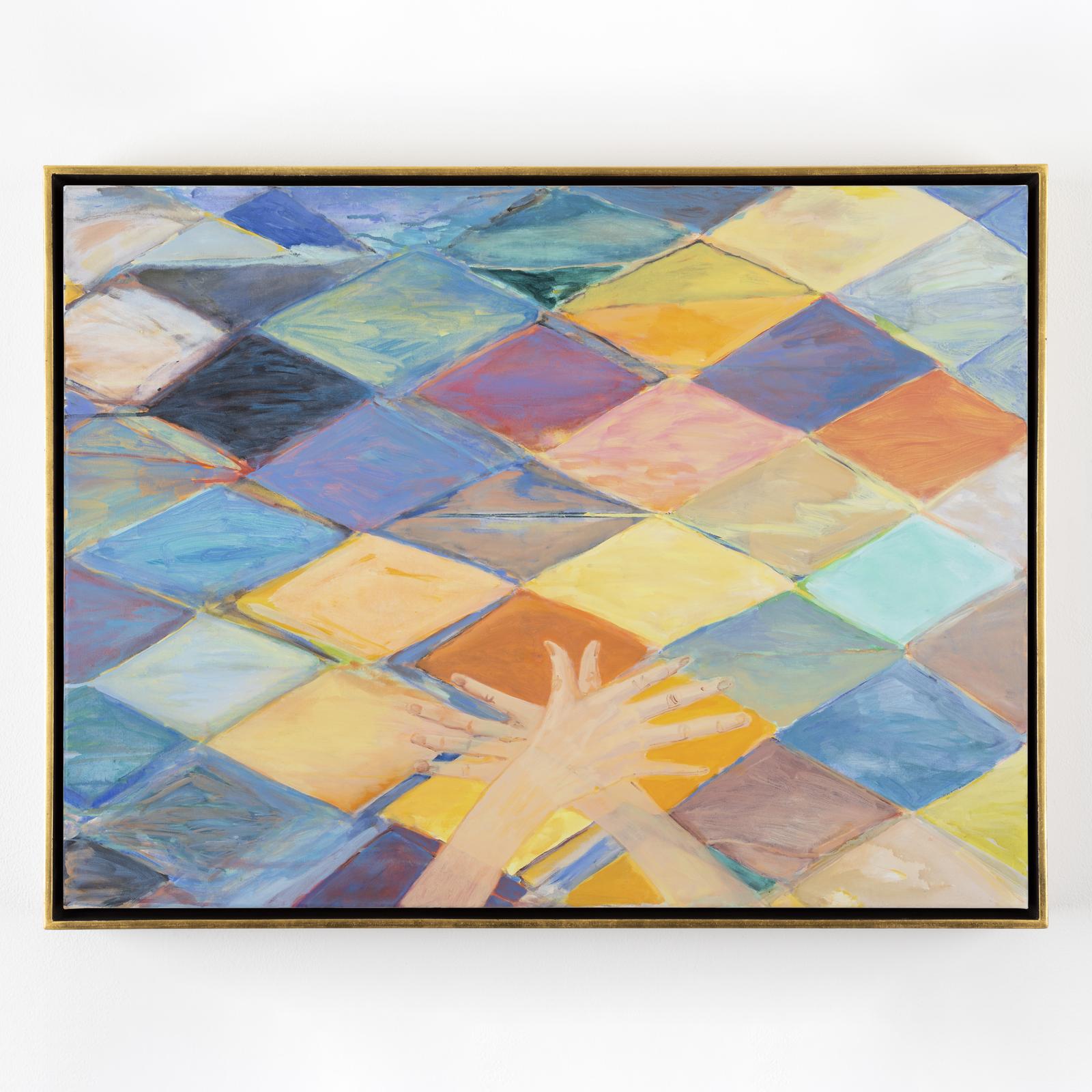 ――― Online only ―――
Kerlin Gallery is delighted to announce its participation in Art Basel's Online Viewing Rooms, with a focus on the work of three artists, Liliane Tomasko, Kathy Prendergast and Isabel Nolan.
Liliane Tomasko's abstract paintings have long explored our various emotional and physiological states, the latency of our dreamworld and the power of our memories. These new works, made during 'lockdown' continue this exploration with an intensity of energy, bold lyricism, and Tomasko's distinctive unabashed sense of colour. Under the collective title 'Hold on to Yourself' these paintings echo the 2008, Nick Cave and the Bad Seeds' song of the same name that cries out for a future where one can lie down with and hold another person again.
Kathy Prendergast has persistently and poignantly explored identity, landscape, mapping and power through work that is finely crafted, multi layered and speaks with rich evocation to universal concerns of love and loss. For Art Basel online we are delighted to present Prendergast's 1998 photographic work 'The Endless Goodbye', the monolithic 'Interior with Light' created 20 years later and the powerful bronze work 'Embrace', started in 2010 but revisited in recent months to reflect, perhaps, a new urgency for understanding our common humanity.
There is a delicate and awkward tenderness at the heart of Isabel Nolan's work. These new paintings describe fragile relations between humans, nature and the Sun. Hands twist and creep, signalling, reaching out, or simply stretching as the world comes in and out of focus. The Sun too seems to reach back, soothing and warming us with its 'tender beams'. In other paintings the same sun seems to drip with burning heat and light. Familiar imagery gives way to abstraction: landscapes or cities seem to have melted and dissolved under its inescapable influence. Nolan's recent focus on painting continues with the themes familiar from her sculpture and writing, in particular the deep strangeness of the world and our complicated relationship with it.
Liliane Tomasko (b. 1967, Zurich) has had solo shows at Chateau la Costa, France, (2019); Kerlin Gallery, Dublin, (2019); Museo MATE, Lima (2018); Rockland Center for the Arts, New York State (2018); Kunstwerk, (two-person exhibition with Sean Scully, Sammlung Klein, Germany (2017); Lowe Art Museum, Miami and Phoenix Art Museum, Arizona (both 2015). Tomasko's work was included in Abstract Painting Now! in Kunsthalle Krems, Austria, (2017).
Kathy Prendergast (b. 1958, Dublin) represented Ireland at the 46th Venice Biennale, 1995, for which she won the prestigious Premio Duemila Prize. In the 25 years since she has had significant shows at Kunst-Station St. Peter, Cologne (2019); Douglas Hyde Gallery, Dublin, Ireland (2006 and 2016); Crawford Art Gallery, Cork, Ireland (2015); The Irish Museum of Modern Art (2000) and Tate Britain (1997). Her ambitious 'Atlas' installation first shown at Kerlin Gallery, 2016 has been shown at MoMA Oxford (2018) and as part of the 2017 Yokohama Triennale.
Isabel Nolan (b. 1974, Dublin) represented Ireland at the 51st Venice Biennale as part of a group exhibition, Ireland at Venice 2005. In recent years solo shows include Kunstverein Langenhagen, Germany, (2018); London Mithraeum Bloomberg SPACE, (2017–18); Grazer Kunstverein, Graz, (2017–2018); Douglas Hyde Gallery, Dublin (2017); Mercer Union, Toronto (2016); CAG, Vancouver (2016); Irish Museum of Modern Art, Dublin (2014) and Musée d'art moderne de Saint Etienne, France (2012).
Image: Isabel Nolan: View (back turned), 2020, waterbased oil on canvas, 60 x 80 cm / 23.6 x 31.5 in
Wednesday 17 June – Friday 26 June 2020
Anne's Lane
South Anne Street, Dublin 2
Telephone: +3531 670 9093
Opening hours / start times:
Monday 10:00 - 17:45
Tuesday 10:00 - 17:45
Wednesday 10:00 - 17:45
Thursday 10:00 - 17:45
Friday 10:00 - 17:45
Saturday 11:00 - 16:30
Admission / price: Free