Arbour Essences in Anthropocene Dublin
Sunday 14 May – Friday 30 June 2023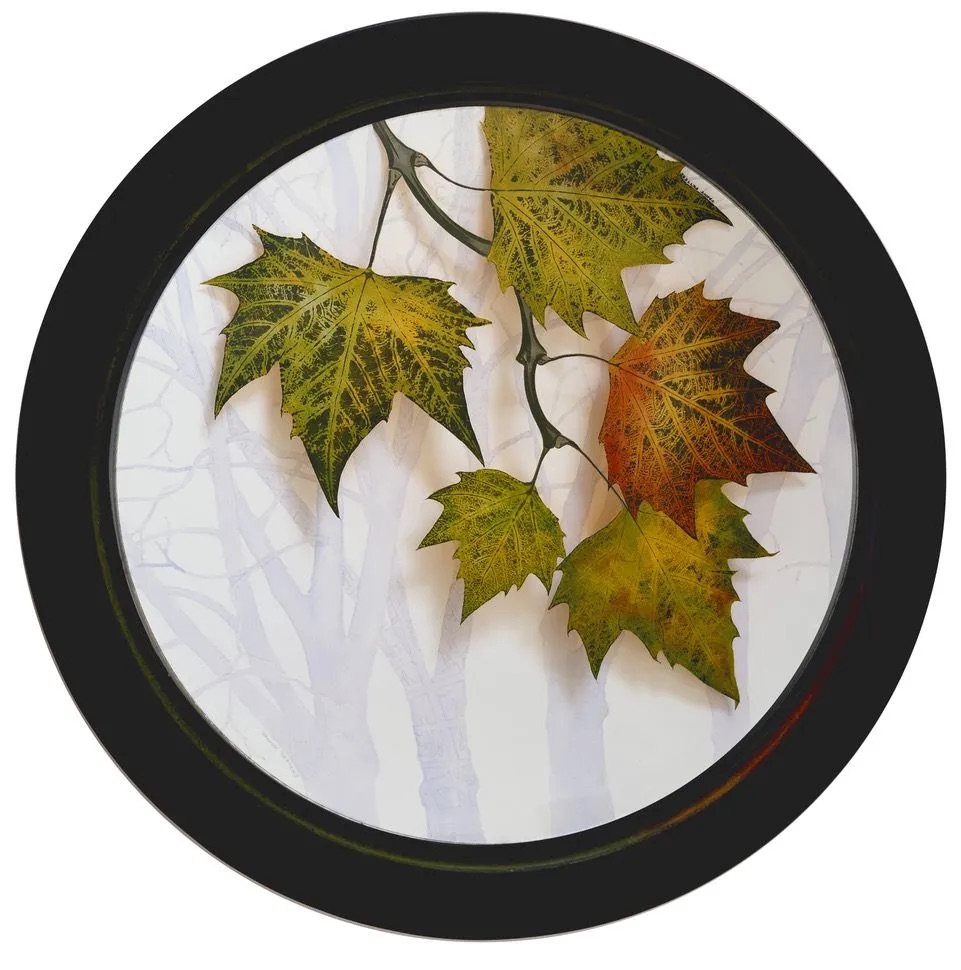 Four new visions for our urban forests • Artists: Annika Berglund, Hugh Cummins, Eoin Mac Lochlainn and Yanny Petters with a small selection of works by Belvedere College's art students
Trees have always fascinated artists, and are often one of the first subjects children paint or draw, so they could perhaps be dismissed as a cliché topic for art. However, new discoveries about trees, and new ways of thinking about their value to humans, collectively and as individuals, perhaps offer new paths to their artistic representation. In this show we will be focusing primarily on urban trees, especially street trees….
Paddy Woodworth, introduction in the brief prepared for the artists, following a series of conversations with co-curator gallerist Olivier Cornet.
The Olivier Cornet Gallery is delighted to present this group show curated by gallerist Olivier Cornet and author Paddy Woodworth. Four artists from the Olivier Cornet Gallery, namely Annika Berglund, Hugh Cummins, Eoin Mac Lochlainn and Yanny Petters have been asked to create work around trees in an urban context.
The exhibition is sponsored by Coillte and will be complemented by a selection of drawings by Belvedere College's art students.
An outdoor installation is also considered in collaboration with the Urban Farm project at Belvedere College.
---
As part of the group show he co-curated, the author and writer Paddy Woodworth will chair a panel talk at 6:30pm on Thursday 18 May 2023, Olivier Cornet Gallery, 3 Great Denmark Street Dublin.
You are invited to attend this free event but booking is advised as seats are limited. Please email
info@oliviercornetgallery.com
or phone/text 087 288 7261 to book your seat.
The discussion will be centred around trees in an urban setting.
Paddy will ask each panellist to give a brief personal response to the artists' work, and the discussion will be referred back to the works.
The panellists will discuss what trees in urban settings mean to them, personally, and if they have any relevant nearby favourites trees, or telling experiences with trees in the city.
They will also discuss what urban trees mean to them professionally, and how they have included urban trees in their professional practice.
The discussion will also focus on what they have learnt from their professional practice, in terms of:
–    Appropriate trees, in different urban contexts (pavements to parks)
–    Importance for pollination/biodiversity/carbon sequestration/air purification
–    Importance for mental/physical health, for social well-being and reducing crime
–    Negative responses to greening changes, and how to engage with them.
Each panellist will bring their own perspective, and they will take questions from the audience.
Panellists:
Catherine Cleary is a writer and journalist who co-founded Pocket Forests as a social enterprise with Ashe Conrad Jones in 2020. We reuse urban waste to regenerate soil and grow native trees and shrubs to help people to reconnect with nature, resilience and abundance.
Ciarán Fallon is Director of Coillte Nature, the not-for-profit branch of Coillte that is dedicated to the restoration, regeneration and rehabilitation of nature across Ireland. Its mission is to deliver real impact on the climate and biodiversity crises through large-scale projects based on the best ecological evidence. Ciarán is interested in forests, sustainability and the bioeconomy. Ciarán has held a range of senior management roles in Coillte over the last nine years and has prior experience working in the public and private sectors. Ciarán holds a BSc in Engineering, an MSc in Environmental Sustainability and a PhD from UCD.
Matthew Jebb is currently Director of the National Botanic Gardens of Ireland. Following a five-year appointment as Director of the Christensen Research Institute at Madang, Papua New Guinea, Matthew took up a two-year post-doctoral position at Trinity College Dublin. His research interests include: Conservation and recovery of threatened plants in Ireland and island floras of the Irish Isles. He is the author of Secrets of the Irish Landscape: The Story of the Irish Landscape Is the Story of Ireland.
Suzanne O' Connell CMLI, Dublin City Council (DDC) Executive Landscape Architect
Suzanne has worked as part of the DCC Parks, Biodiversity and Landscape Services team for the last 4 years with a key role in design and delivery of new park projects and is currently working on the Stoneybatter Greening Strategy, Ballyfermot Peoples' Park and St. James's Linear Park.
Prior to her role at DCC, she co-founded The Decorators, an interdisciplinary socially engaged practice. During her 10 years working them, she delivered a diverse range of projects in the public realm through community participation, place activation and cultural curation.
Paddy Woodworth (Bray, 1951) is an author, journalist, lecturer and tour guide. He contributes regularly to The Irish Times, where he was Arts Editor in the 1990s, and other media. He has published two acclaimed books on the Basque Country. In 2013, he published a study of ecological restoration projects worldwide, and in Ireland, Our Once and Future Planet: Restoring the World in the Climate Change Century (U of Chicago Press). A BioScience reviewer wrote: "Highly readable. This book will bring the concept and application of ecological restoration to a broader audience and will help inspire a new generation of restoration practitioners and researchers". He is a Research Associate at Missouri Botanical Garden, and an Adjunct Senior Lecturer at University College Dublin. He partners with Muhammad Achour on Sanctuary in Nature & Heritage, a project that introduces asylum seekers, refugees and migrants to Irish natural and cultural heritage sites, and offers them opportunities to discuss their own natural and cultural heritages with Irish people.
---
We asked each artist and Belvedere College art students (through their teacher Martina Leddy) to describe their response to the theme of urban trees
New research points to the fact that different trees — and even different tree species — are involved in a constant exchange of resources and information via underground fungal networks, known technically as mycorrhizae and popularly as the Wood Wide Web.
I am inspired by how this echoes the idea of the human neural network and how the bridging of the gap between ourselves and the world depends on the interpretation of signals. Communication is the connection between the self and the world. The messages we send and receive can be fragmented and we need both empathy and good will to find the meaning in what we perceive.
I am exploring this theme in a series of works in felted wool and mixed media.
Annika Berglund
In approaching the 'Arbour Essences' exhibition I was prompted to seek out some sketches of trees that I had undertaken some forty five years ago. I had used Willow charcoal sticks to capture the simple bark patterns and silhouettes of the trees in my city and suburban living environment. Soon after that exploration, however, I had been drawn to seek out further information about the material beyond the bark. This was the beginning of a life long journey learning about and the possibilities of working with wood.
The trees themselves provided the inspiration for the decorative shapes and forms I began making. The Silver Maple leaf in the matched pair of mirrors was an exacting challenge to copy and provided the opportunity to demonstrate and contrast two very different woods – Lime and Walnut.
The wood from the Oak tree was the best possible choice for the acorns that formed the base of the small table top lights with Beech wood acting as the stem.
For 'Arbour Essences' my wall hanging piece echoes the work of the ecologist – Suzanne Simard – who against the prevailing science of the time has shown that 'communications' between tree root systems share benefits and warn of risks to the tree community – the thin lines of Beech Wood mimic these nurturing links underground. 
Hugh Cummins
Trees connect us to our past and they live on into our future. Like members of our family, they grow familiar as time passes – and certain trees take on a special significance for us. For me, it was a craggy old Hawthorn tree that was growing in our back garden as we grew up.  
Indeed, since the beginning of time, humans have had a sense that trees are sentient beings, that they feel pain, that they bleed when hurt, that they can look sad and forlorn when neglected. Watching their cycles of growth, maturation, shedding of leaves in Autumn and re-birth in Spring, people have long perceived trees as powerful symbols of life, death, and renewal.
Unfortunately, because of road widening in my local area, many trees have been felled. It is quite a shock to see them cut down in their prime. I painted these watercolours as a memorial.
Eoin Mac Lochlainn
The Rotunda Ash and The Cathal Brugha Planes
I have chosen to depict trees with which I have formed a familiar relationship since I studied at The College of Marketing & Design at Parnell Sq back in the 1980s. I often took note of these particular trees, the Ash at the Rotunda Hospital and the London Planes on Cathal Brugha Street. I was drawn to them like friendly sentinels, constant witnesses to the changing streetscape of this part of Dublin. They will have started life as tiny seeds as far back as 1900, before they were planted at these locations, so they have been witness to about four generations of Dublin's history.

These works are in homage to those trees, in gratitude for their reassurance and for the way they lift my heart each time I pass them.
The paintings encompass many facets of the beauty of trees within the city, from their winter silhouette to their leaves in summer, the dappled light and sheltering shade, their movement and their longevity. A subtle map of the local area is incorporated reflecting the roots, branches and twigs, a network sustaining the trees, connecting the flow of life. All the while the trees quietly mitigate heat, rain, storms, pollution, and noise.
The artworks are a combination of painting and gilding on glass and watercolour. The trees are rendered as silhouettes and the leaf design is hand printed and gilded on the glass, created using leaves gathered from these trees last year. The circular form evokes continuity and the turning of the seasons. May these trees endure for several more generations.
Yanny Petters
Belvedere College S.J. Art Tree Project:
The initial idea for the project was for Art students to make a series of studies, drawings, etchings, paintings using the Katy apple tree as a starting point. Trees in our city centre school environment are sparse, so the art students are interested in adopting and caring for some trees that we can watch grow over a long period of time. The Art department have since acquired a small number of other native trees that the students have worked from. We are interested in documenting the delicate features of young trees focusing on the line, texture, surface quality and colour of them. Over time we are also interested in documenting the slow growth and changes that occur and go unnoticed as they are happening.
A number of students have been appointed as Tree Custodians and will be tasked with helping to care for the trees as they grow in pots outside of our art room. The long-term plan would be to acquire more trees and eventually plant them. We are currently researching the idea of Pocket Forests and are hoping that our project might someday develop into a small urban forest space for our school community. This is a long-term project and the growth of the trees will be visually documented by current art students but also by art students who will continue to join the College in years to come, creating a visual record of the trees as they grow.
Image: Yanny Petters, Cathal Brugha Planes 2023, verre églomisé (reverse painting on glass) on convex glass with watercolour drawing background, 51x51cm, private collection (photo by Tony Kearns)
Sunday 14 May – Friday 30 June 2023
3 Great Denmark Street
(beside Belvedere College)
Dublin 1
Telephone: +353 87 2887261
Opening hours / start times:
Tues to Fri: 11am to 6pm (till 8pm on Thursdays) • Sat & Sun: 12 noon to 5pm • Closed on Mondays (or viewing by appointment only)
Admission / price: Free