Aoife Desmond: Something Momentous Germinating
Friday 15 September – Tuesday 10 October 2017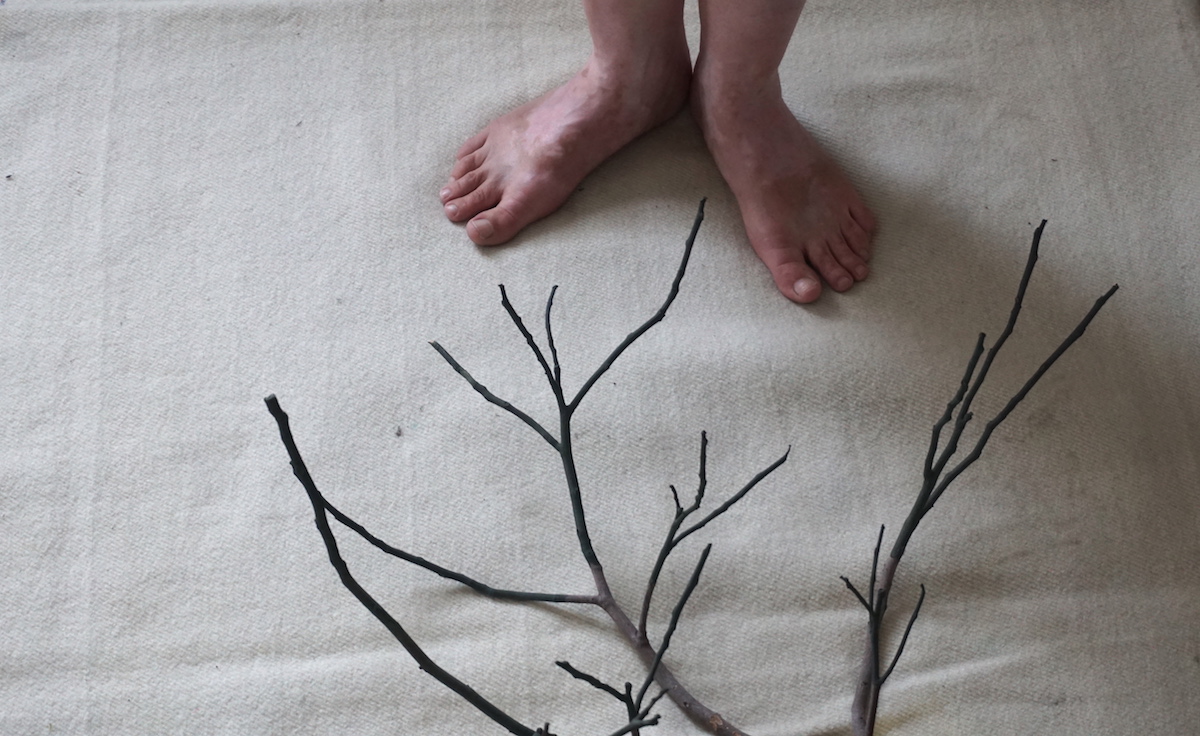 16 September 1 – 2pm: Artist in Conversation with Logan Sisley
30 September 7 – 8:30pm: Screening of RetroReflection by Aoife Desmond in Nuns Island Theatre followed by panel discussion with Alice Butler and Vivienne Dick
The solo exhibition Something Momentous Germinating marks a new body of work by interdisciplinary artist Aoife Desmond, made over the last three years. Comprising drawing, sculpture, film and photography this work takes as its starting point moments of renewal and transformation within the everyday. Linking to acts of clearing and renovation in the artist's family home, everyday occurrences, such as the play of light through the building, the change and growth of the garden and the potency of household objects to become sculptural material or material for performance actions form the basis of a formal enquiry. These new works play between abstract and more literal interpretations of deeply familiar territory.
This exhibition will also feature a special one off free screening of Desmond's new 16mm film work RetroReflection at 7pm on September 30th in Nuns Island Theatre. Filmed on location at the Environmental Research Institute (ERI) UCC Cork, RetroReflection is a meditative visual essay which examines the intersections between science, nature, art and architecture. Aoife Desmond will present a short introduction and she will be joined by Alice Butler and Vivienne Dick for a discussion after the screening.
Aoife Desmond is an interdisciplinary artist who works predominantly with film, drawing and sculptural installation. She exhibits frequently both in Ireland and internationally. Recent exhibitions include the launch of RetroReflection film at Crawford Art Gallery, Cork, Wildscreen, Connemara, Landing Place Dublin, Insertion Fragil, Madrid, Conquested Temple Bar Galleries, Dublin  and Holding Together Douglas Hyde Gallery, Dublin.  She has participated in several artist residency programmes including Islington Mill, Manchester, The Land Foundation, Thailand, Space Delawab, Belfast and Centre Culturel Irlandais, Paris. Her art practice includes collaboration and curation.  She has curated for Plastik Festival, Cork Film Festival, Encounters Film Festival Bristol and was a co-founder and director of Experimental Film Club.
Logan Sisley is the Exhibitions Curator at Dublin City Gallery The Hugh Lane.
Alice Butler is a curator for aemi (Artists' & Experimental Moving Image, http://aemi.ie/)
Vivienne Dick is a filmmaker and artist. Her exhibition 93% Stardust is currently showing in the Irish Museum of Modern Art, Dublin.
Image: Aoife Desmond: Something Momentous Germinating, 2017
Friday 15 September – Tuesday 10 October 2017
47 Dominick Street
Galway
Telephone: + 353 91 565 886
Opening hours / start times:
Monday 10:00 - 17:30
Tuesday 10:00 - 17:30
Wednesday 10:00 - 17:30
Thursday 10:00 - 17:30
Friday 10:00 - 17:00
Saturday 10:00 - 14:00
Admission / price: Free