Anthony Haughey: Fieldnotes from the Border
Friday 29 March – Saturday 18 May 2019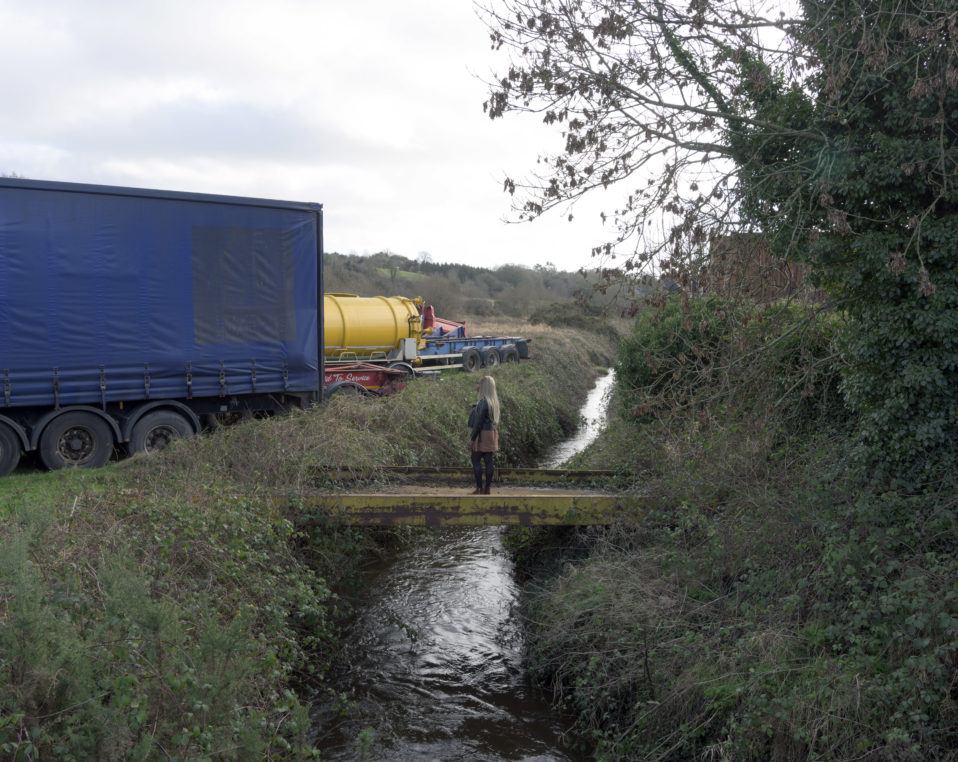 Field Notes from the Border presents ongoing work by artists working along the border in Ireland. As we approach the March Brexit deadline, the specially devised exhibitions and installations in the Regional Cultural Centre reflect the current anxiety raised by the prospect of the imposition of a hard border.
Curated for RCC by Gallery of Photography a part of the Reframing the Border programme. Supported by the Department of Culture Heritage and the Gaeltacht and the Department of Foreign Affairs and Trade Reconciliation Fund.
Anthony Haughey lives near the border in Ireland. His photographs, videos and public art interventions address questions connected to emerging cultural identities, territorial disputes and forced migration. His exhibition and installation in the Regional Cultural Centre, Letterkenny responds to the perceived imminent threat of Brexit to peace and stability in Ireland. New video works, photographs and texts reflect on Ireland's 'seamless' border and considers how function, meaning, and effect are often in a state of flux. As WT Mitchell argues, 'the landscape is not a passive and static "object to be read"; instead, it is a process of human interventions, intersubjective relations, and ideologies that determines our understanding of the landscape'.
Anthony Haughey is an artist and academic living in Ireland. His artworks have been widely exhibited and published internationally. His earlier work 'Disputed Territory' explored the disintegration Bosnia and Kosovo culminating in UNresolved a video installation produced for the twentieth anniversary of the Srebrenica genocide.
Recent exhibitions include, 'An Act of Hospitality can only be Poetic', Highlanes Gallery, Drogheda (2018), 'Reframing the Border', RCC, Donegal and Gallery of Photography, Dublin (2018), 'UNresolved', a video installation in association with Athens Biennale (2017). 'The Politics of Images', Belo Horizonte, Brazil (2017), 'The Museum of August Destiny', Lismore Castle Arts (2016-17) and 'Manifesto', a single channel video (2016), which toured internationally including New York, Paris and Dublin. This video was acquired for the permanent collection of The Arts Council of Ireland in 2017. His artworks and critical writing has been published widely in art journals, exhibition catalogues and monographs and his artworks are represented in many national and international public and private collections. He is an editorial advisor for the Routledge journal, Photographies and a board member of Fire Station Artist Studios. He was recently awarded an 'Infrastructure' public art commission by Fingal County Council.
To view examples of artworks, visit: anthonyhaughey.com
Global Migration Collective: globalmigrationcollective.com
Friday 29 March – Saturday 18 May 2019
Port Road, Letterkenny
Co. Donegal
Telephone: +353 74 912 9186
Opening hours / start times:
Monday closed • Tuesday 11:00 - 17:00 • Wednesday 11:00 - 17:00 • Thursday 11:00 - 20:00 • Friday 11:00 - 17:00 • Saturday 13:00 - 17:00 • Sunday closed Admission is free
Admission / price: Free