Anne Quail: cure i us
Friday 2 May – Thursday 5 June 2014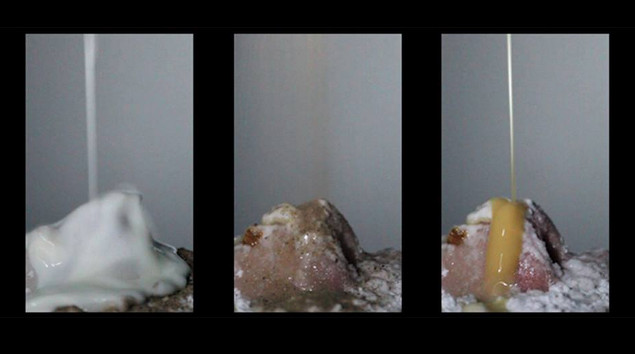 As part of this year's Cathedral Quarter ArtsFestival, there will be an exhibition at the Arts & Disability Forum of video art by Anne Quail, with a preview on Thursday 1 May from 5-7pm.
cure i us is a series of works that draws upon old cures and remedies, rooted in the country way of life. The transformative nature of the cures echoes that of performative art and opens cures up to be explored aesthetically.
Anne Quail was given the opportunity to produce a number of new cures works after receiving a grant from the Arts and Disability Awards Ireland scheme in 2012. This is the first time she will bring together a collection of different cure works in one space.
Anne writes:
"When I ask my older relatives about cures, they speak with a plain belief, never questioning the actions of rubbing a wart on a corpse to get rid of it. With this exhibition of works I am trying to tap into this sensation of faith, not only through the ritualistic actions and materials but also our aesthetic encounter with them."
On Thursday 8 May, beginning at 1pm, Anne willgive a talk about her work as part of the ADF's Conversations series. BSL communication support can be made available for both the preview and for the talk; audio description can also be made available on request (usually on the day of the preview or talk). Please bookthis supportwell in advance by contacting leo@adf.ie or phoning 028 9023 9450.
The preview will be at 5-7pm on Thursday 1 May in the ADF Gallery on Royal Avenue. Light refreshments will be available. Following the preview, the exhibition will be open to the public from 2nd May until 5 June between 11am to 3pm, Tuesday to Friday.
For further information, images from the exhibition or interviews with the artist, please telephone028 9023 9450 or email leo@adf.ie.
Anne Quail is a Belfast based artist who has worked previously as a Director of Platform Arts and a committee member of Bbeyond. Sheis a graduate from the Masters of Fine Art at the University of Ulster. Her practice ranges from durational performance to video installation and drawing. She has performed in Bergen International Art Festival, Norway and exhibited work internationally in Taiwan as well as nationally with the British Council Collection in Fermanagh.
Friday 2 May – Thursday 5 June 2014
Arts & Disability Forum Gallery
109-113 Royal Avenue
Belfast
Admission / price: Free