Ann Quinn: Twilight Time
Friday 6 October – Saturday 28 October 2023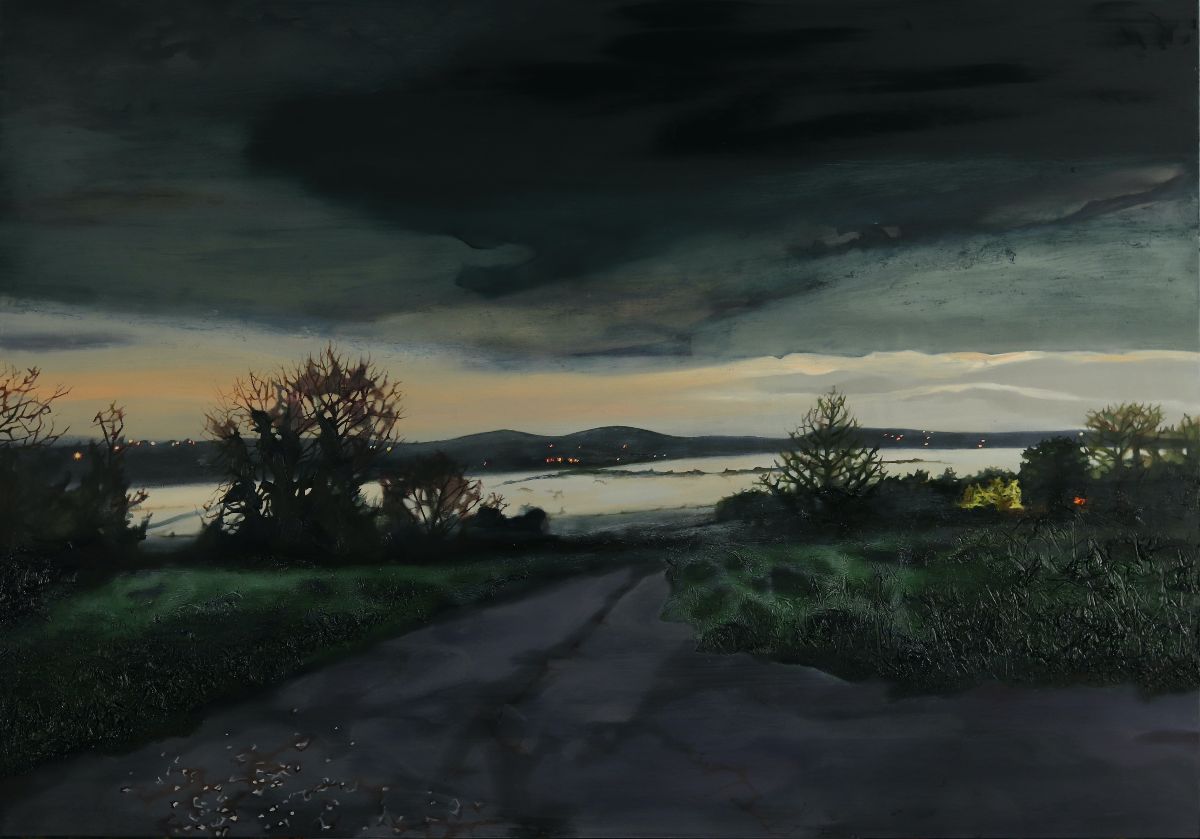 There are certain rare moments in life when I feel I am witnessing magic, I try to capture this in a painting. I grew up on a dairy farm in East Donegal, where the large dramatic skies and open landscape have influenced my vision as a painter.
Many of my paintings are a visual diary and an emotional interpretation of events in my life, featuring people and places that are dear to me. I make paintings in order to have a  conversation with, or tell a story to the viewer. When I produce a body of work I feel as if  each painting is a chapter of one book.
Elements seem to creep into my paintings slowly of their own accord.  After graduating from art college in 2000, I was painting quiet, empty landscapes for a long time. From 2008 tiny signs of human life started to appear – telegraph poles, chimneys. From 2012 animals appeared in my landscapes, then by 2016 humans started to arrive. The human figure was very far away at the beginning then they gradually came closer until I could see their faces. Humans led me to houses, such as the farmhouse where I grew up, the old Georgian house where I lived in Dublin for twenty years and buildings I saw in Norway while on residency there in 2018.
Most of my paintings are set in winter, I prefer the raw mood and light of a season when  the elements of nature are stripped to their bare essentials.
I spend a lot of time outside taking photographs, especially at dusk when the atmosphere  is most intense. These photographs are used as source material for my work later on.
– Ann Quinn, March 2023
Ann Quinn was born in Donegal in 1978 and received a BA in Fine Art Painting from the National College of Art & Design in 2000.
Solo shows include Taylor Galleries (2023, 2021, 2018, 2016), Custom House Gallery & Studio (2019), Dock Arts Centre (2013), the Ashford Gallery (2009). Group shows include the Royal Hibernian Academy Annual Exhibition (2004-2023), Galway Arts Centre (2010), Pallas Contemporary Projects (2017, 2016, 2010, 2009).
One of her artworks was selected by writer Cristín Leach for her RTÉ commissioned '21st Century Ireland in 21 Artworks' series and the following exhibition as part of the Earagail  Arts Festival in 2019.
Some of the awards Quinn received include a Visual Artists Bursary from the Arts Council (2020, 2009), a Travel and Training Award from the Arts Council (2016), the Thomas Dammann Award (2022, 2019, 2017, 2015), the K & M Evans Award (RHA  Annual  Exhibition in 2012), and the Hennessey Craig Scholarship (RHA  Annual Exhibition in  2009).
Quinn has undertaken artist residencies including the Ragdale Foundation, Chicago (USA,  2023, 2016), the VCCA (USA, 2014), Centre d' Art I Natura (Spain, 2015, 2010), the  Fundación Valparaíso (Spain, 2014, 2008). Residencies in Ireland include a studio  residency at the RHA (2009), Heinrich Boll Cottage (2010), Tyrone Guthrie Centre (2008)  and Glenveagh National Park (2007).
Her work is in the collections of the Office of Public Works, Trinity College Dublin, the  National Self Portrait Collection of Ireland, Donegal County Museum, Donegal County  Council, Donegal County Library, and the Health Service Executive.
Ann Quinn was elected as an Associate Member of the Royal Hibernian Academy in 2022.  She is represented by Taylor Galleries, Dublin.
Image: Ann Quinn: The Valley when the Mist is Strong, 2023, oil on panel, 70 x 100cm
Friday 6 October – Saturday 28 October 2023
16 Kildare Street, Dublin 2
Telephone: +353 1 676 6055
Opening hours / start times:
Monday 10:30 - 17:30
Tuesday 10:30 - 17:30
Wednesday 10:30 - 17:30
Thursday 10:30 - 17:30
Friday 10:30 - 17:30
Saturday 11:00 - 15:00
Admission / price: Free