Ann Quinn: Subtle Correspondence
Friday 14 June – Saturday 13 July 2013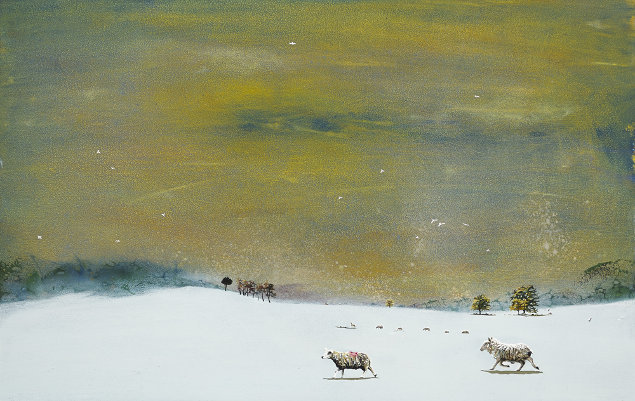 Opening Reception Thursday 13 June, 6 – 8pm
Taylor Galleries is delighted to present Subtle Correspondence, an exhibition of recent paintings by Donegal artist Ann Quinn which opens at the gallery with a private view on Thursday 13 June 2013 from 6 to 8pm. The exhibition is Quinn's first solo show with the gallery, which is celebrating its 35th anniversary this year.
The works in the exhibition are an amalgamation of different landscapes that remain in Quinn's psyche; landscapes that include the farm where she grew up in East Donegal, the flat expanses of the Curragh in County Kildare, and parts of France and Spain. Many of the works feature an animal, or animals, in the landscape. The Quinn family farm and the artist's childhood were full of all kinds of animals – sheep, pigs, cows, hens. They even had a peacock once.
There is subtle correspondence between each and every subject in these paintings, between creatures, trees and fields, and from this these new works assume their collective identity.
Ann Quinn moved to Dublin from her native Donegal in 1997 to study for a BA in Fine Art (Painting), which she received from the National College of Art & Design. Since then her work has been included in numerous group exhibitions and she has had nine solo shows at venues including the Irish Arts Centre, New York; Cross Gallery, Dublin; Cavanacor Gallery, Donegal; and Ashford Gallery, Dublin. Quinn has completed residencies in Spain, Mayo, Galway, Monaghan, Donegal, Dublin and Kerry and in 2012 she received the K & M Evans Prize for Painting at the 182nd RHA Annual Exhibition.
Image: Ann Quinn: Sheep making their way across the Curragh in the snow, 2013, oil on canvas
Friday 14 June – Saturday 13 July 2013
16 Kildare Street, Dublin 2
Telephone: +353 1 676 6055
Opening hours / start times:
Monday 10:30 - 17:30
Tuesday 10:30 - 17:30
Wednesday 10:30 - 17:30
Thursday 10:30 - 17:30
Friday 10:30 - 17:30
Saturday 11:00 - 15:00
Admission / price: Free