Anita Groener: The Past is a Foreign Country
Sunday 30 September 2018 – Sunday 6 January 2019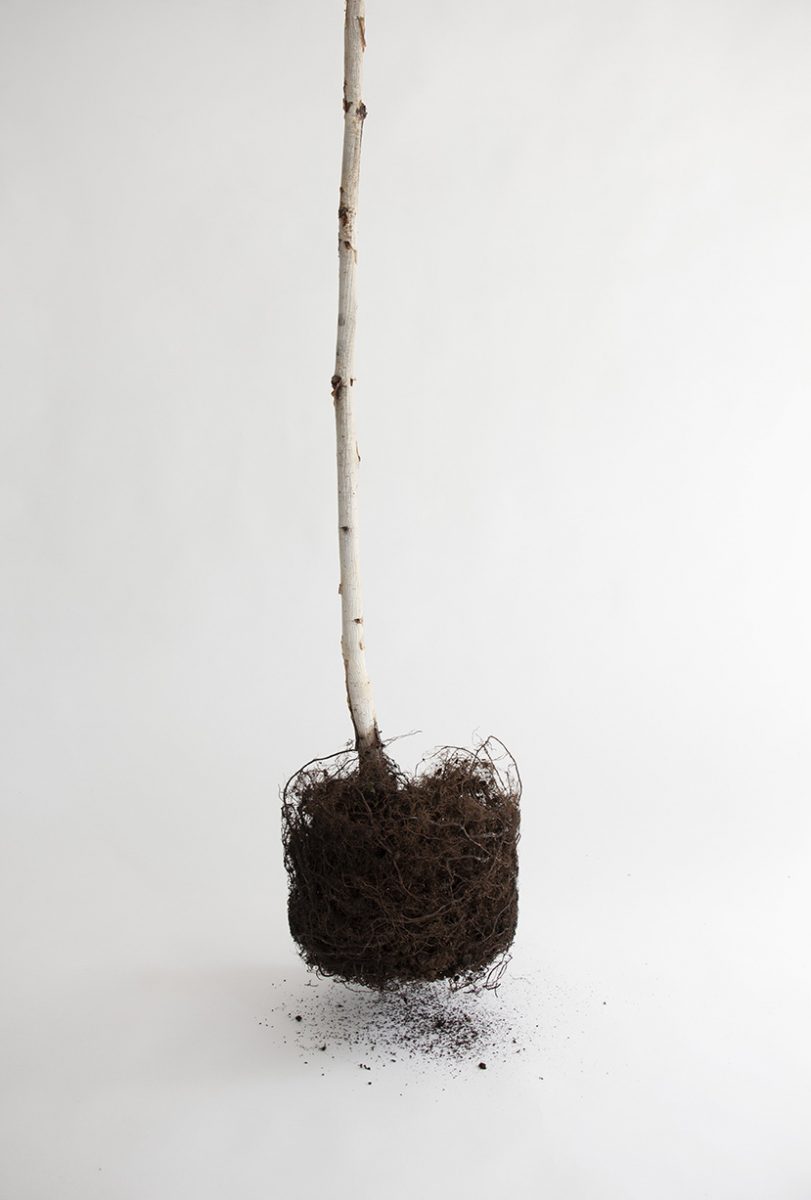 A 'conversation' between Mary McCarthy & Artists, 2 – 3pm (further information available www.gallery.limerick.ie)
The Past Is A Foreign Country, a new multimedia exhibition by Anita Groener, sets out to broaden the dialogue on one of the most pressing issues of our time 'the refugee crisis' and our response to it. Focusing on specific events, their archetypal and psychological resonances, Groener traces urgent connections between the experience of refugees driven from their homes by armed, economic, or political conflict and her own life and family.
The Past Is A Foreign Country gives its title to a large installation in the Carnegie Gallery where twenty young birch trees, stripped of their leaves, unearthed and uprooted, are reconstructed and suspended from the ceiling, to make a closed circuited grid. We can walk around it, look into it but we cannot enter this enclosure.
An attempt to translate terror's destabilizing impact is echoed in Moments, six animated line drawings of children, distilled from their original surrounding, play in a continued loop against a soundtrack of street noise, punctuated intermittently by a voice.
The work counters what the artist sees as an emerging collective alienation by encouraging the viewer to walk in the footsteps of a multitude of anonymous people, without a country and without a home. The exhibition incites an imaginative journey between here, the geographical, social, and cultural locations of the spectator and there, the site of the represented trauma. Groener's art implicates herself and us, asking questions about the ethics of witnessing and aesthetic response. The deliberately modest means of Groener's installations and line drawings, using twigs, cut paper, straight pins, gouache, speak to the fragility of life and society that refugee crises expose.
A special performance by world renowned Syrian musician, Maya Youssef, will be held on Thursday 18 October 6pm.  Maya Youssef born in Damascus is hailed as "queen of the qanun", the 78 stringed Middle Eastern plucked zither.  For Youssef the act of playing music is the opposite of death; it is a life and hope affirming act. For her, music is a healer and an antidote to what is happening not only in Syria, but in the whole world.
This exhibition received an Arts Council Touring and Dissemination Award and will tour to The Dock, Carrick-on- Shannon, Uilinn, Skibereen and The Lab, Dublin in 2019
Born in The Netherlands and based in Ireland, directs Anita Groener's work through a cross-cultural perspective. She asks what it is to be human today. Approaching this question through ideas of home and displacement within geopolitical realities, the artist focusses on specific events, their archetypal and psychological resonances. Her work engages with the tissue of trauma and loss, transferred through the experience of time and place, taking on an anthropological view on how systems, networks and communities come about through human interaction.
Further enquires please contact artgallery@limerick.ie  or https://www.anitagroener.com
Sunday 30 September 2018 – Sunday 6 January 2019
Pery Square, Limerick
Telephone: +353 61 310633
Opening hours / start times:
Monday- Saturday 10am – 5pm
Sunday 12 – 5pm
Last admission 15 minutes before Closing time.
Admission / price: Free
The gallery is closed on Bank and Public Holidays.