Angela Fulcher and Ruth E. Lyons: Unbounded
Saturday 5 December 2015 – Saturday 16 January 2016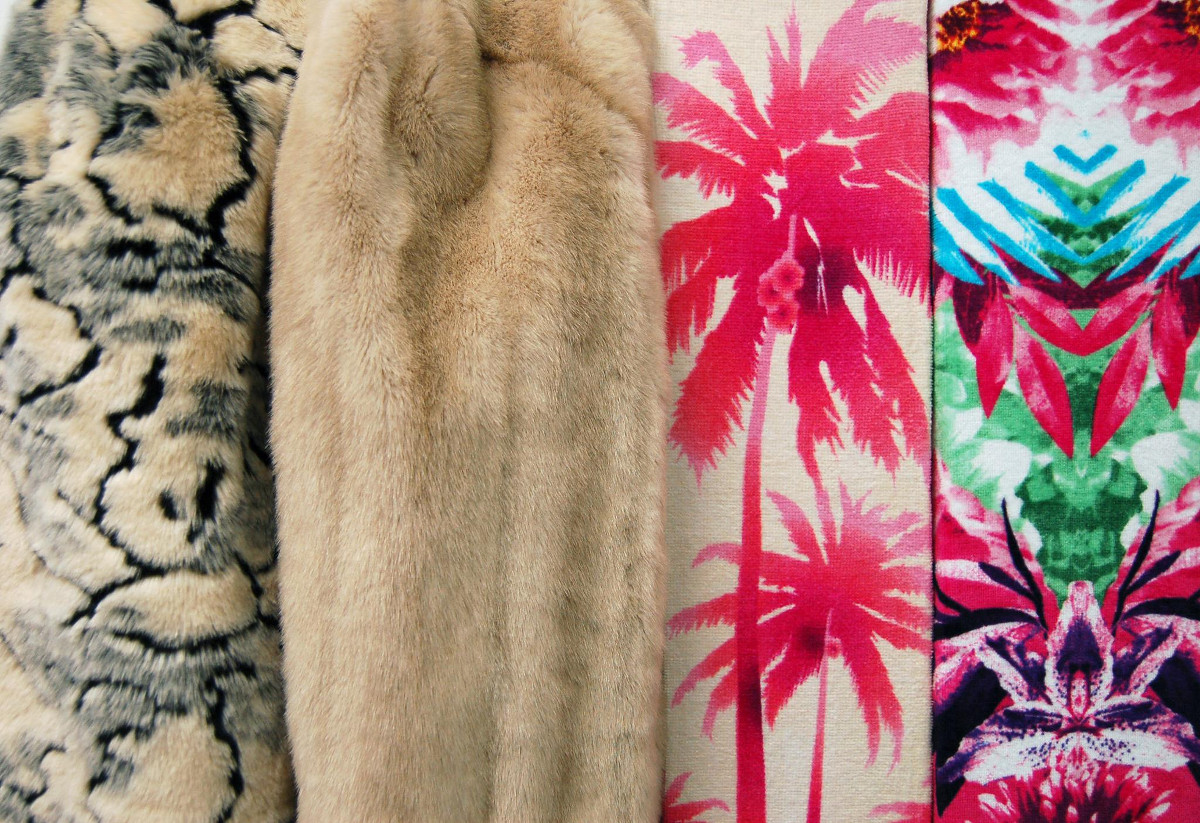 This winter Galway Arts Centre will exhibit new work by artists Angela Fulcher and Ruth E. Lyons, Unbounded. The exhibition title references the limitless nature of interpretation and unrestrained manipulation of material.
Angela Fulcher is a Visual Artist working in sculpture, installation and photographic collage. Her practise focuses on the reconfiguration of objects so that aspects of their material nature may be revealed. Fulcher's approach to producing work involves applying close attention to the details and qualities of materials and surfaces through using minimal interventions to subtly disrupt and interrogate their interpretation and function. Fulcher has created three new works for this exhibition that focus on the materiality of clothing and accessories. The works address themes including labour and production, tactility, consumerism and desire. A number of found objects including ladies' belts, faux fur coats, velour beach towels and printed billboard advertisements have been reconfigured using techniques of collage and assemblage.With an emphasis on colour, Fulcher's art works often respond to the architecture and space of their environment and her interest in embodied aesthetic experience.Angela Fulcher is a member of the Cork Artist Collective. Exhibitions this year have includedStitch in Time: The Fabric of Contemporary Life at the Lewis Glucksman Gallery, Cork.
Ruth E. Lyons is a Visual Artist and Co-director of The Good Hatchery. Lyons has conceived new sculptural work that sets out to create an immersive experience and bring out into the open the underground movements of material, in this case referring to the use of water as a means of displacing oil in oil-wells. The work is inspired by the writings of the Han Chinese polymathic scientist Shen Kuo, specifically hisDream Pool essays where he made the earliest known historical reference to oil which he called 'Rock Oil'. Lyons' installation of the same name,Dream Pool, is made from towering timbers that echo the lattice design of electrical pylons, and are used to suspend pools of water and oil that float overhead, with immiscible liquids creating enigmatic patterns. Stormglass, originally exhibited in Mermaid Arts Centre as part of the artist's solo exhibition The Sea, The Sea,is similarly hinged on the curious patterns that form in liquid, but this time in the form of polished limestone and a Victorian weather predicting barometer.
For further information about the artists and their work we encourage you to visit their websites: www.angela-fulcher.com and www.ruth.ie. For enquiries about the exhibition & Christmas opening times please contact Galway Arts Centre atinfo@galwayartscentre.ie or call (091) 568 642.
Saturday 5 December 2015 – Saturday 16 January 2016
47 Dominick Street
Galway
Telephone: + 353 91 565 886
Opening hours / start times:
Monday 10:00 - 17:30
Tuesday 10:00 - 17:30
Wednesday 10:00 - 17:30
Thursday 10:00 - 17:30
Friday 10:00 - 17:00
Saturday 10:00 - 14:00
Admission / price: Free