Andrew Vickery
Thursday 7 July – Friday 29 July 2011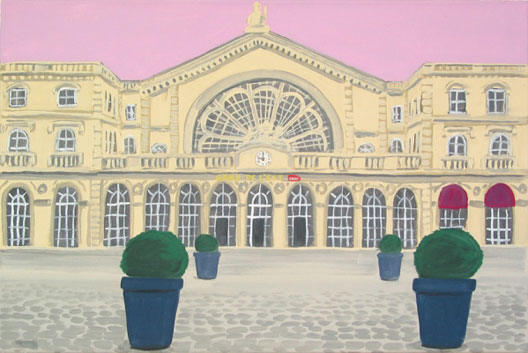 Opening reception Thursday 7 July, 5.30pm – 8pm • The exhibition will be formally opened by Sean Kissane, Head of Exhibitions, IMMA.
Following on from a successful preview of his work at SCOPE Basel11 art fair in Switzerland, Peppercanister is delighted to hold its second solo show by Andrew Vickery.
True to form, Vickery's new exhibition of work contains 20 paintings that are small in scale and have both appeal and charm. They portray a visual diary with a childlike quality that belies adult themes and interests of nature, culture, sex and traveling. They act as theatrical scenes that convey both memory and experience. First a train station, then train platforms, a passing city, then countryside. Places visited and arriving at a destination are recurring elements of Vickery's narrative. They are conceptual, playful, beautifully colourful works that engage the viewer and allow for their own interpretation as we are reminded of places we have been and of the road that lies ahead. The exhibition will be opened by Sean Kissane, Head of Exhibitions, at the Irish Museum of Modern Art. We hope you can join us on Thursday evening or else drop by to see the show during the month of July.
Thursday 7 July – Friday 29 July 2011
3 Herbert Street
Dublin 2
Telephone: +353 1 6611279
Opening hours / start times:
Tuesday 10:00 - 17:30
Wednesday 10:00 - 17:30
Thursday 10:00 - 17:30
Friday 10:00 - 17:30
Saturday 10:00 - 13:00
Admission / price: Free
Closed Mondays and Bank Holiday weekends.