Andrew Pike: Waiting for Bucket
Tuesday 10 May – Sunday 17 July 2022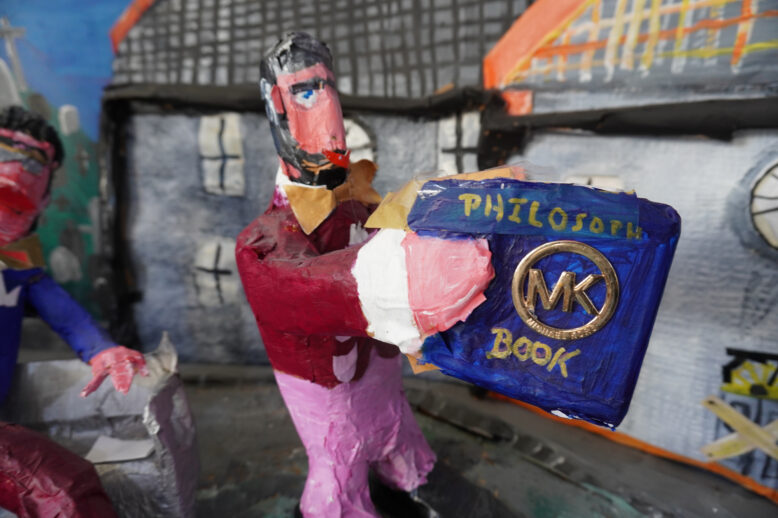 ――― In venue ―――
Artists Film Programme: Waiting for Bucket • A Film and Exhibition by Andrew Pike • Curated by Hollie Kearns
Waiting for Bucket is the third in a series of satirical animations by Andrew Pike. The film tells the story of an imagined encounter at a bus stop, starring five famous Irish writers, AE Russell, Bernard Shaw, Brendan Behan, WB Yeats and Samuel Beckett, and Lady Gregory.
"There are no mistakes in art – even accidents are perfect"
Having been a gardener for many years in Camphill Duffcarrig, Gorey, Andrew Pike wanted to pursue an artist career. He studied art for two years in the Ormonde College, Kilkenny before becoming one of the first artists in the KCAT Studio. Andrew has travelled extensively to Holland, France, Germany, America, Australia, and Japan and these cultural exchanges inspire him greatly in his work. Though most well-known for his paintings, Andrew has award-winning animations to his credit as well as co-designing the Big River Parade with Sinead Fahey and Macnas.
Andrew has a considerable track level of exhibiting in Ireland and Internationally. He has shown work at leading galleries, institution and festivals, including The Butler Gallery Kilkenny, Galway Arts Centre, Film Base Dublin, British Film Institute and the Belgrade International Film Festival. His work is represented in national and private collections including The National Self Portrait Collection of Ireland. In addition to his artwork Andrew has been a regular speaker at symposia, conferences and artist talks, speaking about his work and various related interests.
Find more information on Andrew here:
http://kcat.ie/studio/andrew-pike/
February 2020 CIRCA Magazine article, Dominic Thorpe in conversation with Andrew Pike
Watch Andrew's previous films here:
Uselessseas
Going to War on a Banana Truck
Tuesday 10 May – Sunday 17 July 2022
Evans' Home
John's Quay, Kilkenny
Telephone: +353 56 7761106
Admission / price: Free
Closed 13:00 - 14:00 until March.