Andrei Molodkin: Fallout Pattern
Saturday 10 February – Friday 6 April 2018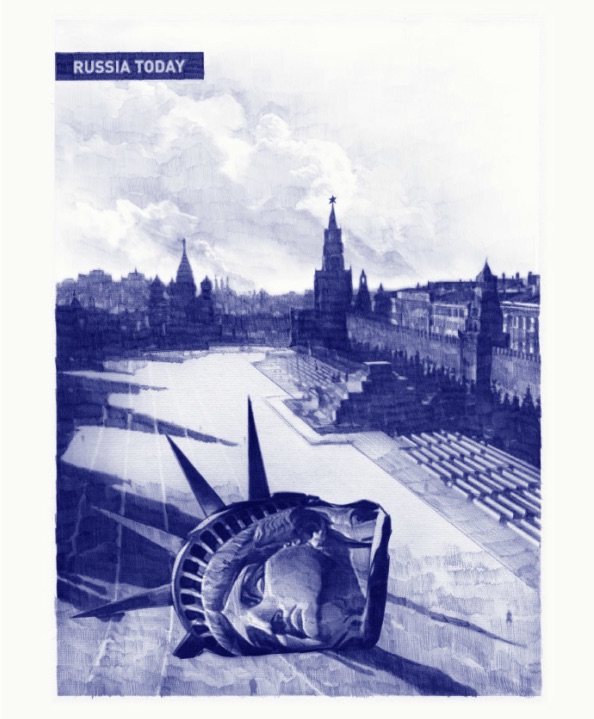 Andrei Molodkin presents cartographic drawings, Government reports and unseen sketches in an era of pandemic Cyberespionage. Drawings originate from a set of Wikileaks documents detailing the impact of a US nuclear missile strike on Russia, and the resulting nuclear fallout pattern and projected destruction. The leak spurred Russia to commence an aggressive modernisation of their militarised forces, described as a "new generation" army by Vladimir Putin at Balashikha on 22 December 2017. Also on view is a never-before-seen proposal for a state-commissioned statue located outside the Kremlin walls on Moscow's iconic Red Square. Failed Utopia; the decapitated head of the Statue of Liberty.
In September 2017, as retaliation for Russia's alleged influence on the US elections, the U.S. Justice Department ordered an American based affiliate of the state-owned and Kremlin-backed RT (Russia Today) to register as a 'foreign agent' under the Foreign Agents Registration Act (FARA). Initiated in 1938 to suppress pro-Nazi German propaganda, FARA was designed to "ensure the US government and people are informed of the source of information (propaganda) and the identity of persons attempting to influence public opinion, policy, and laws." Extending this measure, the Russian news agency Sputnik was also targeted. The provocation, and a move that former FBI Counterintelligence Agent Asha Rangappa saw as "shedding sunlight on all of [Russia's] activities", reveals the anxieties suffered as a result of clandestine behaviour and the desire to publicly expose the strategies of the enemy.
The exhibition is the second installment of the year long partnership between a/political and Rua Red.
Throughout the duration of the exhibition students from the Institute of Technology, Tallaght will form part of the instalation, actively investigating and providing a glimpse into the world of data through a series of visualisations projected onto the modular fabricated steel girders in the centre of the gallery. In placing issues of global concern in Tallaght, Molodkin's logic is clear: we are all part of a worldwide system, but we also have the power to change it. Being human depends on our commitment to active participation and independence of mind.
Saturday 10 February – Friday 6 April 2018
South Dublin Arts Centre
Tallaght, Dublin 24
Telephone: +353 1 451 5860
Opening hours / start times:
Monday 10:00 - 18:00
Tuesday 10:00 - 18:00
Wednesday 10:00 - 18:00
Thursday 10:00 - 18:00
Friday 10:00 - 18:00
Saturday 10:00 - 18:00
Admission / price: Free