Andrea Geyer: When We
Friday 1 June – Sunday 21 October 2018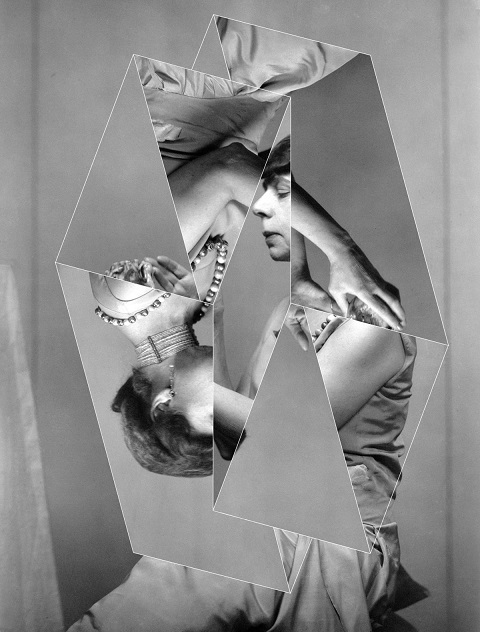 IMMA is delighted to present the first solo exhibition in Ireland by German-American artist Andrea Geyer. When We features several recent works by Geyer as well as the new immersive work Collective Weave (Ireland), 2018, commissioned by IMMA for this exhibition.
Geyer's work provokes a radical re-thinking of time. She studies our present by charting histories through a de-familiarizing, transgressive, feminist lens. The resulting works invite a viewer to re-think, re-enact and re-imagine their relationship to past time and how it informs the way they experience the present. As the artist recognises, "Art is not dead… [it] is constantly, through our living, in the making" (Insistence, 2013). In this way, Geyer creates a nuanced space of potential, a vital tool for empowerment and action amidst today's cultural, social and political systems. The title When We suggests this potentiality; that we can do something, that something may have happened, or indeed can still happen. When We is therefore both a suggestion and an affirmation.
The exhibition at IMMA focuses on Andrea Geyer's current body of work – an ambitious investigation into the formation of modern art, its institutions and their histories. Featuring performance, text, photography, installation, sculpture and video, the exhibition unfolds as a series of salons, each with its own mood, or as the artist describes, each creating its own particular "universe". These are spaces made for lingering, to give time for collective thought where critical reflection can otherwise be diluted by the drone of contemporary culture. Combining fictional and documentary strategies, the works within these salons, such as Constellations(2018), Manifest (2017), and Revolt, They Said (2012 – ongoing), honour and celebrate ideas that have been and continue to be marginalized or obscured.
The newly commissioned work Collective Weave (Ireland), 2018, is an expansive floor-to-ceiling installation of white linen featuring iridescent silver patterns of drawings. The drawings are derived from Irish queer magazines, posters and flyers dating from 1970 to the early 1990s. Raising questions around identity, community, representation, and visibility within museums, with this body of work Geyer seeks to champion art as a fundamental necessity and propose alternative possibilities within our contemporary lives.
Andrea Geyer (b. Freiburg, Germany, 1971) is an artist living and working in NYC. Her work has been exhibited widely at institutions including San Francisco Museum of Modern Art in California; The Museum of Modern Art, the Whitney Museum of American Art, Artists Space and White Columns, in New York City; Contemporary Art Museum Houston, Houston, Texas; A Space Gallery, Toronto, Canada; KINDL – Centre for Contemporary Art, Berlin, Germany, the Stedelijk Museum, Amsterdam; Red Cat and LACE, in Los Angeles; Tate Modern and Serpentine Gallery, London; Kunstmuseum St.Gallen, Switzerland; Göteborgs Konsthall, Gothenburg, Sweden; Generali Foundation and Secession, Vienna; Museum der Moderne, Salzburg; Govett-Brewster Art Gallery, New Zealand; the Turin Biennale; the São Paulo Biennial; and dOCUMENTA (12), Kassel, Germany. International public collections with Geyer's work include the Museum of Modern Art in New York, the Whitney Museum of American Art, San Francisco Museum of Modern Art in California, Neue Galerie, MHK, Kassel, the Museum der Moderne, Salzburg and the Federal Collection of Germany.

Andrea Geyer worked with the Irish Queer Archive at The National Library of Ireland and the Cork LGBT Digital Archive and was supported by Orla Egan, Dr. Katherine O'Donnell, Tonie Walsh, Jennie Taylor and Emma Haugh for her research towards the new commission Collective Weave (Ireland), 2018.
Associated Events
Artist Talk & Preview | Andrea Geyer, When We
31 May 2018 / 18.00 – 18.45
Andrea Geyer presents a lecture on her multi-disciplinary practice that explores politics of specific events, sites or biographies through a feminist lens. This talk is followed by a drinks reception and the exhibition preview of When We, by the artist. BOOK NOW.
Curators Lunchtime Talk Series
Wed 4 July, 1.15pm, Meeting Point, Main Reception
IMMA curator Rachael Gilbourne presents an insightful gallery walk through of the exhibition.
Drop In / No booking required.
Expanded project: Witness by Jessica Lauren Elizabeth Taylor
1 – 22 September 2018, Courtyard Galleries & Residency Spaces
As part of a programme of live events, screenings, talks and lectures that will accompany the exhibition, IMMA has invited the Berlin-based American artist, film-maker and archivist Jessica Lauren Elizabeth Taylor to present Witness, a three-week project running 1 – 22 September 2018. Witness focuses on creating a space for discussions on race and race relations, and features a screening of Taylor's film Muttererde (2017), and a series of salons and workshops. The project takes place across exhibition and residency spaces at IMMA.
Image: Andrea Geyer, Constellations (Carrie Stettheimer after Genthe), 2018. Image courtesy the Artist and Hales Gallery. Copyright the artist.
Friday 1 June – Sunday 21 October 2018
Royal Hospital, Kilmainham
Dublin 8
Telephone: +353 1 612 9900
Opening hours / start times:
Tuesday 11:30 - 17:30
Wednesday 11:30 - 17:30
Thursday 11:30 - 17:30
Friday 11:30 - 17:30
Saturday 10:00 - 17:30
Sunday 12:00 - 17:30
Admission / price: Free
Bank Holidays open 12:00 – 17:30.