Analysing Cubism
Friday 21 June – Saturday 31 August 2013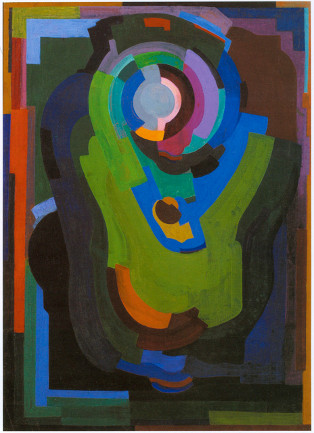 Reception Tuesday 9 July at 5pm in the presence of the French Ambassador, Mme Emmanuelle d'Achon
Analysing Cubism is an exhibition exploring the work of a number of pioneering Irish artists who travelled to France and further afield to study modern art. The exhibition seeks to place these artists in context, examining the influence of their teachers, as well as exploring the work of some of the leading international exponents of Cubism. The exhibition focuses on work by Albert Gleizes, Evie Hone, André Lhote and Mainie Jellett – in recognition of the extensive influence that these artists have had on modern Irish abstract painting.
Peter Murray, Director of the Crawford Art Gallery, commenting on the exhibition says: "Analysing Cubism provides an opportunity to revisit a period in the first half of the twentieth century when Irish artists studied and worked on the Continent, learning, but also contributing to the development of European Modernism. The exhibition is significant on many levels. Not only does it make a contribution to the growing appreciation of the Modern Movement in 20th century Irish art, it also raises questions relevant to today's art world, regarding the relationship of centre and periphery, and of the sometimes under acknowledged contribution made by young creative talents to the development of the art of their time."
Co-curated by Seàn Kissane and Riann Coulter, the exhibition is a partnership between Crawford Art Gallery and IMMA in cooperation with the F.E. McWilliam Gallery and studio. Analysing Cubism will travel to the FE McWilliam Gallery (Bandbridge) in September.
Analysing Cubism is supported by the Department of Arts, Heritage and the Gaeltacht and the French Embassy in Ireland.
Image: Evie Hone: Cubist Composition, c.1931, oil on canvas, private collection
Friday 21 June – Saturday 31 August 2013
Emmet Place, Cork
Telephone: +353 21 4805042
Opening hours / start times:
Monday 10:00 - 17:00
Tuesday 10:00 - 17:00
Wednesday 10:00 - 17:00
Thursday 10:00 - 20:00
Friday 10:00 - 17:00
Saturday 10:00 - 17:00
Admission / price: Free