Amy O'Riordan: Intimations of Immortality
Tuesday 23 March – Monday 5 April 2021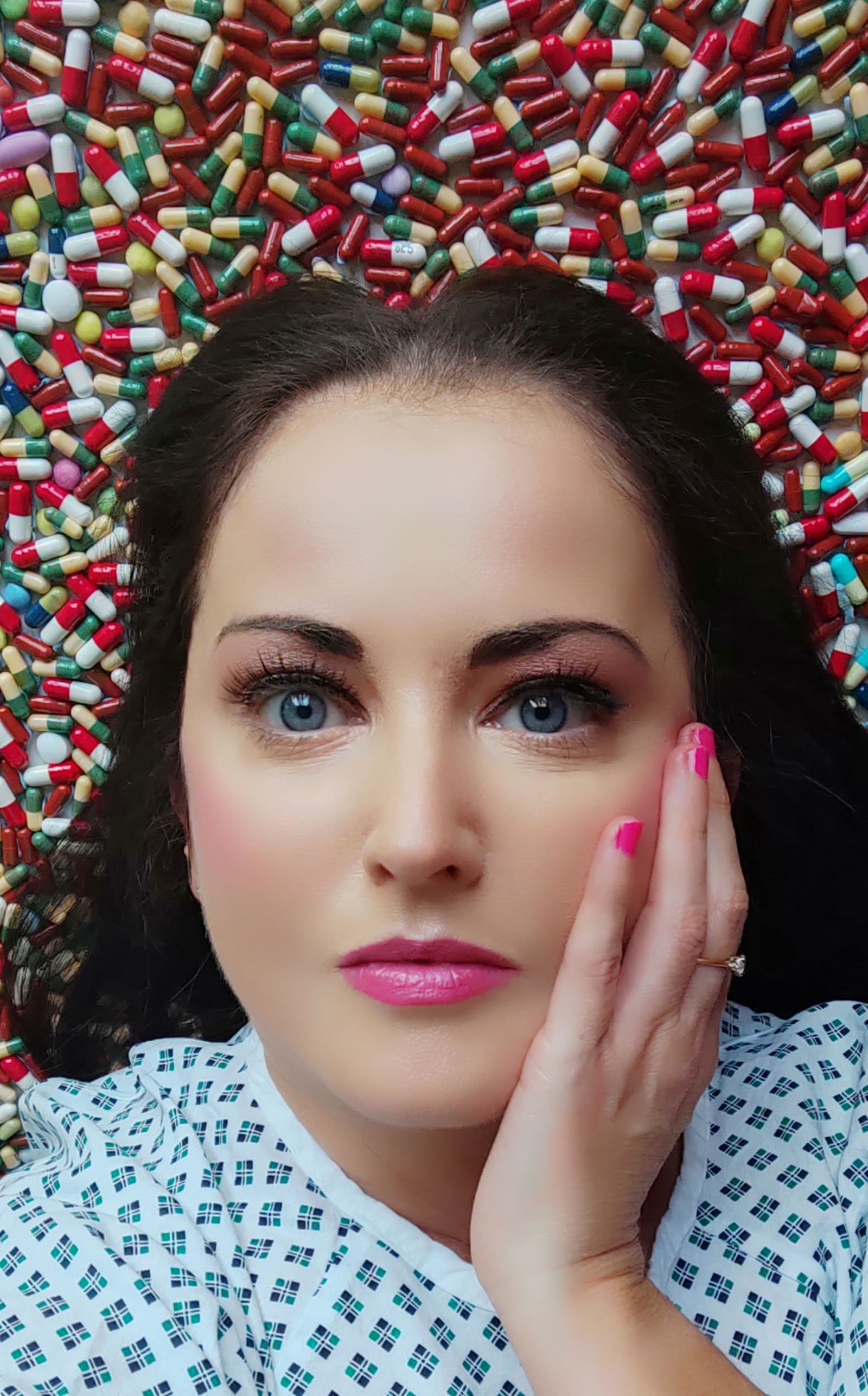 ――― Online only ―――
Viewable online here.
In Intimations of Immortality, Amy O'Riordan presents a series of staged photographic self-portraits. These works are both a continuation of her long-term exploration of representations of femininity in art and popular culture, and something of a departure in their unblinking and rather sobering concentration on the artist herself. Despite the notes of humour and playfulness we have come to expect of her, an intent seriousness of purpose, always there, is more to the fore. The context is a prolonged period of isolation and recovery following a serious accident.
The artist established her reputation with, and is probably best known for, several series of photographs addressing general perceptions of young women but also, vitally, the agency of young women. These two things do not usually go hand in hand. In each case the photograph was the final piece in a jigsaw: leading up to it, the artist created elaborate tableaux involving models drawn from the artist's immediate circle, including herself. And she oversaw every detail of costumes, make-up, extensive props and settings. While the images offered a privileged glimpse into a world, the young women were not there for our delectation. They challenge the viewer's gaze, a cast of knowing actors rather than passive objects.
Now, the artist occupies the central and exclusive role and meets our gaze. In her self-portraits, she plays on the iconography of femininity, and on the representation and misrepresentation of women. The idea of putting on a face to play a role is evident in Masquerading like Minnie: Minnie being Minnie Mouse, created Eve-like as a supportive adjunct to the character of Mickey Mouse. Variations of feminine masquerade are further enacted in Ornament and Suburban Garland. Potions and Oíche Samhain subtly allude to the historic persecution of women as witches, and to an underlying suspicion of the feminine. Corona ambiguously evokes the idea of the chosen one, but chosen for good or ill? Two works nod to Frida Kahlo who, perhaps more than any other artist, pioneered and excelled at the allegorical self-portrait. As for O'Riordan, the format provided Kahlo with a powerful means of approaching issues of personal and gender identity, and of broaching existential questions. Struggling to cope with severe lupus, Christine Miserandino came up with the image of a diminishing supply of spoons as a way of communicating her daily predicament to others. O'Riordan takes the image and reworks it as an ode to wit and creativity under pressure.
Text by Aidan Dunne
Tuesday 23 March – Monday 5 April 2021
Chancery Lane
Dublin 8
Telephone: +353 1 475 9514
Opening hours / start times:
Tuesday 10:30 - 17:30
Wednesday 10:30 - 17:30
Thursday 10:30 - 17:30
Friday 10:30 - 17:30
Saturday 11:00 - 17:00
Admission / price: Free