Amy Cutler: Colloquies
Saturday 10 August – Sunday 6 October 2019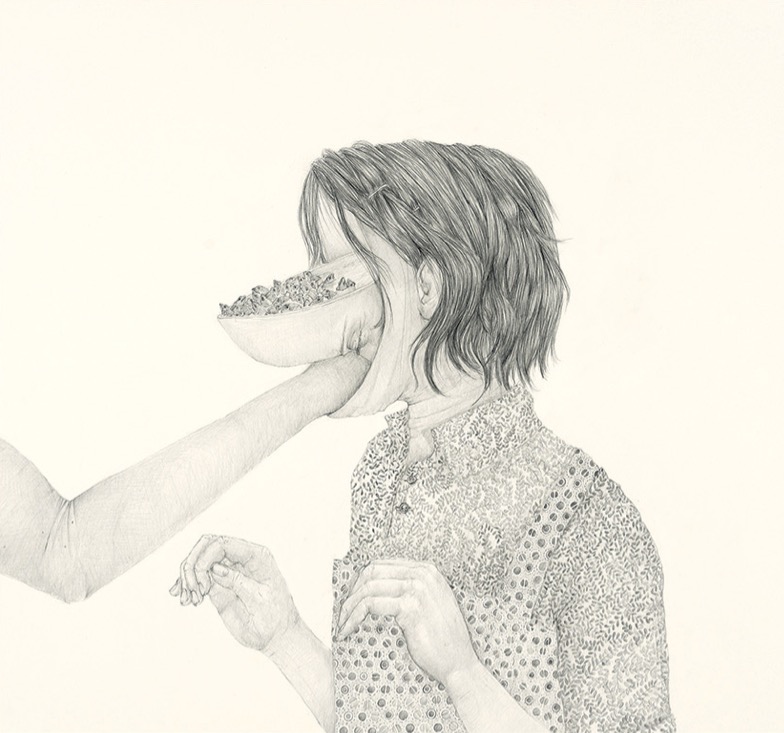 In association with Kilkenny Arts Festival • Curated by Anna O'Sullivan, Butler Gallery Director
The Butler Gallery is delighted to present the first exhibition in Ireland by the New York-based artist Amy Cutler.
Cutler's paintings and pencil on paper works are both dark and delightful—whimsical allegories illustrating the destructive effects of the unrealistic expectations that cultures impose on women. Cutler draws from a combination of her own memories and life experiences and current events to convey the complexities and cultural subtexts associated with womanhood. The rituals Cutler illustrates and the allusive narrative world she creates between her archetypal characters become a fascinating conversation full of intrigue that reveals the interior and exterior life of women.
Amy Cutler has exhibited extensively internationally including shows at the Institute of Contemporary Art, Philadelphia, the Walker Art Center, Minneapolis, the Kemper Museum of Contemporary Art, Kansas City, MO; the Indianapolis Museum of Art; Museo Nacional Reina Sofía, Madrid. Works by the artist are in the collections of The Museum of Modern Art, New York; the Walker Art Center, Minneapolis; the Whitney Museum of American Art, New York; the Baltimore Museum of Art; the Hammer Museum, Los Angeles; Herbert F. Johnson Museum, Ithaca, NY; Indianapolis Museum of Art; Museo Nacional Centro de Arte Reina Sofía, Madrid; Museum of Fine Arts, Boston; The Metropolitan Museum of Art, New York; The Phillips Collection, Washington, DC, and those of many other distinguished institutions and private individuals.
---
Behind the Surface
Amy Cutler, Eamon Colman & Blaise Smith
Monday August 12, 5 – 6pm
The Parade Tower, Kilkenny Castle
FREE BUT TICKETED
https://www.kilkennyarts.ie/programme/behind-the-canvas
Some of the artists featured in this year's Kilkenny Arts Festival have radically different approaches to their work. While Blaise Smith's extraordinarily detailed portraits are painted from close observation, Eamon Colman's abstract works are inspired by epic walks through the Irish landscape and Amy Cutler draws inspiration from a mixture of memory, imagination and current events. In this fascinating talk all three artists share thoughts on their own artistic process in the company of Butler Gallery Director Anna O'Sullivan.
---
With thanks to the Arts Council for essential annual funding and to the OPW, Department of Social Protection and Kilkenny Local Authorities for additional assistance. Additional funding support provided by Creative Ireland and the Kilkenny County Council.
The artist is represented by Leslie Tonkonow Gallery, NYC: http://www.tonkonow.com/cutler.html
Image: Amy Cutler: Marion, 2019, graphite on paper, 55.8 x 59 cm; courtesy Leslie Tonkonow Artworks + Projects, New York
Saturday 10 August – Sunday 6 October 2019
Evans' Home
John's Quay, Kilkenny
Telephone: +353 56 7761106
Admission / price: Free
Closed 13:00 - 14:00 until March.