Amharc Fhine Gall VII: the cloud
Thursday 18 November 2010 – Saturday 22 January 2011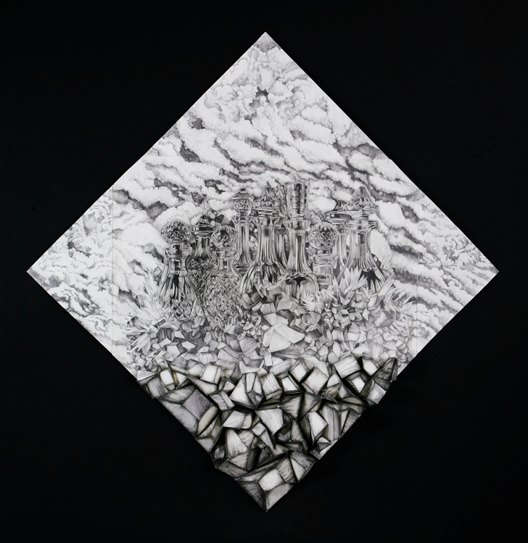 Ella Burke and Aoibheann Greenan, Recent Graduates from Fingal, curated by Susan Holland; In Association with Fingal County Council Arts Office
The annual Amharc Fhine Gall exhibition, now in its seventh year, is synonymous with showcasing Fingal artists and has established itself in recent years as a platform for emerging visual art practitioners. Last year the remit was extended to include an award for an emerging critic, this year the expertise of an emerging curator was invited.
the cloud, although obscure and intangible, is a mass of water particles suspended in air. A collective of drops which traverse their common form and are identified as other. the cloud, suggests a world of social connectivity, a multitude of particles which shape-shift into an alternate entity. Ephemeral in nature, the cloud cannot be touched. It is monumental yet transient.
The title of this exhibition, makes reference to this intangible entity, comprised of infinite minuscule components. Yet through specificity the cloud is made palpable. This is reflected in the practices of both artists. Through this exhibition Burke narrates, historizes and documents a relational encounter, which is shadowed through a new monument in the gallery. Greenan, similarly creates monuments, yet for her they are objects of an alternate simulated reality.
Ella Burke's work investigates multiplicity and the structures through which identity is negotiated. Her practice includes the developing of temporal monuments which consider the inherent need in the human psyche to embed individual existence within a greater collective sphere. A temporary monument of collective existence was created in Tallinn through the simple respiratory inflation of bags. This action was made as a response to the palpable tension between the Estonian and Russian populations of the city. The photographs presented readdress the documentation of this collective action and present the narrative of Burke's engagement. A shadow sculpture in the gallery invites each visitor to leave something of themselves in the new monument.
In the technological age of mass communication and consumption, Aoibheann Greenan's practice is concerned with society's drift toward a virtual notion of reality. A new collective consciousness, existing in parallel to actuality. Greenan investigates these competing realities, as proposed in the philosophy of Jean Baudrillard, and his twin concepts of 'simulation' and 'hyperreality'. Simulated realities constantly presented by the media reflect our inherent human desire to create artificial environments that cater to our projected wishes. This body of work is concerned with how these formulated images inform our understanding of the world and particularly with how they might restrict it.
Ella Burke is currently based in Tallinn and Dublin. She is studying for an MFA in Sculpture at NCAD. Ella graduated from IADT in 2009 with a BA in Painting. Solo Exhibitions include Irish Museum of Contemporary Art, 2010 and PLACE, Wexford 2010. Recent group exhibitions include shows in St.Petersburg, and Berlin. Upcoming presentations include an exhibition in Tallinn, Estonia.
Aoibheann Greenan is currently based in Dublin, she holds a studio at Block T. Aoibheann graduated from NCAD in 2010 with a BA in Painting, First Honours. Solos shows include Talbot 101. Recent group exhibitions include Sculpture in Context at The Botanic Gardens, Dublin; When a Stranger Calls a Friend of a Friend, Project 165, Toronto, Canada; Sugar Coated, The Back Loft, Dublin and The Art of Nurture, Lloyds TSB, The Manchester Art Gallery. Upcoming presentations include an exhibition at The Cross Gallery, nag space, 2011.
Susan Holland is currently based in Limerick, and is an independent curatorial practitioner. Susan graduated from LSAD in 2010 with an MFA by Research in Curatorial Practices and from CCAD in 2005 with a BA in Painting, First Honours. She is on the board of directors of Occupy Space, a non-profit gallery and project space in Limerick. Recent exhibitions include Noughties but Nice: 21st Century Irish Art, co-curated with Mike Fitzpatrick which toured to LCGA, VISUAL, Solstice and Regional Cultural Centre Letterkenny. Susan worked as Curatorial Fellow and Curator Audience and Access at Limerick City Gallery of Art from 2006-2009. Upcoming projects include Limerick Live and One Shot Wonders with Christina Gangos and LCEN supported by CREATE.
Artist Talk: Ella Burke on Saturday 15 January at 1pm
Image: Aoibheann Greenan: Hallucinatory Resemblance, drawing series and installation, 2010
Thursday 18 November 2010 – Saturday 22 January 2011
The Blanchardstown Centre
Dublin 15
Telephone: +353 1 885 2622
Admission / price: Free