Amelia Stein RHA: Erris
Friday 16 January – Sunday 22 February 2015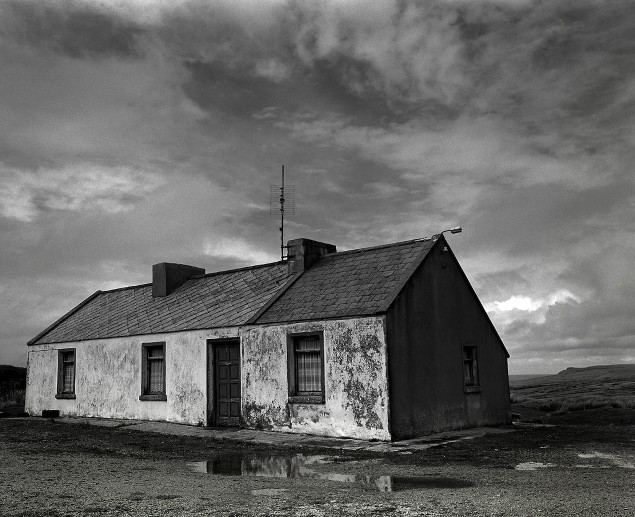 Opening Reception Thursday 15 January, 6 – 8pm
Amelia Stein RHA is known and lauded for her sumptuous black and white photographs. Whether the subject is the graveyards of the Middle East, the Palmhouse at the Botantical Gardens, or portraits of artists, Stein brings together subtle tonality with psychological insight. This new suite of work sees two innovations from the artist.
Firstly, she turns her camera onto the Barony of Erris in the north west of Mayo. Wild and bleak, this landscape has challenged and shaped its inhabitants over the millennia. Stein divides this selection into studies of sky and bog. Sky, that immense and charged element, dominates and scores these images. Habitations, sometimes domestic, sometimes agricultural, and sometimes an evolution from one to the other vie with the topography for equality under the indifferent and awesome sky. Her bogs are not the wild heathland but the scared worked surface of the turf cutting. The evidence of labour, of subsistence is audible in the ridges and plains of these hand worked pits. The piling and protection of the saved turf is almost anthropomorphic, telling of the personalities of those working the bog.
Stein introduces a new method of presentation for these images. Producing large prints, freed of the frame, these works hold an authorative presence in the gallery, offering the viewer an immersive and contemplative experience.
Amelia Stein RHA, lives and works in Dublin where she was born in 1958. Over the past 30 years Amelia Stein has established herself as a singularly exacting photographer whose work is characterised by meticulous attention to detail in tandem with the attributes of fine black and white photographic printing, many of the images having a theatrical presence. Her area of expertise has been portraiture, working with actors, performers, playwrights, poets, authors and musicians on commissioned images and on production photography in the Irish Theatre/Opera and Music Industry 1979-2000. Many of these images have had worldwide exposure. Amelia Stein became a full member of the Royal Hibernian Academy in 2004 – the first photographer ever to be elected to that body. She was elected to Aosdána in 2006.
Amelia Stein: Photographs RHA 2009 is a study of the Members of the Royal Hibernian Academy, which was published as a book in the year of the opening of the new and refurbished premises in Ely Place in 2009. Here we see Steins ability to identify the metaphorical potential of objects combined with her keen isolation for the meaningful close-up and her tried and elegant skill to draw out the character of a face. Stein's strategy was to hunt the personality of the artist through creating images of them in their studio through a facial portrait, an image of their hands and a study of their chair, or the tools of their practice. This publication will be available on special offer for the duration of this exhibition. Please visit the front desk for details.
Website: www.ameliastein.com
Image: Amelia Stein RHA: White House, from The Big Sky Series, 2014; image courtesy of the artist and Oliver Sears Gallery, Dublin
Friday 16 January – Sunday 22 February 2015
15 Ely Place, Dublin 2
Telephone: +353 1 661 2558
Opening hours / start times:
Monday 11:00 - 17:00
Tuesday 11:00 - 17:00
Wednesday 11:00 - 19:00
Thursday 11:00 - 19:00
Friday 11:00 - 19:00
Saturday 11:00 - 19:00
Sunday 14:00 - 17:00
Admission / price: Free