Amanda Dunsmore: Keeper
Tuesday 10 April – Sunday 22 July 2018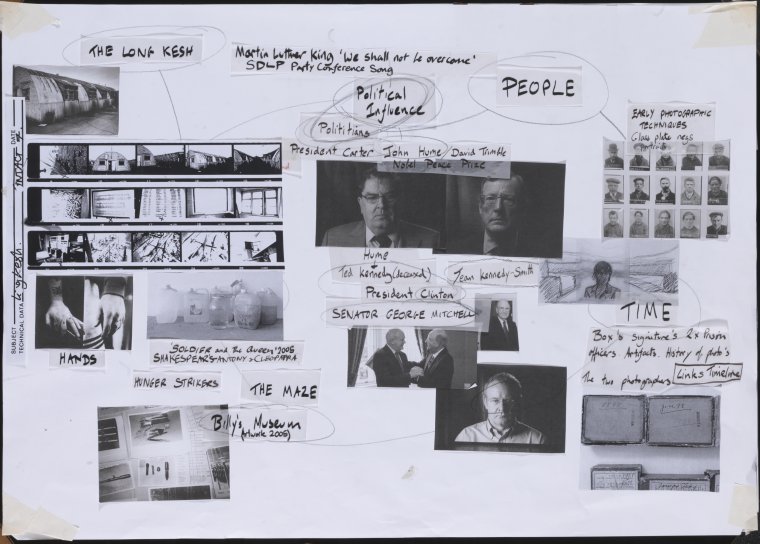 Marking the 20-year anniversary of the Belfast/Good Friday Agreement—a major milestone in the evolution of peace in Northern Ireland—Keeper presents artist Amanda Dunsmore's social and political portraits that reflect specific points in history from the late nineteenth century to the present day. The artist's methodology is grounded in her interest in issues of social and political change and this body of work stems from her time as artist in residence at The Maze and Long Kesh Prison from 1998.
Dunsmore's exhibition includes silent, 20-minute video portraits of key political figures involved in the Belfast/Good Friday Agreement, providing unique new perspectives on familiar, high-profile figures. These include John Hume and David Trimble, who were jointly awarded The Nobel Peace Prize in 1998 "for their efforts to find a peaceful solution to the conflict in Northern Ireland", and whose portraits will be exhibited for the first time at The Hugh Lane.
Alongside these portraits will be works acknowledging the role of Mairead Corrigan Maguire, Betty Williams and Ciaran McKeown who founded the Peace People, a cross-community grassroots movement of citizens dedicated to ending the sectarian strife in Northern Ireland. Maguire and Williams shared the 1976 Nobel Peace Prize.
Other works in Keeper expand this theme of portraiture and its role in social and political life and further reflect on the formal and informal processes through which memory and history are made. These include Billy's Museum (2004), a filmed record of a collection of items relating to various individuals, incidents and occurrences made by Prison Officer Billy Hull in HM Prison Maze. A new artwork entitled The People's Portraits 1899-1918 will also be shown. It comprises 100 printed portraits taken from late nineteenth and early twentieth century glass plate negative prison photographs.
Amanda Dunsmore works in art processes that explore representations of societal transformation through contextual portraiture and social historic projects. Over the past 25 years she has exhibited widely in Ireland and internationally and her artworks can be found in private and public collections.
The exhibition will be accompanied by a catalogue featuring essays by Senator George Mitchell, Amanda Dunsmore, Fionna Barber and Cillian McGrattan.
Monday 9 April, 5pm
Special Lecture: Senator George Mitchell, The Good Friday Agreement: A Personal Reflection
Marking the 20th anniversary of the signing of the Good Friday Agreement we are delighted to welcome Senator George Mitchell who will deliver an address The Good Friday Agreement: A Personal Reflection in advance of the opening of Amanda Dunsmore's exhibition Keeper. Free although advanced booking is essential. Free, although advanced booking is essential. Please see https://www.eventbrite.ie/e/lecture-by-senator-george-mitchell-at-the-hugh-lane-gallery-tickets-43199797758
Tuesday 10 April – Sunday 22 July 2018
Parnell Square North
Dublin 1
Telephone: + 353 1 222 5550
Opening hours / start times:
Tuesday 10.00 - 18:00
Wednesday 10.00 - 18:00
Thursday 10.00 - 18:00
Friday 10.00 - 17:00
Saturday 10.00 - 17:00
Sunday 11.00 - 17:00
Admission / price: Free