Altered Images
Monday 14 February – Friday 29 April 2011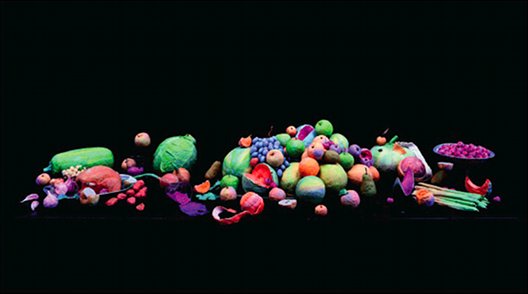 The Crawford Art Gallery is very excited to present Altered Images, a partnership initiative of the Irish Museum of Modern Art's National Programme, Mayo County Council Arts Office and South Tipperary Arts Service.
The exhibition is designed to engage a universal audience: disabled and non-disabled people, newcomers and the regular exhibition-goer, young people and mature audiences. Its multi-sensory approach invites all visitors to touch, listen, hear, imagine, feel, see, navigate and experience.
Each artwork is accompanied by an audio description and a three dimensional tactile model. Artist Amanda Coogan has produced a film using sign language, as a companion piece to the exhibition, and an introduction to contemporary art.
This exhibition presents the work of six contemporary artists.

Alice Maher's dream-like images are drawn from an Irish girl-hood, myth, fairytale and a sensuous fascination with the natural world.

Thomas Brezing paints layered landscapes, which on closer scrutiny reveal concerns about displacement, belonging and history.
David Creedon's atmospheric photographic work explores the plight of Irish emigration from the early 1950's to the 1980's.
Caroline McCarthy presents a fantastic feast of food made from unexpected materials. Her humorous work comments on consumerism and modes of representation.
Amanda Coogan is a performance artist. She communicates images and ideas through her body. Her film work, Seven Steps, narrated using sign language, offers a response to the artwork in the exhibition.

Daphne Wright's Plura, taken from a classical marble sculpture, presents an intricate film work in which a web of fragmented forms are enveloped by the guttural sounds of male and female phonetic voices. The film relates to remembering or loss of memory, recalling a struggle with language, conversations and relationships.
An audio CD, Braille documentation and a large print catalogue are available on request. A website for the project can be found at www.alteredimages.ie
Project Team: Damien O'Connor, Disability Arts Coordinator, Mayo County Council; Anne McCarthy, Arts Officer, Mayo County Council; Johanne Mullan, National Programmer IMMA; Georgie Thompson, Assistant Curator; Collections, IMMA and Sally O'Leary, Arts Officer South Tipperary County Council.
This exhibition is kindly supported by the Arts Council's Touring & Dissemination of Work Scheme.
Image: Caroline McCarthy: The Luncheon, 2002, Collection Irish Museum of Modern Art
Monday 14 February – Friday 29 April 2011
Emmet Place, Cork
Telephone: +353 21 4805042
Opening hours / start times:
Monday 10:00 - 17:00
Tuesday 10:00 - 17:00
Wednesday 10:00 - 17:00
Thursday 10:00 - 20:00
Friday 10:00 - 17:00
Saturday 10:00 - 17:00
Admission / price: Free