Alison Pilkington: How We Roam
Friday 7 September – Sunday 30 September 2018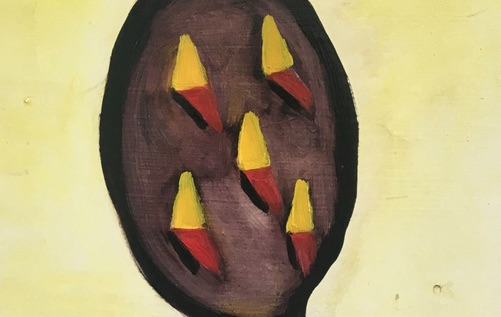 Alison Pilkington's paintings are situated between abstraction and figuration. Her paintings utilise simple half-formed shapes, which are open to metaphorical and anthropomorphic interpretation. They explore how familiar yet comic images have the potential to disturb, disorientate or to be uncanny.
The idea of artistic freedom and creativity as a journey is alluded to during which a narrative unfolds through simple recurring motifs. In some paintings the shapes take on a character and are given an environment. References to paintings from different periods of art history frequently come through her paintings. There are also references to classical portraiture, landscape painting and the sublime. The paintings are frequently charged with a visual tension and are both humorous and unsettling. The quality of paint handling, although seemingly casual, is a result of repeated attempts at getting something 'right'.
Alison Pilkington, born in Sligo, is now based in Dublin and currently a studio and board member at Temple Bar Studios and Gallery, Dublin. She completed a practice led PhD in painting at National College Art and Design Dublin awarded in 2015. In 2012 she was awarded a British Institution Award for painting at the Royal Academy Summer Show London, She has been selected for the Marmite Painting Prize, London 2012 and 2016. She was shortlisted for the Kurt Beers 100 Painters of Tomorrow publication, 2013. She was 3rd prize-winner at the Artslant International Jurors Award in December, 2013.
Recent exhibitions include: The Dock, Carrick on Shannon, June 2018. Will We Remember Volcanoes at Westminster Art Library London June 2017. Strangelands Collyer Bristow Gallery London, Sept 2017. Contemporary British Painting, touring exhibition to 4 Museums in China, Sept 2017 to January 2018.
Image: Alison Pilkington, How We Roam (detail), 2018, Oil on canvas, 30 x 40 cm, Image courtesy of the artist
Friday 7 September – Sunday 30 September 2018
15 Ely Place, Dublin 2
Telephone: +353 1 661 2558
Opening hours / start times:
Monday 11:00 - 17:00
Tuesday 11:00 - 17:00
Wednesday 11:00 - 19:00
Thursday 11:00 - 19:00
Friday 11:00 - 19:00
Saturday 11:00 - 19:00
Sunday 14:00 - 17:00
Admission / price: Free