Alison Lowry: (A)Dressing Our Hidden Truths
Monday 29 June – continuing from 29 June 2020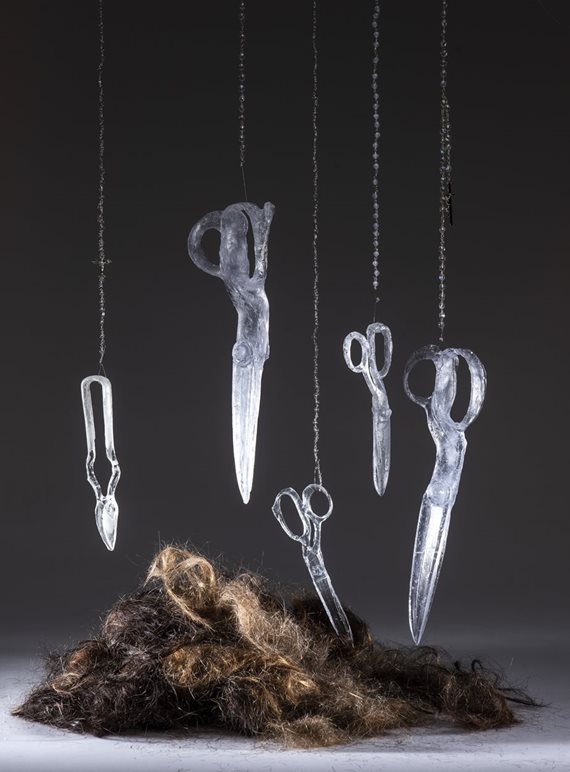 ――― Level 5 ―――
Reopening Monday 29 June 2020
An artistic response to the legacy of mother and baby homes and Magdalene laundries by Alison Lowry
Alison Lowry is a rather unique artist in the European context in her commentary through the medium of glass on such discomforting topics as child abuse and domestic violence. There are parallels in this regard with other media primarily that of painting by way of theme, but there is no artist working in glass who so pointedly and effectively comments on the political, social and emotional fallout from such events as Alison Lowry.
This exhibition of Lowry's work is divided into four distinct areas – installation of suspended sand-cast pâte de verre christening robes, sculptural works responding to the theme of the Magdalene Laundries, a video piece made with performance artist Jayne Cherry and a suit of armour using glass and leather created with the internationally renowned designer Úna Burke.
Amongst the exhibition's highlights is an installation of nine christening robes in pâte de verre (glass paste) spread across two rooms – a profound piece of commentary on the Tuam Mother and Baby Home revelations. Other elements of the exhibition include audio testimony by way of poetry and song from those who experienced the industrial school system and Magdalene Laundries.
Image:
Monday 29 June – continuing from 29 June 2020
Collins Barracks
Benburb Street, Dublin 7
Telephone: +353 1 6777444
Opening hours / start times:
Monday 13:00 - 17:00
Tuesday 10:00 - 17:00
Wednesday 10:00 - 17:00
Thursday 10:00 - 17:00
Friday 10:00 - 17:00
Saturday 10:00 - 17:00
Sunday 13:00 - 17:00
Admission / price: Free