Alice Peillon: Constellation
Saturday 12 November – Saturday 17 December 2011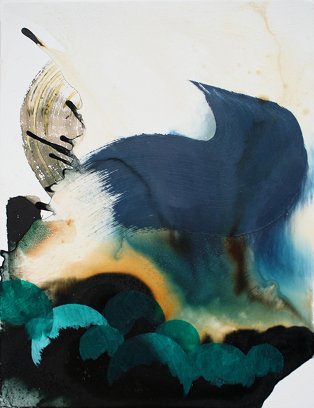 Opening Reception Friday 11 November at 6pm
Constellation is an exhibition of multi-media paintings by Alice Peillon.
Peillon returns this year to RUA RED with Constellation after she exhibited in our Summer Show 2010 and was chosen as the winner of a solo show in Gallery 2.
The starting point for Peillon's work is often a random paint mark, an unexpected visual glitch. The composition of the pieces is built up in layers using the interplay of materials to develop a dynamic visual language.
The materials often act against one another – ink being subsumed by bleach, oil paint eroded by sandpaper, paint rubbed out and reinstated.
Peillon's energetic, frenetic brushwork creates dramatic sweeps across the canvas and combined with more deliberately structural elements, explores the interplay between precision and accident.
Peillon has a number of works in collections including the Office of Public Works (Dublin), Axa Collection of Irish Art,, Ernst & Young (London) and various private collections.
Presented by RUA RED.
Image: Alice Peillon: Cave Adrift
Saturday 12 November – Saturday 17 December 2011
South Dublin Arts Centre
Tallaght, Dublin 24
Telephone: +353 1 451 5860
Opening hours / start times:
Monday 10:00 - 18:00
Tuesday 10:00 - 18:00
Wednesday 10:00 - 18:00
Thursday 10:00 - 18:00
Friday 10:00 - 18:00
Saturday 10:00 - 18:00
Admission / price: Free