Alex Pentek: Folded Space
Friday 19 January – Sunday 22 April 2018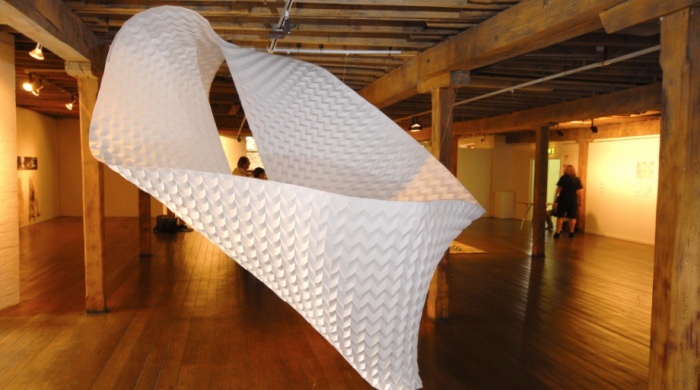 The RHA Gallery presents a new body of work by Cork-based sculptor Alex Pentek, titled Folded Space. This site-specific series of artworks, which has been created for the foyer and atrium of the RHA is inspired by Pentek's long-time interest in origami. Origami informs his work on a practical and philosophical level, as well as an ongoing interest in science and cosmology.
Origami is at the forefront of research into deploy-able forms for use in space exploration, such as the Miura fold. Named after Japanese astrophysicist Koryo Miura, he developed this design to allow astro solar sails to be compactly stored and unfold once in space. On a larger scale origami is now being used as a model to explain Galaxy formation [White & Vogelsberger, 2009, Neyrinck, 2012].
Varying from large scale folded surfaces to small scale more intimate folded works in paper and steel each work is a form of active structure; where the overall form and texture is informed by the complex interaction of many interconnected folded surfaces. As some of the works twist through space they become endless Mobius surfaces, the physicist's anomaly; a surface that exists in three-dimensional space but only has two dimensions and has the mathematical property of being multi-directional.
IN CONVERSATION: Alex Pentek with RHA curator, Victoria Evans
Date to be confirmed.
Image: Alex Pentek, Otherness, 2007, Single folded sheet of paper, Another Place, Salamanca Art Center, Hobart, Tasmania, Australia, Image Craig Opie.
Alex Pentek is an Irish artist who has a growing portfolio of national and international site-specific commissions that explore different ideas in a broad range of materials. As well creating large-scale site-specific work from his studio in Cork, his gallery based practice explores temporary mediums such as folded paper and sound performance which he has exhibited across Ireland, UK and Australia. A long-time interest in science, origami and music continue to inform Pentek's work both practically and philosophically.
Friday 19 January – Sunday 22 April 2018
15 Ely Place, Dublin 2
Telephone: +353 1 661 2558
Opening hours / start times:
Monday 11:00 - 17:00
Tuesday 11:00 - 17:00
Wednesday 11:00 - 19:00
Thursday 11:00 - 19:00
Friday 11:00 - 19:00
Saturday 11:00 - 19:00
Sunday 14:00 - 17:00
Admission / price: Free