Alan Butler: On Exactitude in Science
Monday 12 November – Wednesday 14 November 2018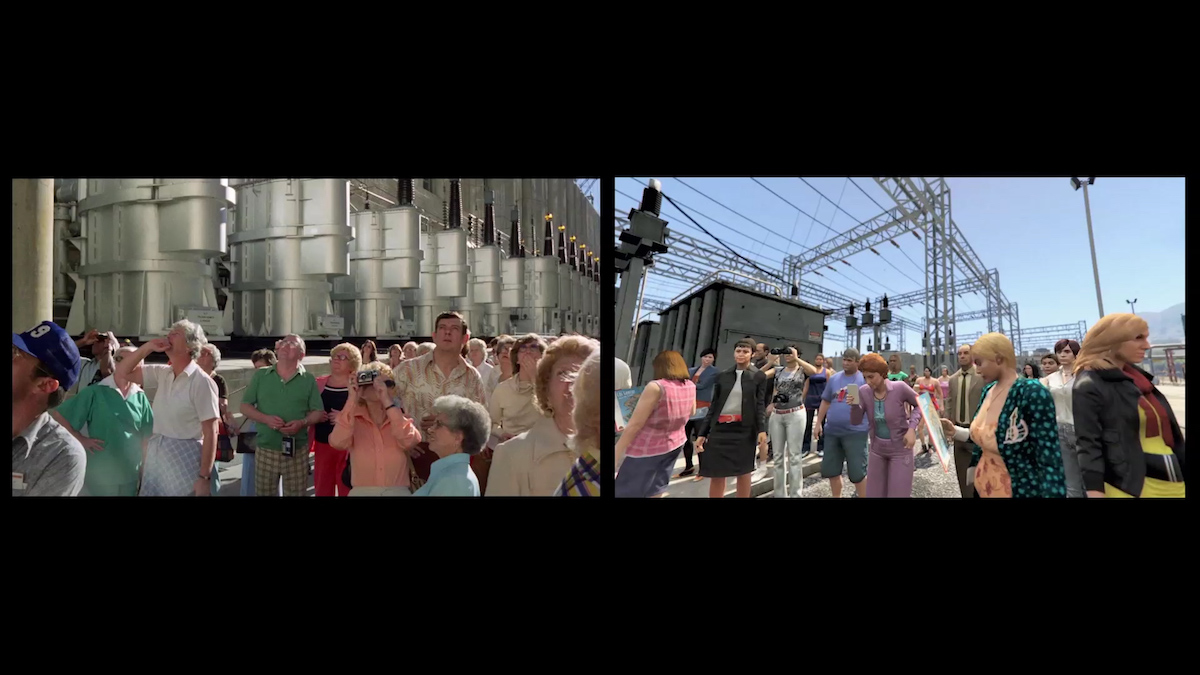 National Sculpture Factory in association with Cork Film Festival 2018
Presented on two screens, Alan Butler's installation On Exactitude in Science (2017) comprises of the Godfrey Reggio motion picture KOYAANISQATSI (1983), presented in synchronicity with Butler's shot-for-shot remake KOYAANISGTAV (2017). The work by Reggio was chosen by Butler as a cultural artifact, and a paragon of the most popular visual media of the 20th century, film. The original motion picture does not follow a formal screenplay as such, instead embodies a poetic, pictorial mode of documentary film-making. Using KOYAANISQATSI as a screenplay itself, Butler has transposed this work into a new form using the virtual worlds within the Grand Theft Auto video game series.
On Exactitude in Science takes its name from the Jorge Luis Borges short story, Del rigor en la ciencia (1946). This passage describes an ancient, fictional civilization that creates a 1:1 scale map of their territory. Borges, who annotated this text under a pseudonym, in fact based the work on an extract from a Lewis Carroll work first published in 1889.
Alan Butler's work explores material and philosophical ideas about the functions of imagery and meaning in technologically mediated realities. His subject often ties together the cultural dogma that underpins visual languages, with algorithmic modes of being in western capitalist societies. He received his MFA from LaSalle College of the Arts, Singapore (2009). and BA in Fine Art from the National College of Art and Design, Dublin (2004).
Recent activities include solo exhibitions The Need To Argue In The Master's Language, Visual Carlow, Ireland (2018); Down and Out in Los Santos, Malmö Fotobiennal, Sweden (2017); HELIOSYNTH, Green on Red Gallery, Dublin (2017); We Were Promised Anarchy, But What We Got Was Chaos, Solstice Art Centre, Ireland (2015); Youth Outreach In N. Korea, Supermarket , Stockholm, Sweden (2015); The Parallax View, Ormston House, Limerick, Ireland (2014); and group exhibitions SITUATIONS/Posthuman, Fotomuseum Winterthur, Switzerland (2018); States of Play: Roleplay Reality, FACT, Liverpool, England (2018); When Facts Don't Matter, St Carthage Hall, Lismore Castle, Ireland (2018); As Above, So Below, Irish Museum of Modern Art, Dublin (2017); Les Rencontres d'Arles, France (2017); Scissors Cuts Paper Wraps Stone, CCA Derry/Londonderry (2016) ; FUTURES: Anthology 2, Royal Hibernian Academy, Dublin, Ireland (2015); Telling Lies, RUA RED, Dublin, Ireland (2015); Please return, Embassy Gallery, Edinburgh, Scotland (2015), among others.
Alan Butler's work is in the collections of IMMA – the Irish Museum of Modern Art, The Office of Public Works, Ireland, and Trinity College Dublin. He is represented by Green On Red Gallery, Ireland.
Image: On Exactitude in Science by Alan Butler (2017),Two-screen HD video, 5.1 audio. Artist Proof, Edition of 5 + 1 A.P., courtesy of the Artist. Koyaanisqatsi (© IRE 1983, All Rights Reserved) courtesy of Godfrey Reggio and the Institute for Regional Education
Monday 12 November – Wednesday 14 November 2018
Albert Road, Cork City
Telephone: +353 21 4314353
Admission / price: Free
Times: 6pm – midnight

Please note that the video is of 86 minutes' duration and will be run on a loop. It will begin each day at 6pm and additional screenings will begin at approximately 7.26pm, 8.52pm and 10.18pm. National Sculpture Factory closes each night at midnight.