Aisling Conroy: Bardo
Sunday 5 February – Sunday 12 March 2017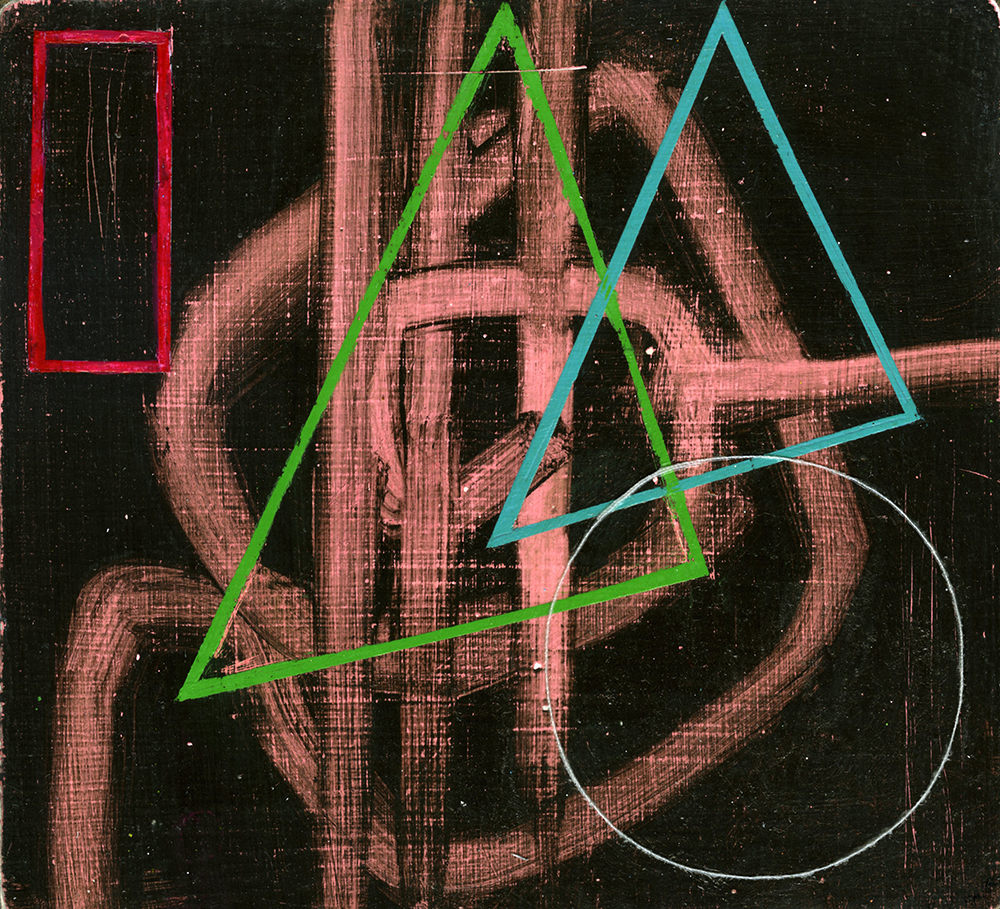 'Bardo' meaning "intermediate state" derives from Bardo Thodol (Liberation through hearing during the intermediate state). The text describes the different stages referred to in the Tibetan Book of the Dead, which instruct and guide the consciousness from life into death. This transitioning journey can also be understood as change and reincarnation within the living world.
Aisling Conroy's latest work, explores the idea of intention, reincarnation and repetition within physical and psychological realities. Her paintings, are impressions of pseudo-ritualistic meditative aids, focusing on Eastern iconographic art and Tantric art. Conroy attempts to represent portals and patterns that must be passed through or broken during the process of transformation and ultimately liberation, within love, life, death and rebirth.
In 2016 Conroy completed a six-month residency at the Laois Arthouse where she developed the work for Bardo. During her residency, the new body of work that evolved was informed by and made in response to the Patrick Scott Archive, recently bequeathed to The National Irish Visual Arts Library. This archive is a rare and previously unseen collection of Scott's day-to-day studio diaries, photographs, correspondence and drawings. Zen Buddhism, meditation, veneration and ritual directly influenced Scott's work; recurrent veins that have grown throughout her own practice.
Also on exhibition will be a number of items on loan from the Patrick Scott Archive in the National Irish Visual Arts Library (NIVAL), Dublin. Through this invaluable archive, Aisling has drawn parallels between her own art practice and life as an artist. A Patrick Scott drawing, one of his studio books and personal photographs will be included alongside the work in 'Bardo'.
Originally from Portlaoise, Aisling Conroy is a Dublin-based artist using drawing, painting, sound, and installation. Aisling has exhibited in various venues around Ireland, as well as having exhibited in the US, China and India. Her work is represented in public and private collections, both nationally and internationally.  Aisling also works in the library and archives of the National College of Art and Design, Dublin.
The exhibition will coincide with the third anniversary of Patrick Scott's death. A series of events, one in collaboration with NIVAL, will be organised in conjunction with the exhibition.
Sunday 5 February – Sunday 12 March 2017
3 Great Denmark Street
(beside Belvedere College)
Dublin 1
Telephone: +353 87 2887261
Opening hours / start times:
Tues to Fri: 11am to 6pm (till 8pm on Thursdays) • Sat & Sun: 12 noon to 5pm • Closed on Mondays (or viewing by appointment only)
Admission / price: Free