Áine Ní Chíobháin: Ag Faobhar an Lae (At the Edge of Day)
Thursday 6 September – Wednesday 19 September 2018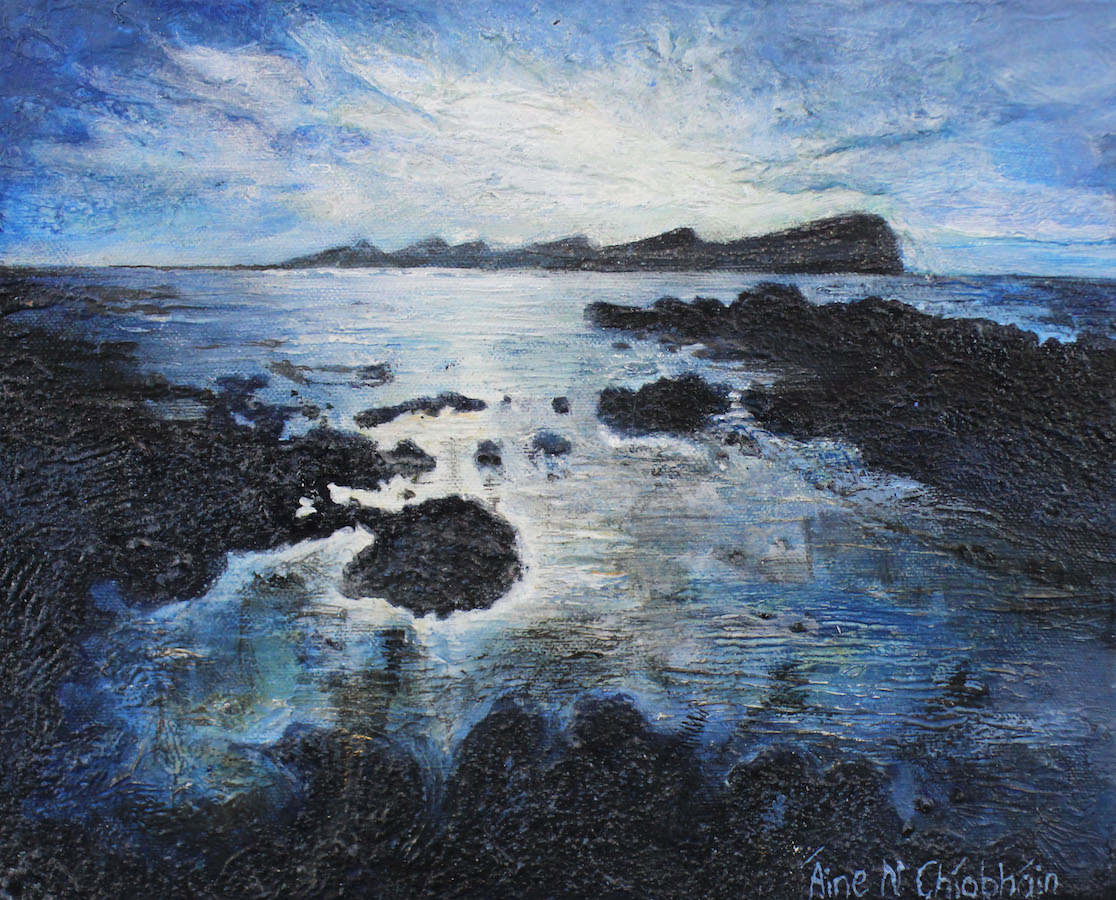 Gormleys Fine Art is delighted to announce 'Ag Faobhar an Lae', an exhibition of new works by Áine Ní Chíobháin, coming to our Dublin gallery this September. Also featured in the exhibition are Ní Chíobháin's father Tomás Ó Cíobháin and close friend Honora O'Neill. The exhibition consists of a series of mixed media paintings on canvas, depicting a series of scenes of the Irish landscape. The artist Suzy O'Mullane will say a few words at the opening.
'For me art is a compulsion to connect with my surroundings, and create a sense of place. The process of making art is born out of innate curiosity and excitement at phenomenal occurrences around me.' – Áine Ní Chíobháin
Ní Chíobháin grew up speaking Irish in an old suburb of Cork City surrounded by poets, playwrights and painters. From a young age she picked up drawing and painting very easily, and studied in various art schools under the encouragement of her father Tomás Ó Cíobháin, an artist from West Kerry. There is a dichotomy in her artwork between her rural and urban upbringing, between grimy streets and rough seas, and between day and night.
Ní Chíobháin finds solace on the West coast boundary areas between land and sea. She is inspired by wordsmiths on both sides of her family and has an appreciation for her native language. Hard to reach places, mythology and superstitions fascinate her and feed into her paintings. While on excursions, she is fascinated by the golden hour of reflections, long shadows, white light and contemplation.
The surface of Ní Chíobháin's work is laboriously worked with knitted lines, found pigments, and distressed surfaces. Her use of carving, cutting, and collaging techniques help her to build different textures of land and sea. Each work is the result of a combination of sketches, research and imagination.
Áine Ní Chíobháin has an Honours Degree from Crawford College of Art and Design. Ní Chíobháin's artwork is found in many public and private collections including HETAC, CIT and Kerry County Council, Ireland. She is a recipient of numerous awards from Ealaín na Gaeltachta (Arts Council of Ireland & Údarás na Gaeltachta), Kerry County Council, Derry City Council, and Cork Film Centre. She has completed art residencies and solo exhibitions in remote locations such as Áras Éanna on Inis Oírr, off the coast of Galway, Cill Rialaig, South Kerry and Wild Valley Art Park, in the Australian Blue Mountains.
Tomás was born in An Ghráig, Baile'n Fheirtéaraigh, Co. Kerry. Known primarily as an etcher, Ó Cíobháin is also a typographical and historical painter of considerable skill and deftness. His signature pieces are seen from aerial perspective, over-looking West Kerry.
The Kerry which inspires him is the Kerry of "language, song, story and personality, the talk of the land, this intense interest in the fertile or barren characteristics of fields, the wetness and dryness of land." He listens to the "talk of the land", gaining insight into why generations before him fought for land and bog. Ó Cíobháin says that his "work predates my own personal feelings. They are always ahead of my epiphany. The work leads me to a place."
Ó Cíobháin's work is refreshing. It is exciting in method, composition and perspective and his depiction of Kerry is one where "realism is extended by imagination".
Honora O'Neill lives in the village of Clogher, far west on the Dingle peninsula where her studio is also located. She is inspired by the ever-changing sea with its myriad colours, turbulence and ferocity framed by the rugged coastline, sky and cloud formations. A graduate of the Crawford College of Art and Design, Cork, she was awarded an Honours Bachelor's Degree in Fine Art Painting, finishing among the top of her class and the recipient of numerous awards. Her work is on permanent exhibit at the Cork Institute of Technology and at the University College Cork. Coming from a long line of painters on both sides of her family, painting is 'in the blood' of this talented young artist, as with the other artists featured in 'Ag Faobhar an Lae'.
International artist Suzy O'Mullane will say a few words at the opening. O'Mullane was co-founder and director of ArtTrail Cork from 1996 to 2002.
Thursday 6 September – Wednesday 19 September 2018
27 South Frederick Street, Dublin 2
Telephone: +353 1 6729031
Opening hours / start times:
Monday 10:00 - 17:30
Tuesday 10:00 - 17:30
Wednesday 10:00 - 17:30
Thursday 10:00 - 19:00
Friday 10:00 - 17:30
Saturday 10:00 - 17:30
Admission / price: Free