Aileen Murphy: Wet Talk
Thursday 3 March – Saturday 26 March 2022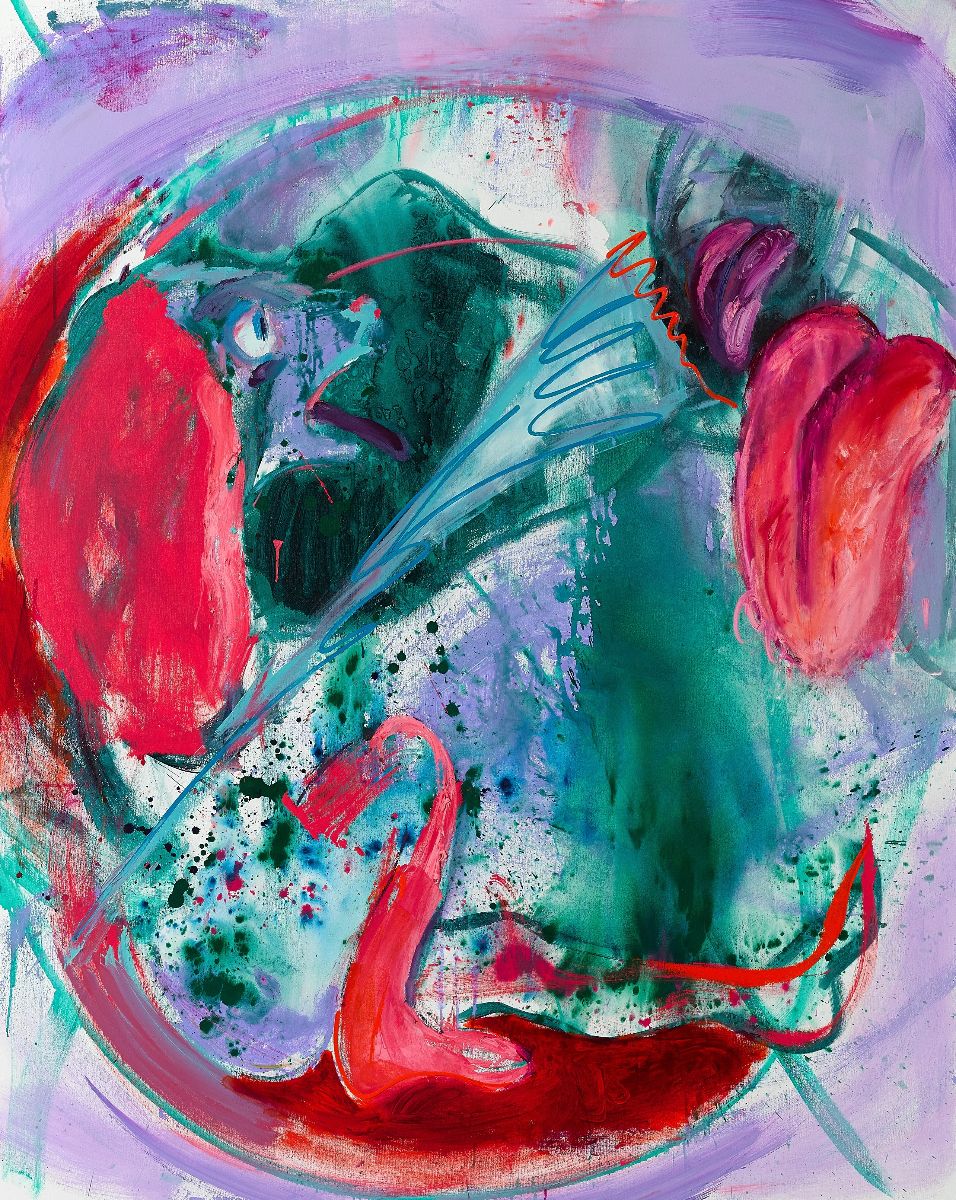 'One can taste a real sugary sweetness in these paintings. It's yummy, but it's a dirty, untidy kind of sweetness. Peach cream stains. Unfinished raspberry swirls. Pink icing, licked off big tits. Cheesecake bursting out of the frame. Also in the paintings, a messy and frenetic sweetness of time, the way everything speeds up in the full sticky buzz of a sugar high.
Among the frenetic bursts, though, there is also breath and lush, languorous extension. The fullness in these paintings is given room to stretch out, take a seat, take time, recline, curve around the edge of the canvas in search of some more space, or burrow in underneath the pockets of privacy that are offered by the paint when it acts as a cover.'
Extract from an accompanying text by Amelia Groom
To coincide with 'WET TALK', the Gallery is hosting an evening with Aileen Murphy and Isabel Nolan: In Conversation on Thursday 3 March at 6pm. We are also pleased to launch telephone cords and legs RING RING HELLO, a publication of Aileen Murphy's drawings designed by Peter Prendergast. 
Aileen Murphy (B. 1984, lives and works in Berlin), graduated from the National College of Art and Design, Dublin (2007) and then studied under Amy Sillman and Monika Baer at Städelschule, Frankfurt, graduating in 2018. Recent Solo and two person exhibitions include face not her own her hair (online), Amanda Wilkinson, London, U.K. (2021), Flush, Amanda Wilkinson, London, U.K. (2020), PANTING, Temple Bar Gallery and Studios, Dublin, Ireland (2019), Bounty, with Diana Copperwhite, Kevin Kavanagh, Dublin, Ireland (2018), Naked Cheerleaders in My Chest, Deborah Schamoni, Munich, Germany (2017), Summertime Witchcraft, with Anders Dickson, The Fort, Brooklyn, New York, U.S.A (2016). Recent selected group exhibitions include Drawing Biennial,Drawing Room, London, UK (2021),We Can Dance, Castlefreke, West Cork, Ireland (2021), Pathos, Rathfarnham Castle, Dublin, Ireland (2021), Female Gaze, Badr El Jundi, Malaga, Spain (2021), Fables of Resurrection, Deborah Schamoni, Munich, Germany (2020), Jahresgaben 2020 / 2021, Kunstverein Munich, Germany (2020), Vision X, curated by Diana Copperwhite, RHA, Dublin, Ireland (2019).
Image: Aileen Murphy, ur, 2021, ink, vinyl and oil on canvas, 200 x 160 cm
Thursday 3 March – Saturday 26 March 2022
Chancery Lane
Dublin 8
Telephone: +353 1 475 9514
Opening hours / start times:
Tuesday to Saturday 11am – 5pm
Admission / price: Free