Ailbhe Barrett, Clare Henderson and Daniel Lipstein: One-Off
Friday 23 March – Saturday 14 April 2018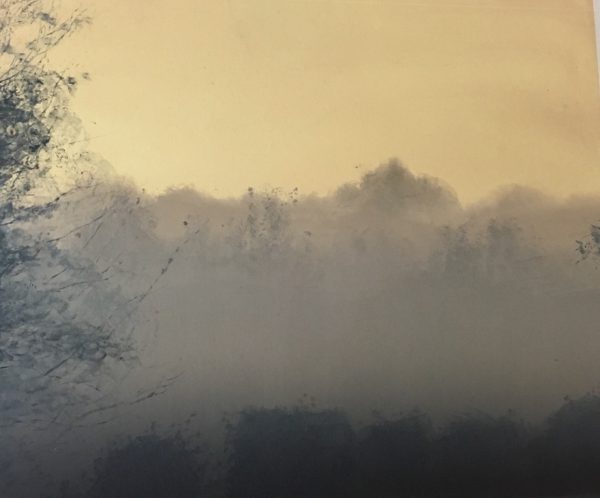 Graphic Studio Gallery is delighted to present, ONE-OFF. An exhibition of new, one of a kind prints.

Rather than seeking a thematic link between artists, the binding element of this show is the medium employed in the creation of their work – each artist has produced new monotypes for the exhibition, relating to their current concerns.  Monotyping, is a central element in the practice of these seasoned printmakers – Henderson, Barrett and Lipstein – a printmaking medium that produces a unique, one-off work, instead of an edition of prints.
Clare Henderson was born in Dublin in 1981. On graduating from the National College of Art and Design in 2005 she joined Graphic Studio Dublin, as a recipient of the Graphic Studio Graduate Award (2005).  She has exhibited widely in Ireland, and last year was the winner of the Graphic Studio Dublin Wilkinson Award, at the Royal Hibernian Academy, sponsored by Behaviour and Attitudes, for her outstanding print, Ghost Story, Point Reyes Lighthouse, California. Recently, her work has focused on images of the Arctic and Antarctic seas; on remote islands and on glaciers as a means to discuss the history of exploration, migration and climate change and in doing so, to observe how this might inform our understanding of the human condition.  This series of monoprints is based on thoughts of secrets and hidden ineffable things.
Ailbhe Barrett was born in Limerick in 1978, and home educated to age 18. She developed a particular interest in historical oil techniques, and how these facilitated communication between artist and viewer.  A fascination with printmaking led her to study at Limerick Printmakers and Graphic Studio Dublin, exploring the relationships between etching, drawing and painting. Last year, she had a successful debut solo exhibition at Graphic Studio Gallery.  Her work is largely inspired by nature, and the landscape. 'In both paintings and print, the particular place has been transformed into a moment experienced, something ethereal, infused with memory and poignancy or, as said by Wordsworth, "emotions recollected in tranquillity".' James Hanley, RHA.
Daniel Lipstein was born in Tel Aviv, Israel, in 1959. He studied printmaking at The National College of Art and Design, Dublin, graduating in 2006. He received the CAP Foundation award that allowed him to produce an exhibition of large scale paintings the following year. In 2009 he received an MA in Fine Art, also at NCAD, and rejoined the Graphic Studio Dublin where he had first been a member in 2002.  Since the late nineties, after a career in natural medicine, he has been fully committed to printmaking and painting, using mythical-visual narrative and atmospheric data from his dreams as source material for his visual compositions.   His new monotypes are informed by the elements of sky, land and water in Dublin and Kildare – 'I aimed to express strong feelings responding to the places and the times of being there'.  
Image: Ailbhe Barrett
Friday 23 March – Saturday 14 April 2018
off Cope Street
Temple Bar, Dublin 2
Telephone: +353 1 679 8021
Opening hours / start times:
Monday 10:00 - 17:30
Tuesday 10:00 - 17:30
Wednesday 10:00 - 17:30
Thursday 10:00 - 17:30
Friday 10:00 - 17:30
Saturday 11:00 - 17:00
Admission / price: Free
Through the Arch off Cope Street (behind the Central Bank)